---
Two Days in Philadelphia by Shari Sweeney
"What do you think when you hear "Philadelphia"? There's no right or wrong answer, no good or bad, and in a way that's what makes this city so interesting: Philadelphia offers a huge and varied array of attractions, whether you answered "the Liberty Bell" or "Philly cheesesteak". Two or three days exploring is enough to see Philly's essentials: Independence Hall, the Liberty Bell, the Rocky statue, the LOVE sculpture, and to get an education on everything from the birth of our country to 1980s movies."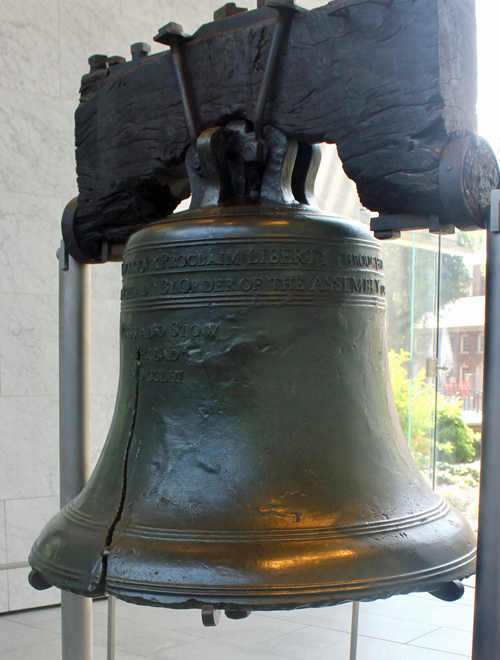 Read the rest of the Philadelphia story
---
My Ticket to Ride
By Janice Mitchell
In 1964 as Beatlemania swept the US and world a Cleveland Heights teen from a troubled family falls "in love" with the Beatles. She buys every record, magazine and tchotcke she can. She dreams of meeting them and moving to London to be with them. Probably the same dream as thousands of young girls at the time, right? But this girl went beyond the dreaming stage.
The full title of the book is My Ticket to Ride: How I Ran Away to England to Meet the Beatles and Got Rock and Roll Banned in Cleveland (A True Story from 1964) and that's exactly what happened. It's an amazing story!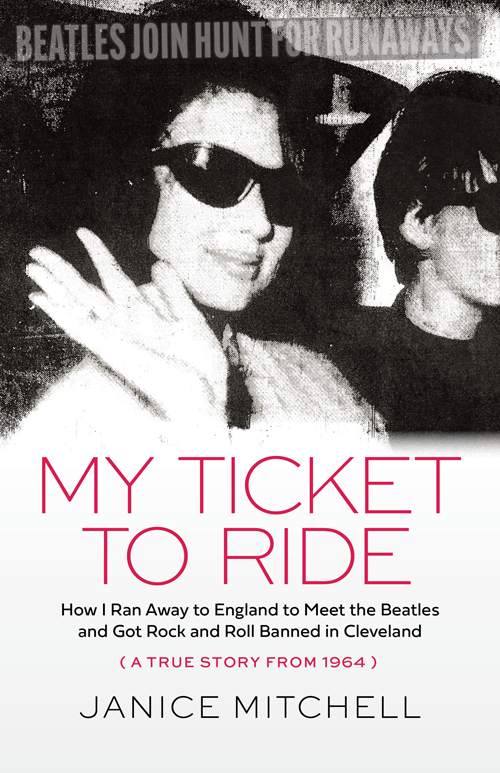 Read our review and more of Ticket to Ride.
---
Bishop Anthony Pilla
We just heard the news about the passing of
Bishop Anthony Pilla
. Instead of doing disservice to the man by rushing a few lines to post, here are two videos. First is the video of
Sam Miller
inducting Bishop Pilla into the Cleveland International Hall of Fame in 2015.
This is Bishop Pilla's acceptance speech.
I am sure that Sam and the Bishop are joyfully reconnecting in Heaven. RIP Bishop Pilla.

Bishop Pilla bio from Cleveland International Hall of Fame


---
Rocky Colavito statue unveiling and 88th Birthday
Rocky Colavito was an All-Star for six seasons (9 All-Star Games). He is the fifth player in the history of the AL to have eleven consecutive 20-home run seasons (1956–1966). During that span, he exceeded 40 home runs three times and 100 runs batted in, six times. He also led the AL in home runs, RBI, and slugging average once each. Colavito ranked third among AL right-handed hitters for home runs (371) and eighth for AL games played at right field (1272), at the end of his MLB playing career in 1968.
But Rocky is so much more than a bunch of all-star caliber achievements. He was a hero to a generation of Clevelanders and every kid in little league copied the stretch and other batting nuances of #6.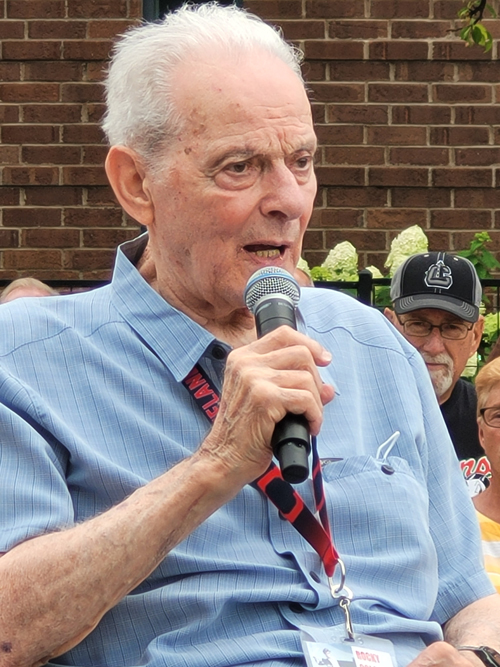 Rocky Colavito speaking at the ceremony
Rocky was in Cleveland to celebrate his 88th birthday and the dedication of his statue in Little Italy.
Photos and videos of Rocky Colavito's birthday and statue unveiling


---
Rocky Colavito statue in Tony Brush Park in Cleveland's Little Italy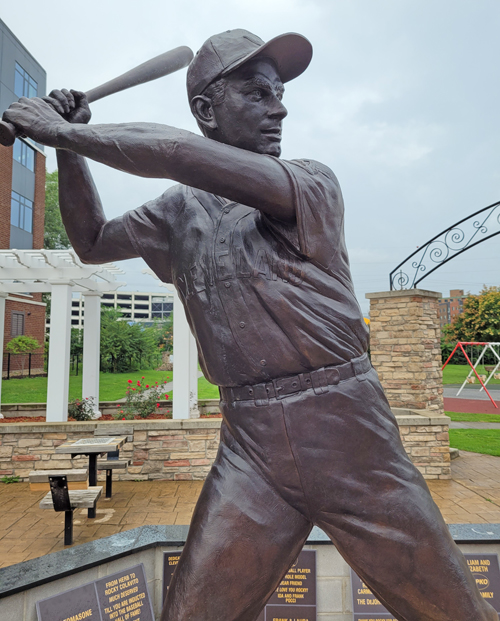 Rocky Colavito statue in Little Italy in Cleveland
Lots of photos of the statue of the iconic Cleveland Indian ballplayer.
---
When It's Polka Time in Cleveland
Fred Ziwich
and his "International Sound Machine" has a new CD release out called "When It's Polka Time in Cleveland." (Now and Then). Some of the 23 songs were recorded in 2021 (Now) and others were recorder in the past.
If you don't know Fred Ziwich, here is a little about him from when the National Cleveland Style Polka Hall of Fame gave him the Lifetime Achievement Award in 2010.
"Fred Ziwich is known as just about the most versatile musician ever on the Cleveland polka scene. He is a virtuoso on several instruments, a prolific recording artist, and an expert music arranger. His band, the "lnternational Sound Machine" has mastered, performed and recorded all of the major polka styles. Fred also plays a large repertoire of popular music. There is no music he can't play and perform well."
See more from Fred Ziwich's Lifetime Achievement Award bio.
The 23 songs cover a variety of Polka Styles. I especially liked the title cut, Achtung Los (Watch Out!), The Beer is Good (Die Goass is' Weg) and Oktoberfest is here.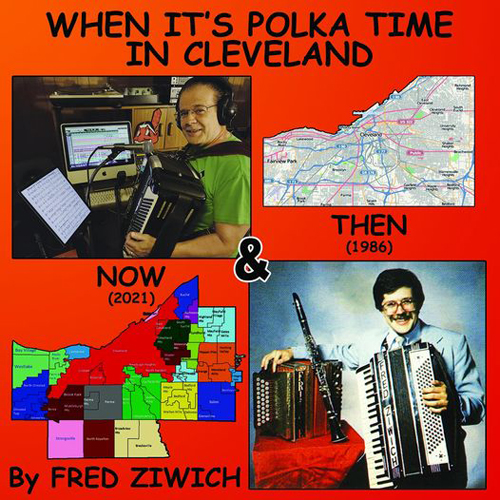 There's a unique arrangement of In Heaven There Is No Beer and Cleveland Girls Polka. Fred also does several covers that were a surprise such as The Accordion Man - Billy Joel's Piano Man with the words adjusted. Who would expect covers of "Can't Smile Without You", "The Way You Look Tonight" and the classic "Does your Chewing Gum lose its flavor (on the bedpost overnight)?
There are a lot of styles on this CD and a lot of music. Something for everyone.
You can get it when you see Fred perform live or at PolkaConnection.com and other websites. You can also email him at FredPolka@yahoo.com
---
Dogs know how to keep cool
During this hot and humid spell, we can learn from our four-legged friends. Here is a short video of Hogan the black Lab in a kiddie pool. Watch how he digs in to the water!
---
My Living Will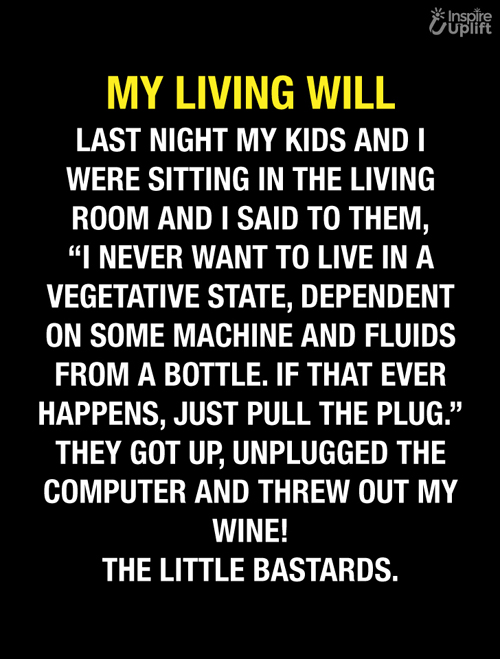 ---
World Day of Grandparents and Elderly
The First World Day of Grandparents and Elderly is set for July 25. Pope Francis said he established a new World Day of Grandparents and Elderly for two major reasons: because of the neglect and isolation so many grandparents and elderly experienced worldwide during the COVID-19 health crisis and because of the important role they play in society. He designated the fourth Sunday of July – July 25 this year – for this new commemoration. He chose the Sunday closest to the feast of Saints Joachim and Anne, Jesus' grandparents, for the new commemoration.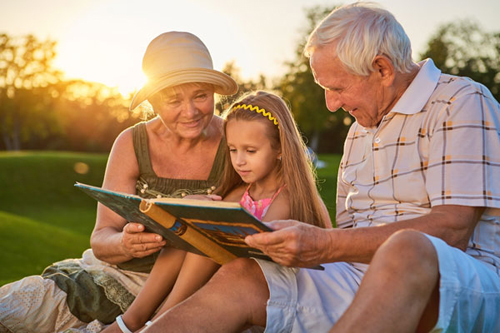 Writing to his peers, older Catholics like himself, Pope Francis told them that God is close to them and still has plans for their lives.
"I was called to become the bishop of Rome when I had reached, so to speak, retirement age, and thought I would not be doing anything new," he said. The pope, who is 84, was elected when he was 76. "The Lord is always – always – close to us. He is close to us with new possibilities, new ideas, new consolations, but always close to us. You know that the Lord is eternal; he never, ever goes into retirement," Pope Francis wrote in his message for the Church's first celebration of the World Day for Grandparents and the Elderly.
"Think about it: what is our vocation today, at our age? To preserve our roots, to pass on the faith to the young and to care for the little ones," he wrote. "Never forget this. There is no retirement age from the work of proclaiming the Gospel and handing down traditions to your grandchildren. You just need to set out and undertake something new."
This celebration is in addition to the special days that some countries, including the United States, already have to honor grandparents. The pope noted that most countries do not have a day devoted to grandparents. In the U.S., President Jimmy Carter set the first Sunday after Labor Day as Grandparents Day, designating it as a national holiday. This year, it will be observed on Sept. 12. The official flower for the day is the forget-me-not.
Previously, Pope Francis called grandparents "a treasure in the family." He said the vocation of grandparents is linked to their vocation as apostles. He also called upon them to recognize how important their mission is in both the Church and society. In addition, he encouraged grandchildren and children to accept with gratitude the generous giving of their elders. And he encouraged grandparents and the elderly not to be afraid to undertake new challenges and to embrace opportunities to grow.
Recalling the words of Prophet Joel, "Your old men shall dream dreams, and your young men will have visions," (Joel 3:1) the pope said that the future of the world depends on the covenant between young and old because "who, if not the young, can take the dreams of the elderly and make them come true?"
For this to happen, "it is necessary that we continue to dream," he said. "Our dreams of justice, of peace, of solidarity, can make it possible for our young people to have new visions; in this way, together, we can build the future."
---
1966 vs. 2021 - Can you relate?
1966 : Long hair
2021 : Longing for hair
1966 : KEG
2021 : EKG
1966 : Acid rock
2021: Acid reflux
1966 : Moving to California because it's cool
2021 : Moving to Arizona because it's warm
1966 : Trying to look like Marlon Brando or Liz Taylor
2021 : Trying NOT to look like Marlon Brando or Liz Taylor
1966 : Seeds and stems
2021 : Roughage
1966 : Hoping for a BMW
2021 : Hoping for a BM
1966 : Going to a new, hip joint
2021 : Receiving a new hip joint
1966 : Rolling Stones
2021 : Kidney Stones
1966 : Screw the system
2021 : Upgrade the system
1966 : Disco
2021 : Costco
1966 : Parents begging you to get your hair cut
2021 : Children begging you to get their heads shaved and wear a mask
1966 : Passing the drivers' test
2021 : Passing the vision test
1966 : Whatever
2021 : Depends


---
World Elder Abuse Awareness Day
If you don't take a stand, who will?
Honor Elder Abuse Awareness Day by supporting the rights of older Ohioans to live free of abuse, neglect and exploitation. If you believe that an adult age 60 or older is suffering from abuse, neglect and/or exploitation you may file a report with your county department of job and family services or you can call 1-855-OHIO-APS (1-855-644-6277) toll-free 24/7.
June 15 is observed each year as World Elder Abuse Awareness Day. We all deserve to lead happy and healthy lives free from abuse as we age, yet older people are mistreated more often than we think. Elder abuse, neglect, and exploitation threatens the health, safety, and independence of far too many older Ohioans. The effects of elder abuse range from financial loss to physical injury or even death. Elder abuse crosses racial, ethnic, economic, and religious backgrounds and reaches older adults and their families in every Ohio community.
The Ohio Coalition for Adult Protectives Services (OCAPS) is the nation's longest continuous state elder abuse network. OCAPS has accomplished much throughout the years, thanks to a shared and committed vision of an Ohio free of older adult maltreatment. OCAPS' mission is to maximize protection and dignity of older adults through collaboration, education, and advocacy.
Ohio Elder Abuse Awareness Day is on June 15, 2021 and on this and every day, you can help end abuse.
Get informed and know the warning signs:
Changes in an older adult's appearance, such as weight loss, unexplained bruising, or bleeding
Changes in an older adult's personality or mood
Changes in an older adult's finances or money management
A dominating, threatening caregiver or new "best friend"
Exclusion from other family members or friends
Changes in an older adult's home environment
Get involved:
Wear purple on Tuesday, June 15, 2021, in recognition of Elder Abuse Awareness Day. The color symbolizes the victim experience and represents hope for the future.
Contact older family members, friends, or neighbors. Keeping in touch with older adults can make it easier to recognize signs of potential abuse. Pay attention to changes in an older adult's personality, behavior, physical appearance, or financial activity.
Share resources with your community. Community groups in Ohio can request a free alder abuse awareness presentation from OCAPS. Presentations address the signs of elder abuse and tools to help stop it.
Become a member of OCAPS and maximize protection and dignity of older adults through collaboration, education, and advocacy by going to the membership page at https://www.ocapsohio.org/become-a-member
---
St. Theodosius Russian Orthodox Cathedral Choir Master Ken Kovach
On June 1, 1971 Ken Kovach became Choir Master at the historic St. Theodosius Russian Orthodox Cathedral in the Tremont neighborhood of Cleveland Ohio. In his 50 (and counting) years he has witnessed many things in the Cathedral. One of which is being part of the filming of the movie
The Deer Hunter
, a 1978 American epic war drama film. Ken met and worked with
Robert De Niro, Christopher Walken, Meryl Streep
, writer/director
Michael Cimino
and others.
Ken is an Ellis Island Medal Recipient and inductee in the Cleveland International Hall of Fame. He also sings with a Russian folk group called the Cuyahoga Cossacks.
In this video, Ken tells about the Choir Master role and some of these stories. And then he gives a brief example of his great singing voice - singing The Lord's Prayer.
---
How to Stop Gossip
Mildred, the church gossip, and self-appointed monitor of the church's morals, kept sticking her nose into other people's business. Several members did not approve of her extra-curricular activities, but feared her enough to maintain their silence. She made a mistake, however, when she accused Frank, a new member, of being an alcoholic after she saw his old pickup parked in front of the town's only bar one afternoon. She emphatically told Frank (and several others) that everyone seeing it there would know what he was doing.
Frank, a man of few words, stared at her for a moment and just turned and walked away. He didn't explain, defend, or deny. He said nothing.
Later that evening, Frank quietly parked his pickup in front of Mildred's house ... walked home ... and left it there all night…


---
An Answered Prayer
Smith climbed to the top of Mt. Sinai to get close enough to talk to God. Looking up, he asked the Lord.. "God, what does a million years mean to you?"
The Lord replied, "A minute."
Smith asked, "And what does a million dollars mean to you?"
The Lord replied, "A penny."
Smith asked, "Can I have a penny?"
The Lord replied, "In a minute."
---
Remember When?
Check out this menu from Manners back in the day. Big Boy anyone?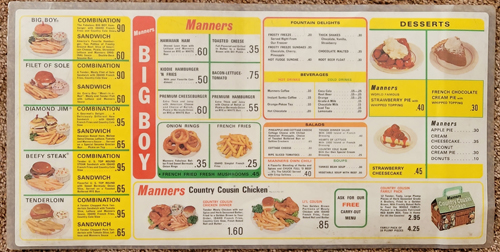 ---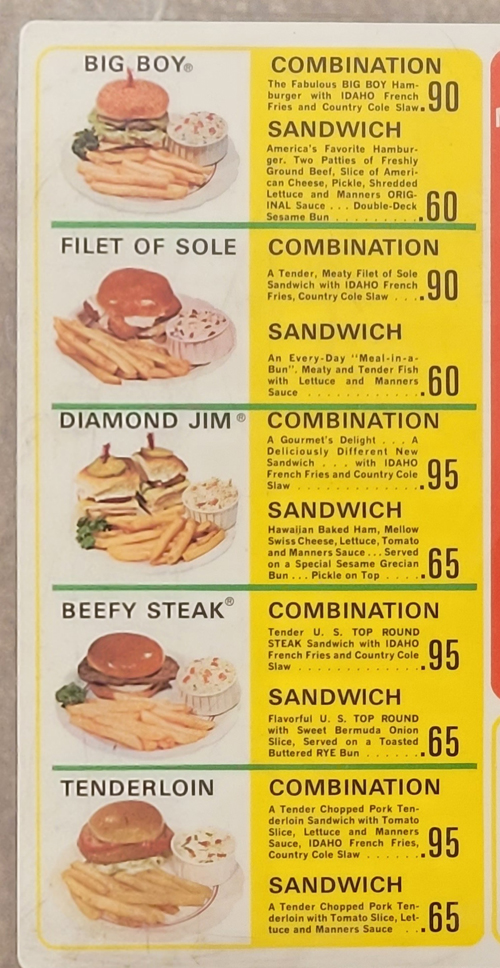 ---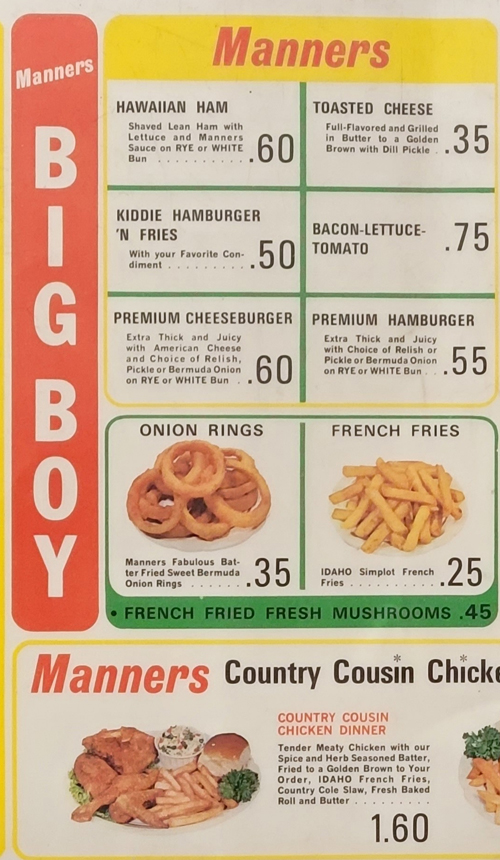 ---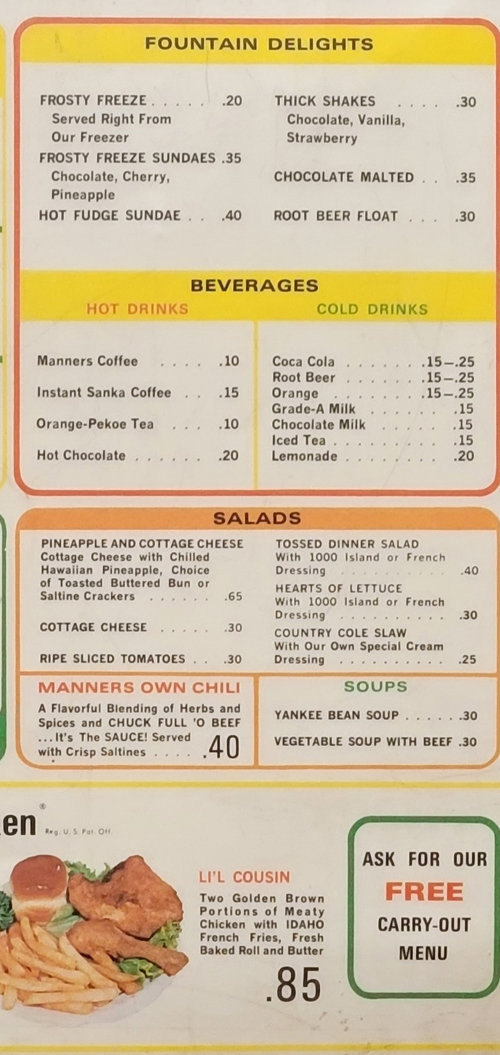 ---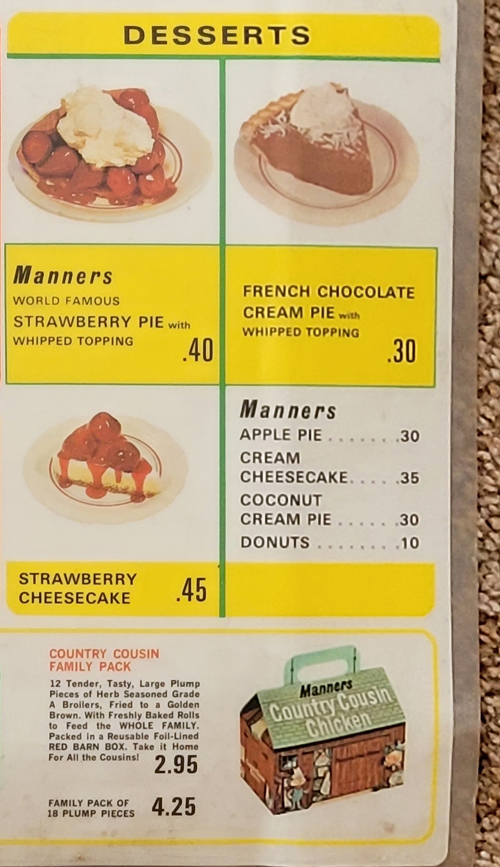 ---
The 7 Dwarves of Old Age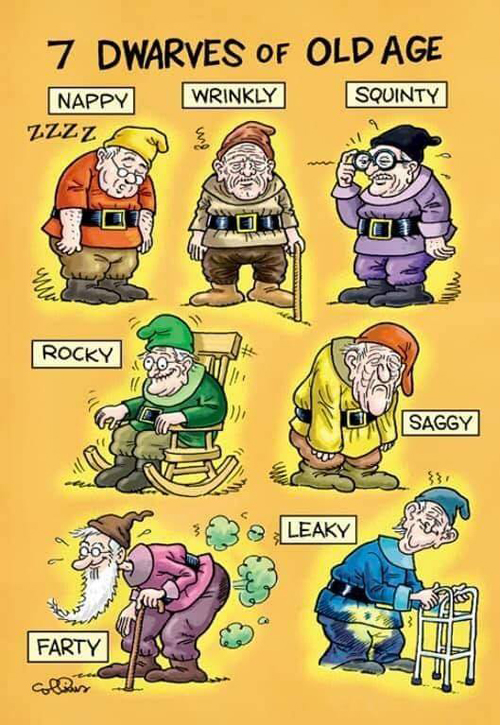 ---
Murder in the Cultural Gardens
"It just didn't seem right to DJ. A body found bludgeoned in a place known for "Peace through Mutual Understanding." But there she was, crumpled behind a bust of composer Franz Liszt in the Hungarian Cultural Garden. He pulled out his cell phone and dialed 911. "What is the nature of your emergency?" the dispatcher queried. With a suddenly very dry mouth DJ managed to get out, "There's been a murder in the Cultural Gardens."
That's the beginning of the recently published first novel by Dan Hanson.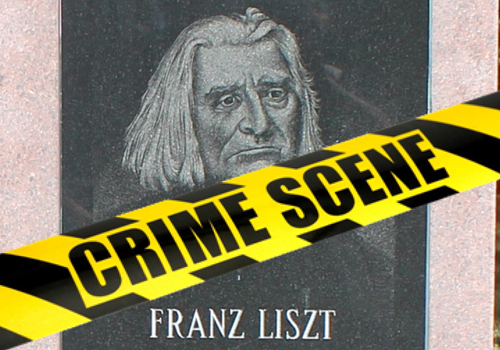 The whodunit, titled
Murder in the Cultural Gardens
, takes place in the Cleveland Cultural Gardens and all 30+ gardens are featured during the mystery. You may even recognize some of the characters.
Click the link above to learn more or to purchase in paperback or Kindle version from Amazon. Or contact Dan via the
Murder in the Cultural Gardens webpage
to have a signed book delivered.
---
Beatitudes for Friends of the Aged
Blessed are they who understand
My faltering step and palsied hand.

Blessed are they who know that my ears today
Must strain to catch the things they say.

Blessed are they who seem to know
That my eyes are dim and my wits are slow.

Blessed are they who looked away
When coffee spilled at the table today.

Blessed are they with a cheery smile
Who stop to chat for a little while.

Blessed are they who never say,
"You've told that story twice today."

Blessed are they who know the ways
To bring back memories of yesterdays.

Blessed are they who make it known
That I'm loved, respected and not alone.

Blessed are they who know I'm at a loss
To find the strength to carry the Cross.

Blessed are they who ease the days
On my journey Home in loving ways.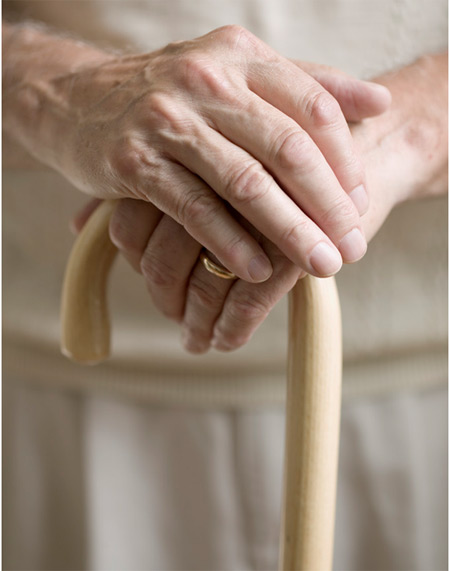 ---
New technology can take some getting used to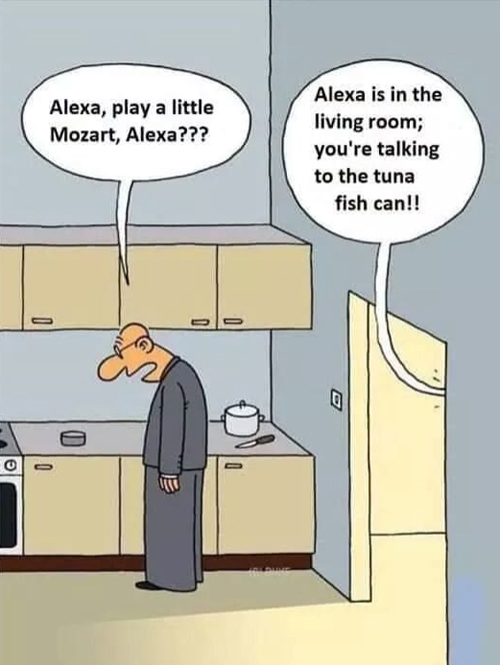 ---
Funnies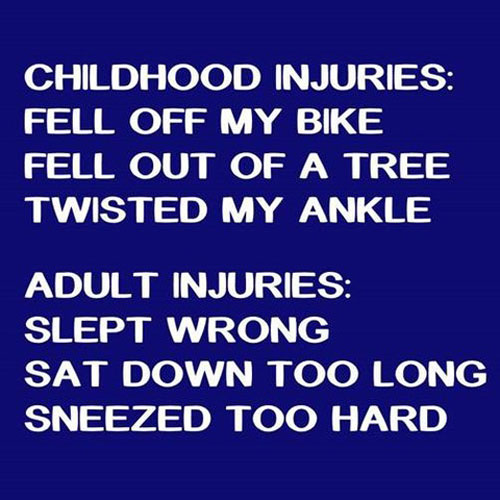 ---
A Senior Prayer
God, grant me the senility to forget the people I never liked anyway, The good fortune to run into the ones that I do, and the eyesight to tell the difference.
---
Do you need help paying your Medicare expenses?
If you are a low-income Medicare beneficiary, the Medicare Premium Assistance Programs (MPAP) may help you pay some or all of your Medicare cost-sharing expenses (premiums, copays, and coinsurance). MPAP is part of the Ohio Medicaid program. MPAP is sometimes called the "Medicare buy-in" or "Medicare savings" program.
Learn more about help paying your Medicare expenses


---
Who Needs Advance Directives about Medical Care?
Advance directives help ensure that you receive the medical care you would want even when doctors and family members are making decisions on your behalf. There are two different types of advance directives: Health Care Power of Attorney and Living Will.
Learn more about Health Care Power of Attorney and Living Wills


---
Elder Abuse: What Is It and How to Get Help
It is difficult for people to accept the notion that adult abuse occurs in the elderly, but the sad fact is that it occurs everyday. Last year in Ohio over 16,000 incidents of elder abuse were reported to Ohio Department of Job and Family Services. In Cuyahoga County alone, over 3,000 incidences of elder abuse were reported to Cuyahoga County Department and Senior Adult Services, Adult Protective Services.
---
Should you purchase prepaid funeral arrangements?
Many people do not like to think about death or funeral arrangements, but some people do make plans for when they pass. For example, some people choose to purchase "pre-paid funeral contracts." These contacts allow you to make decisions about your own funeral, and pay for it ahead of time. These pre-paid contracts give some people peace of mind. But before purchasing such a contract, keep the following issues in mind.
More about prepaid funeral arrangements


---
How can seniors learn more about benefits available to them?
BenefitsCheckUp is a web-based service that helps seniors. It is especially helpful for those with limited income and resources, their family members and, social service organizations. It connects people to over 2,000 public and private programs. Many adults over 55 need help paying for basic needs. Some of the benefits screened for are health care services, prescription drugs, rent assistance, in-home services, meals, heat, and energy assistance, and transportation.
Learn more about Benefits Checkup


---
Grandparent POAs and Caretaker Authorization
Grandparents sometimes find themselves caring for a grandchild unexpectedly. This often happens without any formal court order giving the grandparent custody or guardianship. Without custody or guardianship, the grandparent will face problems getting medical care for the child or dealing with the child's school.
More about Grandparent POAs and Caretaker Authorization


---
How do I name a Durable Power of Attorney?
A durable power of attorney can be one of the most helpful estate planning tools a person uses, but it can also be very risky. A durable POA gives a person (who is called an "attorney in fact") legal authority to act for another person in a variety of matters, including banking, benefits, housing, taxes, real estate, litigation, and more. (The durable POA is different from a Health Care Power of Attorney, which is the form used to appoint a person to make decisions about health care.)
Learn more about Durable Power of Attorney


---
Are Wills Really That Important?
:When my mother died in 2012, we discovered that her will was from 1959 and had not been updated to reflect the many changes in her life since then: she had four more children, she bought a house, furniture, an automobile, jewelry, and a dog. As a result, my mother died without a valid will. Following her death, bills had to be paid, property sold, her furniture, jewelry, the car divided, and someone had to take in the dog."
Read more about the importance of Wills
---
Recommended For You (popular with other Cleveland Seniors)
---
ClevelandSeniors.Com Book of the Week
Before You Leap
Before You Leap starts on screeching tires, literally—an interstate bridge, a police chase, three men trapped in a car, driving at full speed. The two in the front are arguing, one is brandishing a gun, and the third is bleeding profusely in the backseat. You can't help but be immediately hooked and wonder, Who are they? And how on earth did they get here?
The novel then takes you back a few days. Greg Cole's quiet and secluded life is about to be thrown into chaos when he learns that his dead sister's convicted murderer has been released early.
Before You Leap is absorbing, thought-provoking, and psychologically riveting. I was struck by how the author is able to delve into Greg's psyche and express his grief over the loss of his sister—and the inner turmoil that overtakes him—with such clarity. What you're left with is a poignant, complex, nail-biting novel where you watch in a stupor as someone's life and sanity shatter. And as it crescendos, the story pulls the rug from under your feet and delivers the most unexpected twist—one that took my breath away and left me reeling.

Before You Leap
---
Free weekly eNews
Every Tuesday evening we send an e-mail message to people who are interested in upcoming (the next week) events that have an ethnic or cultural connection. So it may be Opera in the Italian Garden or Puerto Rican Day Parade or Slovenian Kurentovanje or...
If you are interested in receiving this free weekly e-mail just sign up for the free eNews.
You can also sign up to receive more specific free eNews for any groups or groups you may choose (Irish, German, Polish, Chinese, etc.)
It's easy and free and will let you know every week about fun and interesting events that are coming up in the next week.
---
---
Calendar of Events for Cleveland Seniors & Baby Boomers
---
---
Sign up for our free eNewsletter sent about once every month with special offers, discounts, contests and more.
---
Whether you are a
Boomer
who's just turned 50 (and don't think of yourself as a Senior) or part of the
"Greatest Generation,"
you can learn about issues that are important to you and your family right here on ClevelandSeniors.com from Cleveland area experts.
Don't miss our profiles of interesting Cleveland Seniors and Baby Boomers - Maybe it's someone you know! (Or tell us about someone we should know)



Take advantage of discounts and specials selected just for you.



Ask questions and receive answers from our many experts from all walks of life.



Share your thoughts, memories, ideas with other Cleveland Seniors and Baby Boomers.



Keep your mind sharp with some of our games, quizzes and mind expanders.



Most importantly, come back often and
Have Fun!


---
Top of Page