Welcome to
ClevelandSeniors.Com,
the online home for
"Seasoned Citizens"
of Cleveland, Northeast Ohio & Beyond!

---
Dutch King's Day
The Dutch community celebrates King's Day (Koningsdag) after the inauguration of King Willem-Alexander on 30 April 2013 (what was then still Queen's Day).

The royal celebrations were first held on 31 August 1885 in honor of the birth of Queen Wilhelmina, and the Queen's Day (Koninginnedag) tradition was born. After Wilhelmina's daughter (Juliana) succeeded to the throne in 1949, the day was changed to 30 April in accordance with the new Queen's birthday.

The Cleveland and Northeast Ohio Dutch community gathers each year for the celebration.

In this short video clip, Marian Brumbaugh, originally from The Hague in South Holland, told about the Dutch National Dish, herring, at the annual King's Day (Koningsdag) celebration in Cleveland.



She said the herring is pickled not cooked and available on street corners and all over when in season in May. People eat it whole from head to tail as in this photo.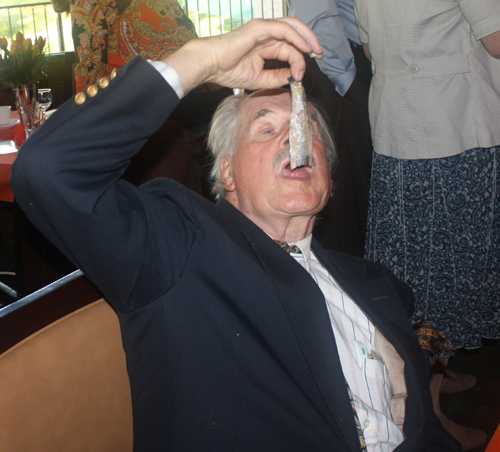 ---
ClevelandSeniors.Com Aphorism of the Week
I've reached the age where . . . 'happy hour' is a nap.
---
Senior Wedding Humor
Jacob, age 92, and Rebecca, age 89, living in Miami, are all excited about their decision to get married. They go for a stroll to discuss the wedding, and on the way they pass a drugstore. Jacob suggests they go in.

Jacob addresses the man behind the counter: "Are you the owner?" The pharmacist answers,"Yes."

Jacob: "We're about to get married. Do you sell heart medication?"

Pharmacist: "Of course we do."

Jacob: "How about medicine for circulation?"

Pharmacist: "All kinds."

Jacob: "Medicine for rheumatism?"

Pharmacist: "Definitely."

Jacob: "How about suppositories?"

Pharmacist: "You bet!"

Jacob: "Medicine for memory problems, arthritis and Alzheimer's?"

Pharmacist: "Yes, a large variety. The Works."

Jacob: "What about vitamins, sleeping pills, Geritol, antidotes for Parkinson's disease?"

Pharmacist: "Absolutely."

Jacob: "Everything for heartburn and indigestion?"

Pharmacist: "We sure do."

Jacob: "You sell wheelchairs and walkers and canes?"

Pharmacist: "All speeds and sizes."

Jacob: "Adult diapers?"

Pharmacist: "Sure."

Jacob: "We'd like to use this store as our Bridal Registry."


---
Pain
by Maury Feren
Today I am going to spend a little time talking about pain. I'm not sure where this is going to take me since there are so many aspects to this subject. It is a fact of life but it encompasses everyone at some point but we all try to escape one way or another.

It has always bothered me why no one has been able to answer this question. Do you have to suffer in order to enjoy the benefits of feeling good? Then there is pain and suffering. That is another facet that I might get to discuss a little later. But here is the big one. How do you put all of this together when your doctor tells you that you only has 6 months to live?

Read the rest of Maury's thoughts about Pain


---
Advice from Dear Webby - Different Political Views than Friends
Dear Webby,

It seems like I have very different political beliefs than most of my friends. Whenever they start talking politics I just back off, not wanting to make waves. But then I get home and feel like a wimp for not standing up for what I think is right.

And I don't want them to think I agree with them because I am not arguing. What can I do?

Not Politically Correct

Dear Webby's advice for Not PC


---
Tin Roofs and Rock 'n Roll
by Amy Kenneley
How did The Nut Shop get to be our hangout? I don't know, but that was where we landed when we had outgrown the neighborhood playground. It was just a short walk up 101st street to Euclid Avenue--"Uptown"-- where there were five movie theaters competing for your popcorn and Goobers change. I can see their beckoning lights even now: University, Keith's RKO, Alhambra, Circle, and Loew's Park.

Was it "Rock Around the Clock" that blared from the loudspeaker outside the storefront that drew us in? If so, Then Bill Haley and the Comets must have been our Pied Piper.

Read the rest of Amy's column about her own Happy Days


---
Senior Discount Tickets for the Cleveland Orchestra
Senior discount tickets are available for the season's performances of the Cleveland Orchestra. These tickets must be purchased in person only at the box office at Severance Hall and are available on Monday and through the week of the performance. The tickets are $30 and are on a first come basis.

All performances are at the magnificent Severance Hall. This is a good opportunity to see and hear one of the best orchestras in the world at a good price.
by Lynn Priemer


---
Antique Roadshow is coming to Cleveland
Antique Roadshow is coming to Cleveland and you can be part of it. WVIZ/PBS will host an all-day appraisal event on Saturday, July 11, 2015. (Time and place to be announced) The show has not been to Cleveland since 2002.

The deadline to apply for free tickets is April 6, 2015. At the appraisal event approximately 5,000 to 6,000 ticketed guests will receive free valuations of their antiques and collectibles. Tickets are given by a random drawing and will be mailed three weeks before the show.

Antiques Roadshow is also accepting furniture submission to appraise and display on the set. The deadline for submissions is also April 6, 2015. To apply for tickets got to ideastream.org or call 216-916 6301 for a postcard to apply for tickets.
by Lynn Priemer


---
ClevelandSeniors.Com Special offer of the Week

Make sure your PC or Mac is backed up and your data safe.
---
Cleveland Seniors Special of the Week
---
ClevelandSeniors.Com Book of the Week


#1 NEW YORK TIMES BESTSELLER • SOON TO BE A MAJOR MOTION PICTURE

In boyhood, Louis Zamperini was an incorrigible delinquent. As a teenager, he channeled his defiance into running, discovering a prodigious talent that had carried him to the Berlin Olympics. But when World War II began, the athlete became an airman, embarking on a journey that led to a doomed flight on a May afternoon in 1943. When his Army Air Forces bomber crashed into the Pacific Ocean, against all odds, Zamperini survived, adrift on a foundering life raft.

Ahead of Zamperini lay thousands of miles of open ocean, leaping sharks, thirst and starvation, enemy aircraft, and, beyond, a trial even greater. Driven to the limits of endurance, Zamperini would answer desperation with ingenuity; suffering with hope, resolve, and humor; brutality with rebellion. His fate, whether triumph or tragedy, would be suspended on the fraying wire of his will.

Unbroken: A World War II Story of Survival, Resilience, and Redemption
---
---
Calendar of Events for Cleveland Seniors & Baby Boomers
---
---

Have you seen the Amazon Deal of the Day? Everyday, a new very special deal will be offered. Look to the left-hand column of this page for the daily special.


---
Sign up for our free eNewsletter sent about once every 2 months with special offers, discounts, contests and more.
---

Whether you are a Boomer who's just turned 50 (and don't think of yourself as a Senior) or part of the "Greatest Generation," you can learn about issues that are important to you and your family right here on ClevelandSeniors.com from Cleveland area experts.


Don't miss our profiles of interesting Cleveland Seniors and Baby Boomers - Maybe it's someone you know! (Or tell us about someone we should know)



Take advantage of discounts and specials selected just for you.



Ask questions and receive answers from our many experts from all walks of life.



Share your thoughts, memories, ideas with other Cleveland Seniors and Baby Boomers.



Keep your mind sharp with some of our games, quizzes and mind expanders.



Most importantly, come back often and
Have Fun!


---
Top of Page