Welcome to
ClevelandSeniors.Com,
the online home for
"Seasoned Citizens"
of Cleveland, Northeast Ohio & Beyond!

---
Respecting Elders
Before the 42nd annual Black History Month Flag Raising Ceremony in the Cleveland City Hall Rotunda, Amir Khalid Samad of Peace in the Hood gathered some of the elders and the next generation to the front of the room.

As you can see in this short video clip, He spoke of the intergenerational theme of the ceremony and how we should learn from the elders who have been through so much. That goes with the motto "Each one, teach one. Each one, reach one."



See more from the Black History Month event


---
Kurentovanje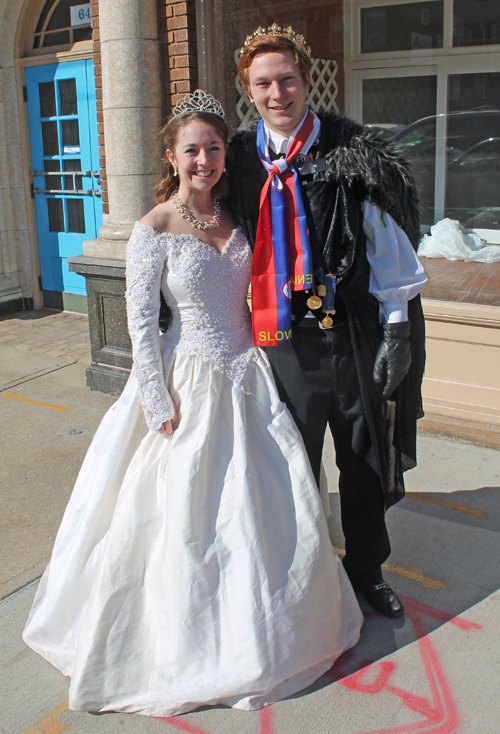 Princess and Prince of Kurentovanje

The 4th annual Cleveland version of the most popular carnival in Slovenia - Kurentovanje - began with a parade. The units gathered at Sterle's on East 55th and marched up St Clair to the Slovenian National Home.

Kurentovanje is a cultural event which connects ethnology, culture, arts, and people from all over Europe. It has been celebrated in Slovenia for the past 50 years. The central figure of the carnival, the Kurent, is believed to chase away winter and usher in spring with its supernatural powers. Kurentovanje has a Mardi Gras feel so many participants wore masks to help scare away winter.

Photos and videos of Cleveland's 4th annual Kurentovanje


---
ClevelandSenior Humor
I was visiting my daughter last night when I asked if I could borrow a newspaper.

"This is the 21st century" she said. "We don't waste money on newspapers. Here, use my iPad."

I can tell you this... that darned fly never knew what hit him.


---
Hope the lifeguard sees their Facebook pages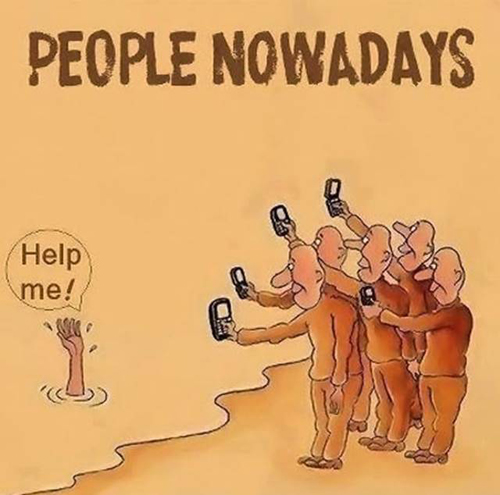 ---
The Making of Major League
Juuuuust a bit inside. Jobu. Wild Thing.

Anyone who has seen the movie Major League will instantly recognize these, and dozens of other, phrases and characters from the classic baseball movie featuring the underdog Cleveland Indians.

People from Cleveland and Milwaukee (where much was filmed) are naturally fans but to many, this is the quintessential baseball movie.

Read the review of The Making of Major League






---
Let's Have Another by Dan Coughlin
Longtime Cleveland sports journalist Dan Coughlin is back with his 3rd collection of short reports about Cleveland, and sports and life.

The stories are fascinating - especially for a Cleveland sports fan. Some are funny, some sad and some illuminating. As a lifetime Cleveland sports fan I thought I knew all the details on Ted Stepien and the Cavs, Mickey McBride, Paul Brown, Otto Graham and the rest of the Cleveland Browns and the Cleveland Indians.

But the author gave insights I never knew. For example, how different would things have been if Edward DeBartolo had bought the Tribe?

Read the review of Let's Have Another by Dan Coughlin and you can order the book there too.






---
Cleveland TV Tales Volume 2
If you are a Clevelander, you probably have heard of author (with his wife Janice) Mike Olszewski who has been in Cleveland radio and TV for years. He is also the curator and archivist of the Ohio Broadcast Archive and Museum.

If you are not a Clevelander, you will recognize some very famous names (Dorothy Fuldheim, Mayor Carl Stokes, Al Roker, Ernie Anderson, etc.) that are featured in stories.

Read the review of Cleveland TV Tales Volume 2






---
Not too far in the Future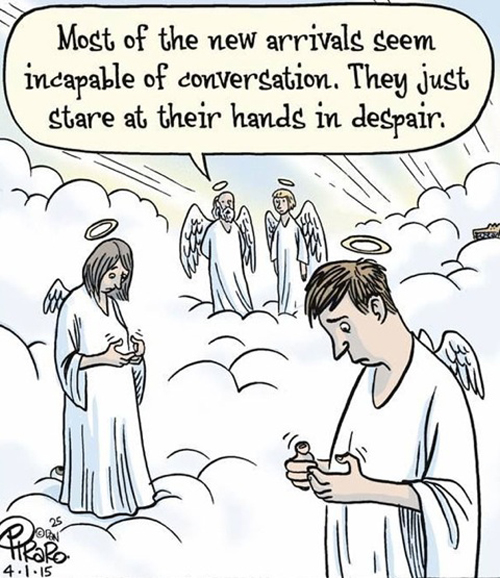 ---
Books with a Cleveland focus
Congratulations to the winners of some terrific new Cleveland focused books.

Winners have been notified and books were taken to the post office for delivery. Be sure to sign up for the free ClevelandSeniors.Com eNews to learn about contests like this first.

The books that were won were:
Let's Have Another by Dan Coughlin

The Ashtabula Hat Trick: A Milan Jacovich Mystery by Les Roberts

The Making of Major League: A Juuuust a Bit Inside Look at the Classic Baseball Comedy

The Bone Lady: Life Lessons Learned as One of Football's Ultimate Fans

Cleveland TV Tales Volume 2: More Stories from the Golden Age of Local Television
See more about the books
---
Men with Black Bags and My New Year Resolution
by Amy Kenneley
There were many folks who came to our door on Newton Avenue. There was the Fuller Brush man, who managed to sell Great Grandma some combs. There was the Mailman, and we knew him by his whistling up the porch steps. I had a small crush on the Cleveland Press paper boy, but I wound up marrying the Shopping News boy.
---
I am a Seenager (Senior teenager)
I have everything that I wanted as a teenager, only 60 years later.
I don't have to go to school or work.
I get an allowance every month.
I have my own pad.
I don't have a curfew.
I have a driver's license and my own car.
I have ID that gets me into bars and the whisky store.
The people I hang around with are not scared of getting pregnant.
And I don't have acne.
Life is great.


---
---
ClevelandSeniors.Com Book of the Week


#1 NEW YORK TIMES BESTSELLER • SOON TO BE A MAJOR MOTION PICTURE

In boyhood, Louis Zamperini was an incorrigible delinquent. As a teenager, he channeled his defiance into running, discovering a prodigious talent that had carried him to the Berlin Olympics. But when World War II began, the athlete became an airman, embarking on a journey that led to a doomed flight on a May afternoon in 1943. When his Army Air Forces bomber crashed into the Pacific Ocean, against all odds, Zamperini survived, adrift on a foundering life raft.

Ahead of Zamperini lay thousands of miles of open ocean, leaping sharks, thirst and starvation, enemy aircraft, and, beyond, a trial even greater. Driven to the limits of endurance, Zamperini would answer desperation with ingenuity; suffering with hope, resolve, and humor; brutality with rebellion. His fate, whether triumph or tragedy, would be suspended on the fraying wire of his will.

Unbroken: A World War II Story of Survival, Resilience, and Redemption
---
Calendar of Events for Cleveland Seniors & Baby Boomers
---
---

Have you seen the Amazon Deal of the Day? Everyday, a new very special deal will be offered. Look to the left-hand column of this page for the daily special.


---
Sign up for our free eNewsletter sent about once every 2 months with special offers, discounts, contests and more.
---

Whether you are a Boomer who's just turned 50 (and don't think of yourself as a Senior) or part of the "Greatest Generation," you can learn about issues that are important to you and your family right here on ClevelandSeniors.com from Cleveland area experts.


Don't miss our profiles of interesting Cleveland Seniors and Baby Boomers - Maybe it's someone you know! (Or tell us about someone we should know)



Take advantage of discounts and specials selected just for you.



Ask questions and receive answers from our many experts from all walks of life.



Share your thoughts, memories, ideas with other Cleveland Seniors and Baby Boomers.



Keep your mind sharp with some of our games, quizzes and mind expanders.



Most importantly, come back often and
Have Fun!


---
Top of Page