Welcome to
ClevelandSeniors.Com,
the online home for
"Seasoned Citizens"
of Cleveland, Northeast Ohio & Beyond!

---
Joe meets 12 new people in Australia
by Joseph Meissner
We love traveling, but not just to see the tourist sites. You could simply sit on your plush living room couch at home and eye Rick Steves travels, if your only goal was see the sights. No, we like to meet real people and dialogue with them. In Australia we met many people and made many new friends. This article is dedicated to twelve of the wonderful people we chanced upon.

Read the rest of Joe's travel experience


---
SHINE
by Amy Kenneley
This was my grandson's Senior recital, one that tested his four years of work at Belmont University's School of Music. He would be presenting five pieces, all reflecting the aspects of playing, composing and arranging music.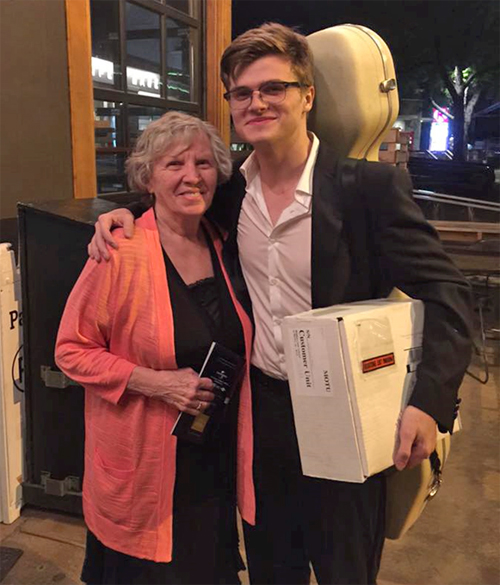 Amy Kenneley and grandson Patrick
Read the rest of Amy's story
---
Cleveland Cultural Gardens Gala
The Cleveland Cultural Gardens Federation (CCGF) hosted a gala event at the Intercontinental Hotel to celebrate the Centennial of the Cleveland Cultural Gardens. The first Garden (Shakespeare Garden which became the British Garden) was established in April 1916 so 100 years are being celebrated all year. There are special events planned in the Gardens, the creation of a Centennial Plaza and One World Day on August 28, 2016.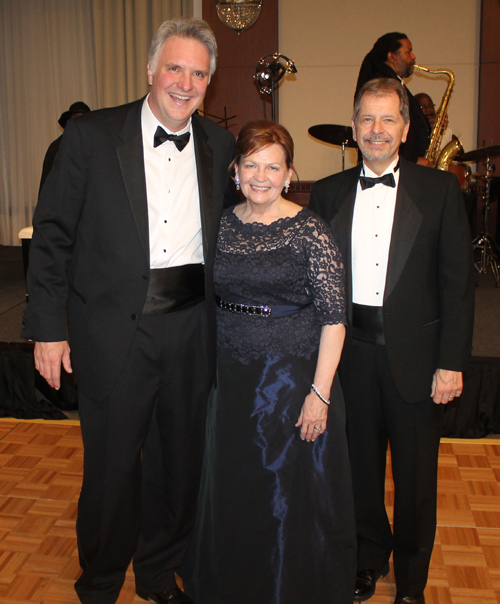 Keynote Speaker Chris Ronayne, CCGF President Sheila Crawford
and MC Dick Russ at the Cultural Gardens 100th Gala
Photos and videos from the Gardens Gala
---
Cleveland and the RNC - Are you concerned?
Cleveland finally lands a huge event - the Republican National Convention - and it seems there are all kinds of potential problems instead of just a profitable showcase for our city. Are you concerned?

The Rotary Club of Cleveland hosted their annual International Fellowship Day in Cleveland Ohio on April 7, 2016. The event featured the presentation of the International Service Award to Cleveland Mayor Frank Jackson.

After his speech Mayor Jackson was asked how the challenges of hosting the Republican National Convention (RNC).

He said we are not afraid of the challenge. We will step up our game to meet whatever challenge is before us and put Cleveland in the best light. This is about who we are. How you deal with adversity is how you are defined.



See more from the Mayor at the Rotary event


---
Judge Sara Harper honored
The Committee on Arrangements; Ohio Republican Party, Republican Party of Cuyahoga County, Sara J. Harper Leadership Institute, I Group, The Committee of 40, Lauren A. Gore, esq., WEA, Inc., LA Gore & Principals and the Inner City Republican Movement hosted a Community Black History Celebration honoring the Life & Achievement of Judge Sara J. Harper.

Her illustrious career spans the decades, as one who has toppled barriers, and made history. Born in Cleveland, Ohio in 1926, Judge Harper was the first African-American woman to graduate from Case Western Reserve University Law School. She also was the first woman to serve on the judiciary of the U.S. Marine Corps Reserve.

After retiring as a Lieutenant Colonel, she won a seat on the Ohio 8th District Court of Appeals, becoming one of the first of two African-American women elected to the court in 1990.

Judge Harper twice was a candidate for the Ohio Supreme Court -- for chief justice in 1980 and for justice in 1994. And she was the first African-American woman appointed to sit on the state's high court in 1992.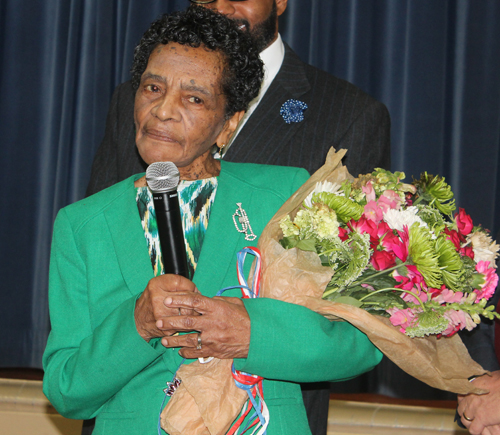 Judge Sara Harper
See photos and a video from the ceremony for Judge Sara Harper
---
Cleveland Cooks™ - Lithuanian appetizers, entrees and desserts
The Cleveland Food Adventurers Passport event in February 2016 was at the Lithuanian Club on East 185th Street.

Ruta Degutis and Linas Johansonas told about the entrees of Lithuania that would be served.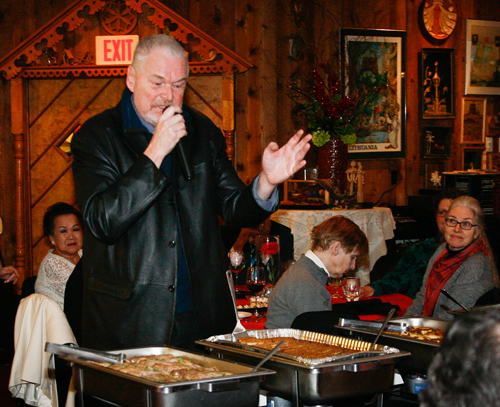 Linas Johansonas explaining the entrees



The potato is the main crop of Lithuania so the entrees naturally use that. The entrees included Cepelinai, the national dish of Lithuanian along with Kugelis (potato pudding), Vedarai (potato sausage) and a more familiar sausage and sauerkraut.

More of the Lithuanian Food Adventure


---
Pharaoh: King of Ancient Egypt
The Cleveland Museum of Art Presents Pharaoh: King of Ancient Egypt. The Exhibition examines the myths and realities of the Egyptian kings' power through extraordinary ancient objects from the British Museum.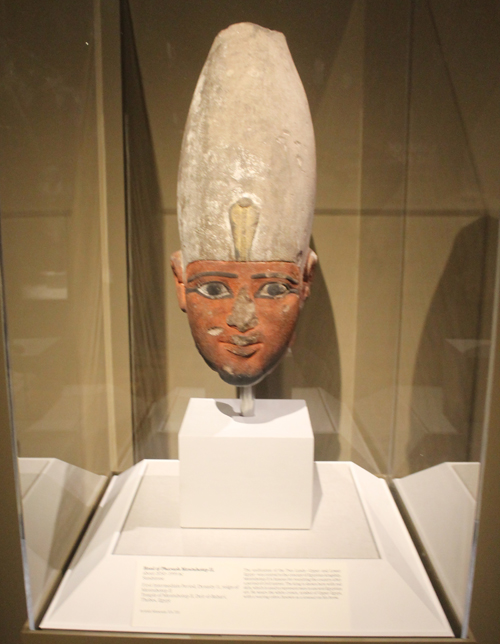 Pharaoh: King of Ancient Egypt brings 3,000 years of ancient Egyptian history to life through some of the finest objects from the British Museum's vast holdings and several of Cleveland's own masterworks. The first Egyptian art exhibition organized at the Cleveland Museum of Art since 1996, Pharaoh: King of Ancient Egypt looks past the myth to reveal the carefully designed personas of the Egyptian kings and explore the realities of daily life for the ancient royals.

Pharaoh: King of Ancient Egypt, a centennial special exhibition, is on view in the Kelvin and Eleanor Smith Foundation Hall from March 13 through June 12, 2016.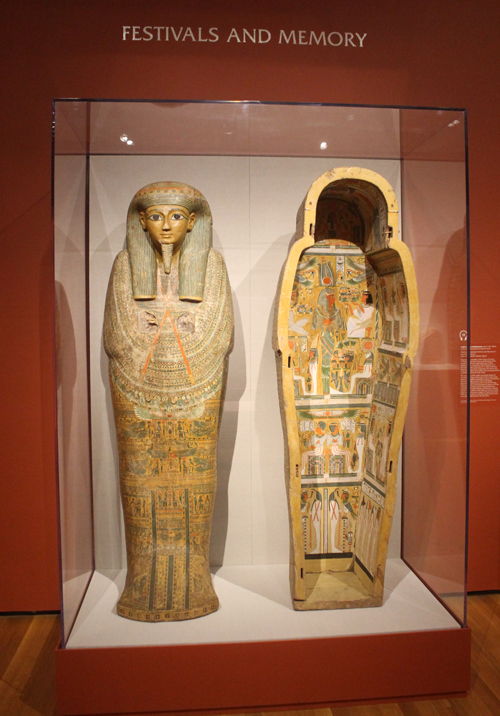 Pharaoh: King of Ancient Egypt includes more than 150 objects, from monumental sculpture to exquisite jewelry. While many objects on view were created to project a regal, all-powerful image of the pharaoh, the story that emerges is also one of a country at times divided by civil war, conquered by foreign powers or ruled by competing kings. These ancient rulers were not always male, or even Egyptian, but they shared the challenges of ruling one of the greatest civilizations the world has seen.
See more from the Pharoah exhibit
---
Cleveland Cooks™ - Lithuanian Tree Cake (Sakotis or Baumkuchen)
The Cleveland Food Adventurers Passport event in February 2016 was at the Lithuanian Club on East 185th Street.

Sakotis means "branched tree" or "tree with many branches" due to its distinctive shape (it is often conical, like a pine tree, and with the drips as branches). It is baked in a time- and labor-intensive process, by painting layers of dough onto a rotating spit in a special open oven or over an open fire.

It can be decorated with chocolate and flower ornaments, but it is often served plain. Šakotis is one of the most important desserts in Lithuanian celebrations, especially at weddings or other special occasions such as Christmas.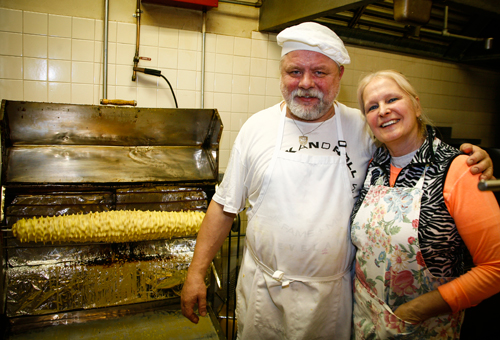 Dainius Zalensas baking a Lithuanian tree cake
More of the Lithuanian Tree Cake


---
ClevelandSenior Humor
I was visiting my daughter last night when I asked if I could borrow a newspaper.

"This is the 21st century" she said. "We don't waste money on newspapers. Here, use my iPad."

I can tell you this... that darned fly never knew what hit him.


---
Hope the lifeguard sees their Facebook pages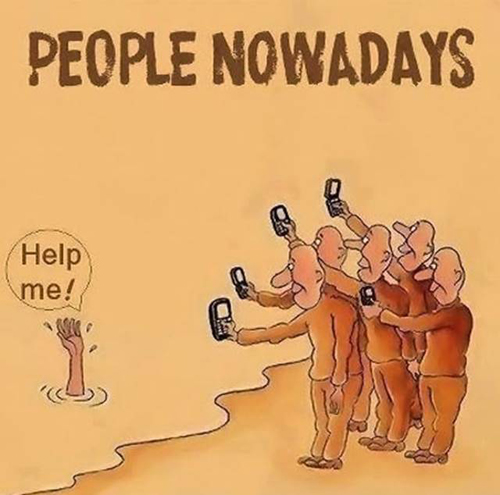 ---
Not too far in the Future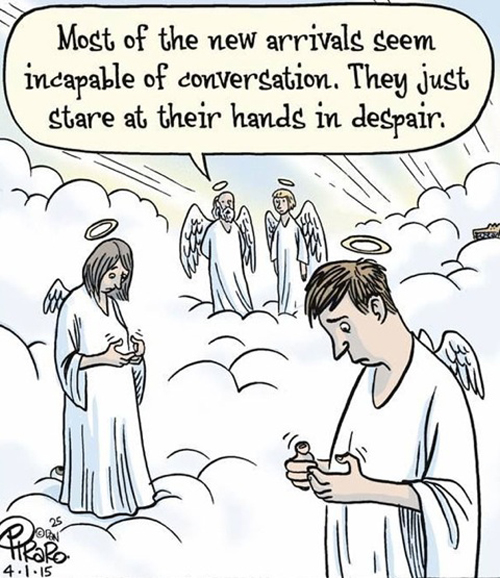 ---
---
ClevelandSeniors.Com Book of the Week


#1 NEW YORK TIMES BESTSELLER • SOON TO BE A MAJOR MOTION PICTURE

In boyhood, Louis Zamperini was an incorrigible delinquent. As a teenager, he channeled his defiance into running, discovering a prodigious talent that had carried him to the Berlin Olympics. But when World War II began, the athlete became an airman, embarking on a journey that led to a doomed flight on a May afternoon in 1943. When his Army Air Forces bomber crashed into the Pacific Ocean, against all odds, Zamperini survived, adrift on a foundering life raft.

Ahead of Zamperini lay thousands of miles of open ocean, leaping sharks, thirst and starvation, enemy aircraft, and, beyond, a trial even greater. Driven to the limits of endurance, Zamperini would answer desperation with ingenuity; suffering with hope, resolve, and humor; brutality with rebellion. His fate, whether triumph or tragedy, would be suspended on the fraying wire of his will.

Unbroken: A World War II Story of Survival, Resilience, and Redemption
---
Calendar of Events for Cleveland Seniors & Baby Boomers
---
---

Have you seen the Amazon Deal of the Day? Everyday, a new very special deal will be offered. Look to the left-hand column of this page for the daily special.


---
Sign up for our free eNewsletter sent about once every 2 months with special offers, discounts, contests and more.
---

Whether you are a Boomer who's just turned 50 (and don't think of yourself as a Senior) or part of the "Greatest Generation," you can learn about issues that are important to you and your family right here on ClevelandSeniors.com from Cleveland area experts.


Don't miss our profiles of interesting Cleveland Seniors and Baby Boomers - Maybe it's someone you know! (Or tell us about someone we should know)



Take advantage of discounts and specials selected just for you.



Ask questions and receive answers from our many experts from all walks of life.



Share your thoughts, memories, ideas with other Cleveland Seniors and Baby Boomers.



Keep your mind sharp with some of our games, quizzes and mind expanders.



Most importantly, come back often and
Have Fun!


---
Top of Page