---
Fun with Maps - Budpaest Hungary
In this episode of Fun with Maps, host Dan Hanson shows map of a city that is really 2 cities, Buda and Pest, split by the famous Danube River but joined together as Budapest, Hungary. Budapest is one of the most visited cities in the world and is a hub of music, culture, architecture, education and so on. It's history - Turkish occupation, Austria-Hungary, Lajos Kossuth, Revolution of 1956 - all were influenced by the map. From the spas and baths to the bridges, the musical influence (Liszt, Bartok, etc.) to other notable citizens (Houdini, Rubik, etc.) Budapest is a fascinating city.
See more Fun with Maps
---
Interview with the late Jerry Stiller
Who would have imagined that George Costanza's father and Doug Heffernan's father-in-law would turn out to be such a wonderful, soft-spoken, interesting person? That was Debbie Hanson's reaction after interviewing Jerry Stiller in 2010.
RIP Jerry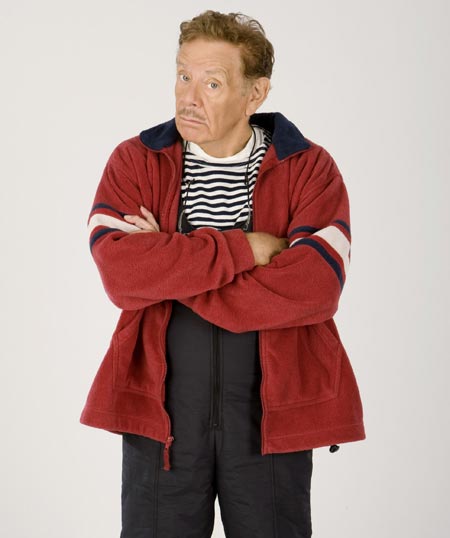 Jerry Stiller interview, pic and comments about Cleveland, the Browns and more.
---
Murder in the Cultural Gardens
"It just didn't seem right to DJ. A body found bludgeoned in a place known for "Peace through Mutual Understanding." But there she was, crumpled behind a bust of composer Franz Liszt in the Hungarian Cultural Garden. He pulled out his cell phone and dialed 911. "What is the nature of your emergency?" the dispatcher queried. With a suddenly very dry mouth DJ managed to get out, "There's been a murder in the Cultural Gardens."
That's the beginning of the recently published first novel by Dan Hanson.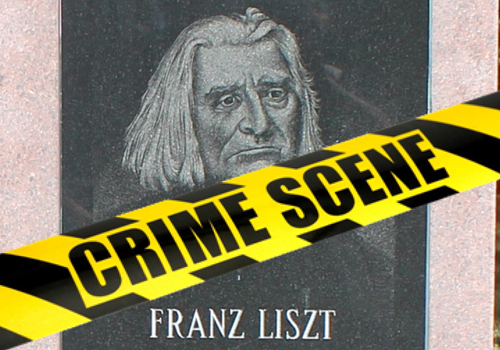 The whodunit, titled
Murder in the Cultural Gardens
, takes place in the Cleveland Cultural Gardens and all 30+ gardens are featured during the mystery. You may even recognize some of the characters.
Click the link above to learn more or to purchase in paperback or Kindle version from Amazon. Or contact Dan via the
Murder in the Cultural Gardens webpage
to have a signed book delivered.
---
Sewing Masks in Memory of her Mother
Oanh Loi-Powell
has sewn over 700 masks that she has donated to UH Pediatrics, Cleveland Clinic Cardiology, the VA Hospital, several doctors' offices, urgent care centers in the Lake County area, Highland Pointe Rehab, nursing homes and hospices. They have gone out to many families, friends, neighbors.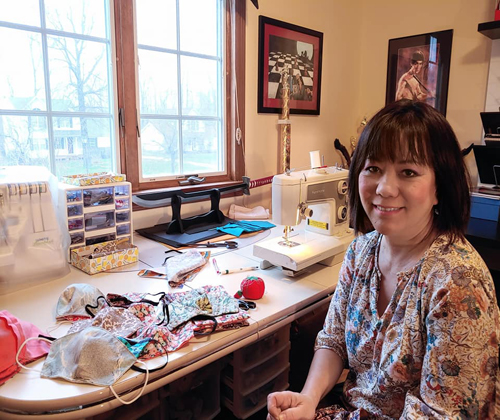 Oanh Loi-Powell at her sewing machine
Oanh has a special person in her mind as she sews.
Read about it and her memory of the refugee camp after leaving Vietnam


---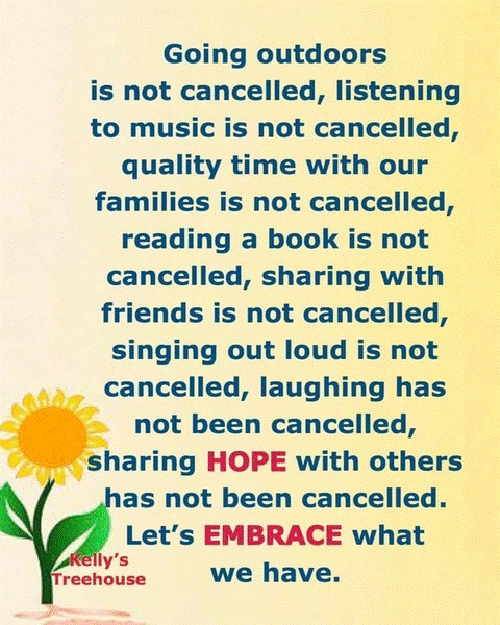 We could all use some laughs during these times.
Check out these COVID-19 virus funnies.


---
Stay Home, Stay Well, Stay Busy
We are assembling a list of online resources you can try while you are homebound. Take a look.
Local Restaurant Takeout and Food Delivery Suggestions

Cleveland Metroparks Zoo has virtual classrooms

Rock and Roll Hall of Fame free learning

Cleveland Metropolitan School District has learning resources

Day by Day Projects to keep kids reading, thinking and growing

Cleveland Orchestra online learning

Cleveland Orchestra Teacher Workshops

20 virtual field trips that you can take with your kids

Math Card Games

Cleveland Museum of Art resources

Cleveland Institute of Music concerts

Shaker Lakes Junior Naturalist Activities

Daily Mass online from the Catholic Diocese

Learn or brush up on 40 different languages (including Latin, Navajo and Klingon!)

Cleveland Museum of Natural History new digital series, CMNH@HOME

Virtual Tours of 12 Famous Museums

Cleveland Opera Theater - Opera For All Online

Cleveland Hungarian Museum Virtual Exhibits

Learn to Code, Build Projects, Earn Certifications

Entertaining Math Videos

Web Development Crash Courses

Learn multiple languages from videos from Polyglot Pablo

More multiple languages from Eko Languages videos

Learn a language with free podcasts from CoffeeBreak Languages

Crash Courses on a variety of AP high school curriculum topics

Khan Academy - free, world-class education for anyone, anywhere

1,500 Free Online Courses from Top Universities

Access 2500+ Online Courses from 140 Top Institutions.

Alison Free online courses from the world's leading experts.

Stanford University Online Courses

MIT OpenCourseWare is a web-based publication of virtually all MIT course content

Learn to Code with CodeAcademy

TED-Ed@Home - Online learning based on TED Talks

Nation Geographic learning for Kids


---
Is God Angry With Us?
The COVID-19 virus is a threat and scare for all of us. However, taking all that I have read and heard in review, I read very little about God. I read few emails that discuss prayer and petitions for help and mercy against the virus. This hushed denial and reluctance to bring up God is not just a temporary thing, nor a minor momentary forgetfulness.
Read the rest of Joe Meissner's column


---
Salute and Praying
Gia Hoa Ryan set up a corner flag salute for all, especially patients in hospitals struck by the virus and all the medical heroes.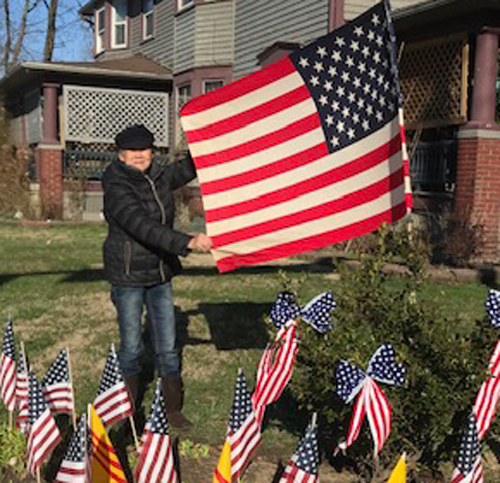 Gia Hoa Ryan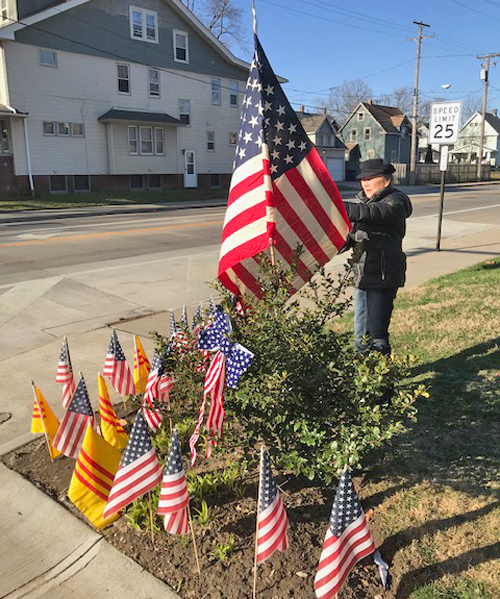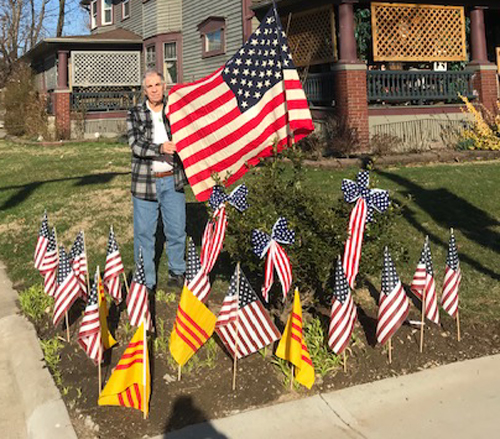 Joe Meissner
Joe says "Get out your flags. Fly them high. Ohio Governor encourages us all to fly our flags as a sign of hope and unity, And pray to God for all of us."
---
Beatitudes for Friends of the Aged
Blessed are they who understand
My faltering step and palsied hand.

Blessed are they who know that my ears today
Must strain to catch the things they say.

Blessed are they who seem to know
That my eyes are dim and my wits are slow.

Blessed are they who looked away
When coffee spilled at the table today.

Blessed are they with a cheery smile
Who stop to chat for a little while.

Blessed are they who never say,
"You've told that story twice today."

Blessed are they who know the ways
To bring back memories of yesterdays.

Blessed are they who make it known
That I'm loved, respected and not alone.

Blessed are they who know I'm at a loss
To find the strength to carry the Cross.

Blessed are they who ease the days
On my journey Home in loving ways.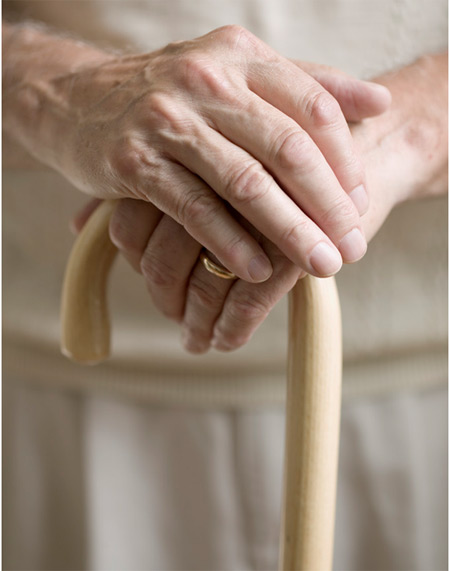 ---
Do you know what this is?
Rebecca didn't until she found a certain page on ClevelandSeniors.com.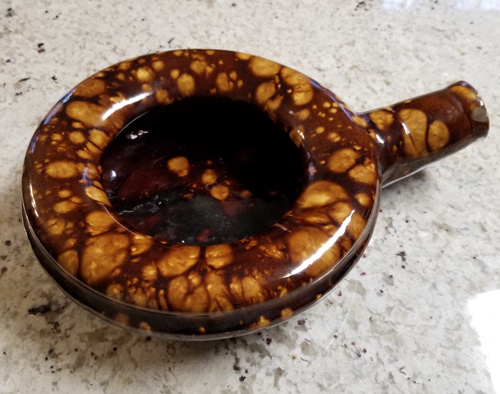 ---
How old is Grandpa?
One evening a grandson was talking to his grandfather about current events. The grandson asked his grandfather what he thought about the shootings at schools, the computer age, and just things in general.
The Grandfather replied, "Well, let me think a minute, I was born before:
television
penicillin
polio shots
frozen foods
Xerox
contact lenses
Frisbees and
the pill
There were no:
credit cards
laser beams or
ball-point pens
Man had not yet invented :
pantyhose
air conditioners
dishwashers
clothes dryers
and the clothes were hung out to dry in the fresh air and
space travel was only in Flash Gordon books.
Your Grandmother and I got married first,... and then lived together.
Every family had a father and a mother. Until I was 25, I called every woman older than me, "ma'am". And after I turned 25, I still called policemen and every man with a title, "Sir". We were before gay-rights, computer-dating, dual careers, daycare centers, and group therapy.
Our lives were governed by the Bible, good judgment, and common sense. We were taught to know the difference between right and wrong and to stand up and take responsibility for our actions. Serving your country was a privilege; living in this country was a bigger privilege... We thought fast food was eating half a biscuit while running to catch the school bus.
Having a meaningful relationship meant getting along with your cousins.
Draft dodgers were those who closed front doors as the evening breeze started.
Time-sharing meant time the family spent together in the evenings and weekends-not purchasing condominiums.
We never heard of FM radios, tape decks, CDs, electric typewriters, yogurt, or guys wearing earrings.
We listened to Big Bands, Jack Benny, and the President's speeches on our radios. And I don't ever remember any kid blowing his brains out listening to Tommy Dorsey.
If you saw anything with 'Made in Japan' on it, it was junk.
The term 'making out' referred to how you did on your school exam.
Pizza Hut, McDonald's, and instant coffee were unheard of. We had 5 &10-cent stores where you could actually buy things for 5 and 10 cents. Ice-cream cones, phone calls, rides on a streetcar, and a Pepsi were all a nickel. And if you didn't want to splurge, you could spend your nickel on enough stamps to mail 1 letter and 2 postcards.
You could buy a new Ford Coupe for $600, .... but who could afford one? Too bad, because gas was 11 cents a gallon.
In my day:
"grass" was mowed,
"coke" was a cold drink,
"pot" was something your mother cooked in and
"rock music" was your grandmother's lullaby.
"Aids" were helpers in the Principal's office,
"chip" meant a piece of wood,
"hardware" was found in a hardware store and
"software" wasn't even a word.
And we were the last generation to actually believe that a lady needed a husband to have a baby.
How old do you think I am?
I bet you have this old man in mind...you are in for a shock!
Read on to see -- pretty scary if you think about it and pretty sad at the same time.
Are you ready?????
This man would be 72 years old today.
72 years ago was 1947.
---
New technology can take some getting used to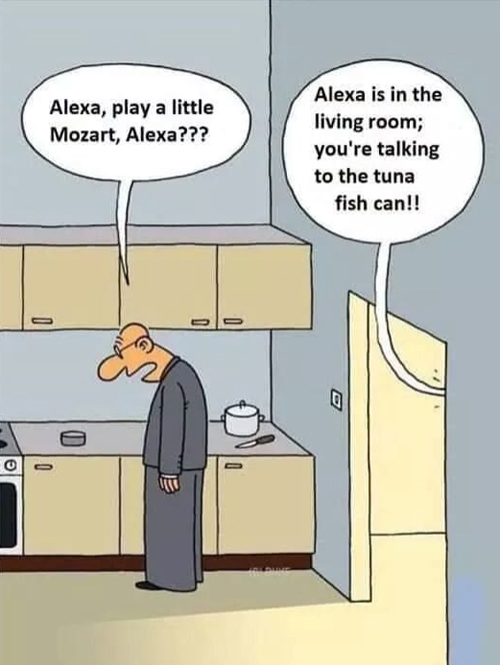 ---
Funnies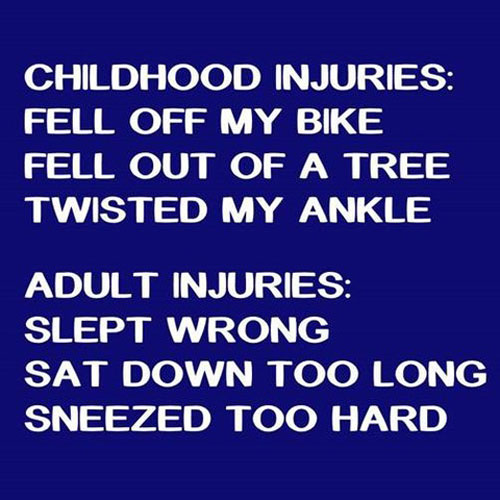 ---
A Senior Prayer
God, grant me the senility to forget the people I never liked anyway, The good fortune to run into the ones that I do, and the eyesight to tell the difference.
---
Do you need help paying your Medicare expenses?
If you are a low-income Medicare beneficiary, the Medicare Premium Assistance Programs (MPAP) may help you pay some or all of your Medicare cost-sharing expenses (premiums, copays, and coinsurance). MPAP is part of the Ohio Medicaid program. MPAP is sometimes called the "Medicare buy-in" or "Medicare savings" program.
Learn more about help paying your Medicare expenses


---
Who Needs Advance Directives about Medical Care?
Advance directives help ensure that you receive the medical care you would want even when doctors and family members are making decisions on your behalf. There are two different types of advance directives: Health Care Power of Attorney and Living Will.
Learn more about Health Care Power of Attorney and Living Wills


---
Elder Abuse: What Is It and How to Get Help
It is difficult for people to accept the notion that adult abuse occurs in the elderly, but the sad fact is that it occurs everyday. Last year in Ohio over 16,000 incidents of elder abuse were reported to Ohio Department of Job and Family Services. In Cuyahoga County alone, over 3,000 incidences of elder abuse were reported to Cuyahoga County Department and Senior Adult Services, Adult Protective Services.
---
Should you purchase prepaid funeral arrangements?
Many people do not like to think about death or funeral arrangements, but some people do make plans for when they pass. For example, some people choose to purchase "pre-paid funeral contracts." These contacts allow you to make decisions about your own funeral, and pay for it ahead of time. These pre-paid contracts give some people peace of mind. But before purchasing such a contract, keep the following issues in mind.
More about prepaid funeral arrangements


---
How can seniors learn more about benefits available to them?
BenefitsCheckUp is a web-based service that helps seniors. It is especially helpful for those with limited income and resources, their family members and, social service organizations. It connects people to over 2,000 public and private programs. Many adults over 55 need help paying for basic needs. Some of the benefits screened for are health care services, prescription drugs, rent assistance, in-home services, meals, heat, and energy assistance, and transportation.
Learn more about Benefits Checkup


---
Grandparent POAs and Caretaker Authorization
Grandparents sometimes find themselves caring for a grandchild unexpectedly. This often happens without any formal court order giving the grandparent custody or guardianship. Without custody or guardianship, the grandparent will face problems getting medical care for the child or dealing with the child's school.
More about Grandparent POAs and Caretaker Authorization


---
How do I name a Durable Power of Attorney?
A durable power of attorney can be one of the most helpful estate planning tools a person uses, but it can also be very risky. A durable POA gives a person (who is called an "attorney in fact") legal authority to act for another person in a variety of matters, including banking, benefits, housing, taxes, real estate, litigation, and more. (The durable POA is different from a Health Care Power of Attorney, which is the form used to appoint a person to make decisions about health care.)
Learn more about Durable Power of Attorney


---
Are Wills Really That Important?
:When my mother died in 2012, we discovered that her will was from 1959 and had not been updated to reflect the many changes in her life since then: she had four more children, she bought a house, furniture, an automobile, jewelry, and a dog. As a result, my mother died without a valid will. Following her death, bills had to be paid, property sold, her furniture, jewelry, the car divided, and someone had to take in the dog."
Read more about the importance of Wills
---
Recommended For You (popular with other Cleveland Seniors)
---
ClevelandSeniors.Com Book of the Week
Before You Leap
Before You Leap starts on screeching tires, literally—an interstate bridge, a police chase, three men trapped in a car, driving at full speed. The two in the front are arguing, one is brandishing a gun, and the third is bleeding profusely in the backseat. You can't help but be immediately hooked and wonder, Who are they? And how on earth did they get here?
The novel then takes you back a few days. Greg Cole's quiet and secluded life is about to be thrown into chaos when he learns that his dead sister's convicted murderer has been released early.
Before You Leap is absorbing, thought-provoking, and psychologically riveting. I was struck by how the author is able to delve into Greg's psyche and express his grief over the loss of his sister—and the inner turmoil that overtakes him—with such clarity. What you're left with is a poignant, complex, nail-biting novel where you watch in a stupor as someone's life and sanity shatter. And as it crescendos, the story pulls the rug from under your feet and delivers the most unexpected twist—one that took my breath away and left me reeling.

Before You Leap
---
Free weekly eNews
Every Tuesday evening we send an e-mail message to people who are interested in upcoming (the next week) events that have an ethnic or cultural connection. So it may be Opera in the Italian Garden or Puerto Rican Day Parade or Slovenian Kurentovanje or...
If you are interested in receiving this free weekly e-mail just sign up for the free eNews.
You can also sign up to receive more specific free eNews for any groups or groups you may choose (Irish, German, Polish, Chinese, etc.)
It's easy and free and will let you know every week about fun and interesting events that are coming up in the next week.
---
---
Calendar of Events for Cleveland Seniors & Baby Boomers
---
---
Sign up for our free eNewsletter sent about once every month with special offers, discounts, contests and more.
---
Whether you are a
Boomer
who's just turned 50 (and don't think of yourself as a Senior) or part of the
"Greatest Generation,"
you can learn about issues that are important to you and your family right here on ClevelandSeniors.com from Cleveland area experts.
Don't miss our profiles of interesting Cleveland Seniors and Baby Boomers - Maybe it's someone you know! (Or tell us about someone we should know)



Take advantage of discounts and specials selected just for you.



Ask questions and receive answers from our many experts from all walks of life.



Share your thoughts, memories, ideas with other Cleveland Seniors and Baby Boomers.



Keep your mind sharp with some of our games, quizzes and mind expanders.



Most importantly, come back often and
Have Fun!


---
Top of Page