---
Free Covid Tests from the Government
Every home in the U.S. is eligible to order 4 free at-home COVID-19 tests. The tests are completely free. Orders will usually ship in 7-12 days.
---
McDonalds menu in 1972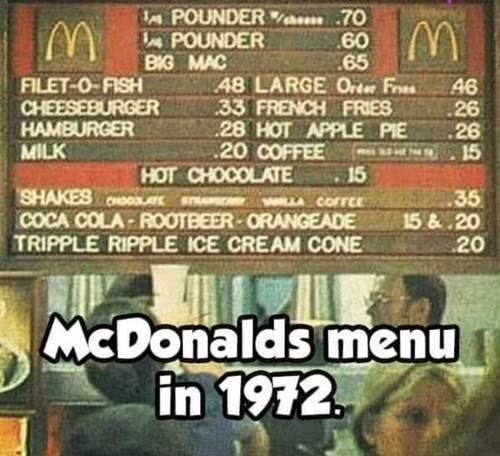 ---
Mrs. Garrett's Front Porch by Darrell Smith
A seven-year-old kid from West Virginia, living on the near east side of Cleveland, Ohio, never imagined he would spend the bulk of the summer of 1957 with his ninety-seven-year-old neighbor, Mrs. Garrett. She was a woman with a most colorful life story that includes, for starters, being born a slave in 1860. After a tumultuous meeting they warm up to each other and become fast friends through sharing and story-telling, looking at the world, past and present and all done from her front porch. She experienced first-hand the wondrous results of advancements in chemistry, modern science and technology. The world was spellbound by the marvelous inventions of the day and yet she had to navigate an existence in post-bellum America during Reconstruction and into the 20th Century. Now, her life was coming to an end and his was just beginning.
Although Mrs. Garrett's Front Porch was written more than 30 years ago, due to its historical perspective, it is as relevant today, as it was thirty years ago and would have been in 1957. It's time travel without a machine – it's about awakening our imaginings concerning life before our time and life that comes after our time - the beauty of what was, is and what will be is explored… but that may be just what I got out of it.
Mrs. Garrett's Front Porch by Darrell Smith


---
Hi! What do you want to do today?
Or just Browse around using the topics to the left
---
ClevelandSeniors.Com Joke of the Week
An elderly man goes to the doctor and tells him that he hasn't been feeling well. The doctor examines him, leaves the room, and comes back with three different bottles of pills.
The doctor says, "Take the green pill with a big glass of water when you get up. Take the blue pill with a big glass of water after lunch. Then just before going to bed, take the red pill with another big glass of water."
Startled to be put on so much medicine, the elderly man stammers, "My goodness, Doc. Exactly what's my problem?"
The doctor says, "You're not drinking enough water."
---
Revealing Krishna: Journey to Cambodia's Sacred Mountain
Cleveland Museum of Art
According to
Sanskrit
texts,
Krishna
, an avatar of the Hindu god
Vishnu
, once hoisted a mountain overhead to shelter people and cattle from a mighty storm brought upon them by
Indra
, the god of rain and lightning, whom Krishna had angered. At the time, the dark-skinned god was just eight years old, and after this feat, his fellow villagers came to recognize him as a divinity. Around the year 600, a sculpture was created for the temple site of Phnom Da in southern Cambodia to honor this feat.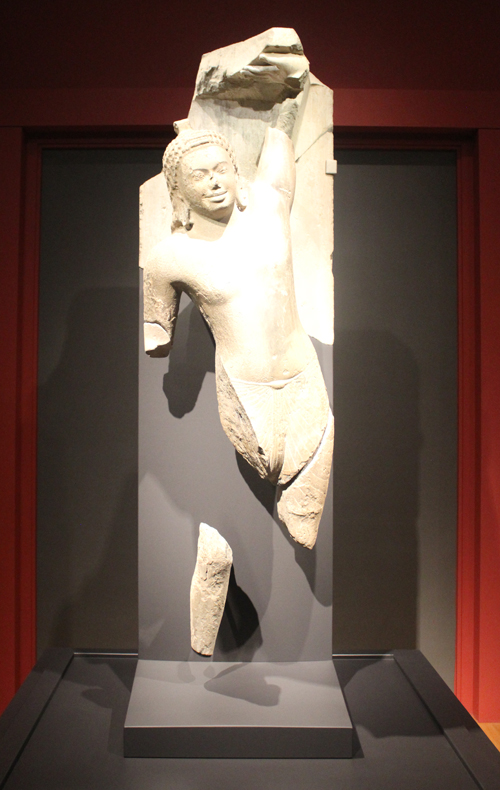 The Cleveland Museum of Art's highly anticipated exhibition, Revealing Krishna: Journey to Cambodia's Sacred Mountain opened November 14, 2021. The groundbreaking exhibition incorporates mixed reality and reveals the CMA's newly restored Cambodian masterwork, Krishna Lifting Mount Govardhan, through an integration of art and experiential digital design.
The exhibition transports visitors to the dramatic floodplains of southern Cambodia and illustrates the history of the sculpture, spanning 1,500 years and three continents.
Visit https://www.clevelandart.org/exhibitions/revealing-krishna-journey-cambodias-sacred-mountain for more information and ticket availability.
Watch Dan Hanson's video preview of the exhibit which includes comments from Sonya Rhie Mace, CMA's George P. Bickford Curator of Indian and Southeast Asian Art who speaks about the participation of actress Angelina Jolie among other items. It also takes a look at the incredible HoloLens 2 virtual reality tour which includes a life-size holographic representation of the original cave temple on Phnom Da.
See more from the Revealing Krishna: Journey to Cambodia's Sacred Mountain Exhibit
---
Advice from someone heading toward his 80th birthday
After loving my parents, my siblings, my spouse, my children and my friends, I have now started loving myself.

I have realized that I am not "Atlas". The world does not rest on my shoulders.
I have stopped bargaining with vegetable & fruit vendors. A few pennies more is not going to break me, but it might help the poor fellow save for his daughter's school fees.

I leave my waitress a big tip. The extra money might bring a smile to her face. She is toiling much harder for a living than I am.

I stopped telling the elderly that they've already told that story many times. The story makes them walk down memory lane & relive their past.

I have learned not to correct people even when I know they are wrong. The onus of making everyone perfect is not on me. Peace is more precious than perfection.

I give compliments freely & generously. Compliments are a mood enhancer not only for the recipient, but also for me. And a small tip for the recipient of a compliment, never, NEVER turn it down, just say "Thank You."

I have learned not to bother about a crease or a spot on my shirt. Personality speaks louder than appearances.

I walk away from people who don't value me. They might not know my worth, but I do.

I remain cool when someone plays dirty to outrun me in the rat race. I am not a rat & neither am I in any race.

I am learning not to be embarrassed by my emotions. It's my emotions that make me human.

I have learned that it's better to drop the ego than to break a relationship. My ego will keep me aloof, whereas with relationships, I will never be alone.

I have learned to live each day as if it's the last. After all, it might be the last.

I am doing what makes me happy. I am responsible for my happiness, and I owe it to myself. Happiness is a choice. You can be happy at any time, just choose to be!
---
Beatitudes for Friends of the Aged
Blessed are they who understand
My faltering step and palsied hand.

Blessed are they who know that my ears today
Must strain to catch the things they say.

Blessed are they who seem to know
That my eyes are dim and my wits are slow.

Blessed are they who looked away
When coffee spilled at the table today.

Blessed are they with a cheery smile
Who stop to chat for a little while.

Blessed are they who never say,
"You've told that story twice today."

Blessed are they who know the ways
To bring back memories of yesterdays.

Blessed are they who make it known
That I'm loved, respected and not alone.

Blessed are they who know I'm at a loss
To find the strength to carry the Cross.

Blessed are they who ease the days
On my journey Home in loving ways.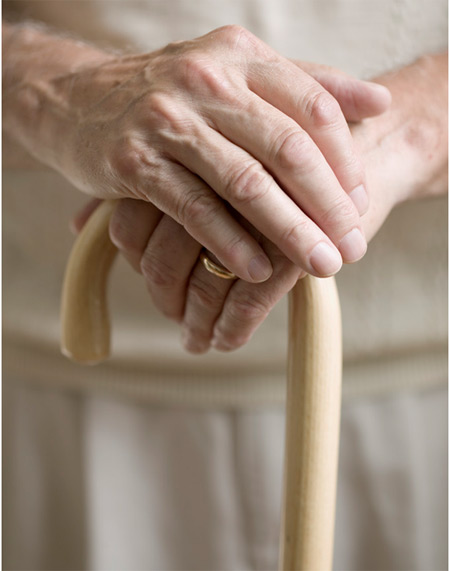 ---
My Living Will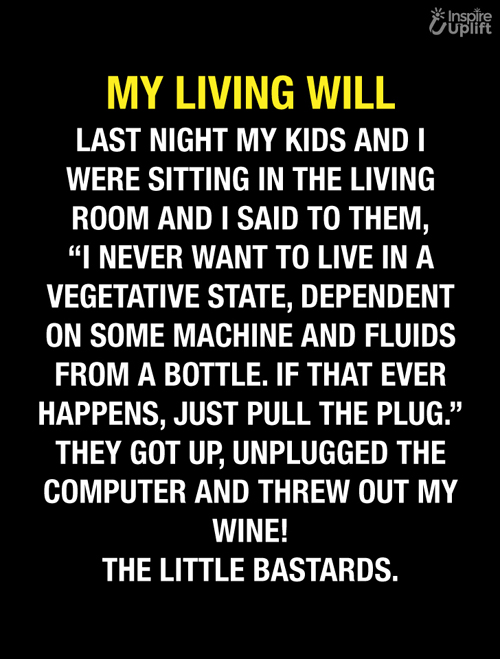 ---
How to Stop Gossip
Mildred, the church gossip, and self-appointed monitor of the church's morals, kept sticking her nose into other people's business. Several members did not approve of her extra-curricular activities, but feared her enough to maintain their silence. She made a mistake, however, when she accused Frank, a new member, of being an alcoholic after she saw his old pickup parked in front of the town's only bar one afternoon. She emphatically told Frank (and several others) that everyone seeing it there would know what he was doing.
Frank, a man of few words, stared at her for a moment and just turned and walked away. He didn't explain, defend, or deny. He said nothing.
Later that evening, Frank quietly parked his pickup in front of Mildred's house ... walked home ... and left it there all night…


---
An Answered Prayer
Smith climbed to the top of Mt. Sinai to get close enough to talk to God. Looking up, he asked the Lord.. "God, what does a million years mean to you?"
The Lord replied, "A minute."
Smith asked, "And what does a million dollars mean to you?"
The Lord replied, "A penny."
Smith asked, "Can I have a penny?"
The Lord replied, "In a minute."
---
The 7 Dwarves of Old Age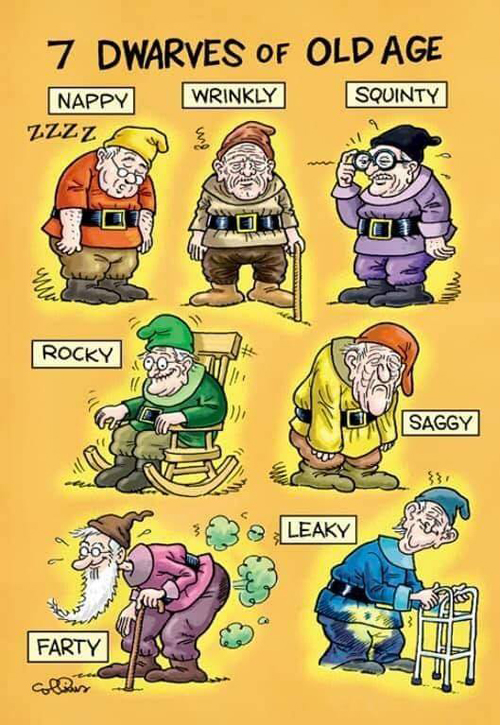 ---
Murder in the Cultural Gardens
"It just didn't seem right to DJ. A body found bludgeoned in a place known for "Peace through Mutual Understanding." But there she was, crumpled behind a bust of composer Franz Liszt in the Hungarian Cultural Garden. He pulled out his cell phone and dialed 911. "What is the nature of your emergency?" the dispatcher queried. With a suddenly very dry mouth DJ managed to get out, "There's been a murder in the Cultural Gardens."
That's the beginning of the recently published first novel by Dan Hanson.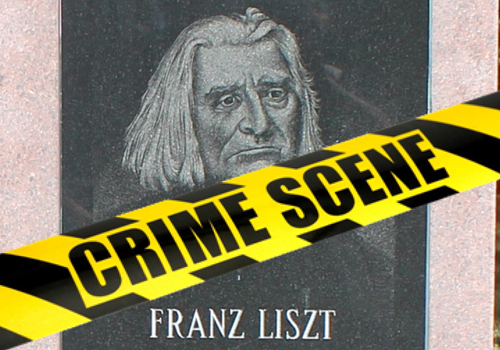 The whodunit, titled
Murder in the Cultural Gardens
, takes place in the Cleveland Cultural Gardens and all 30+ gardens are featured during the mystery. You may even recognize some of the characters.
Click the link above to learn more or to purchase in paperback or Kindle version from Amazon. Or contact Dan via the
Murder in the Cultural Gardens webpage
to have a signed book delivered.
---
New technology can take some getting used to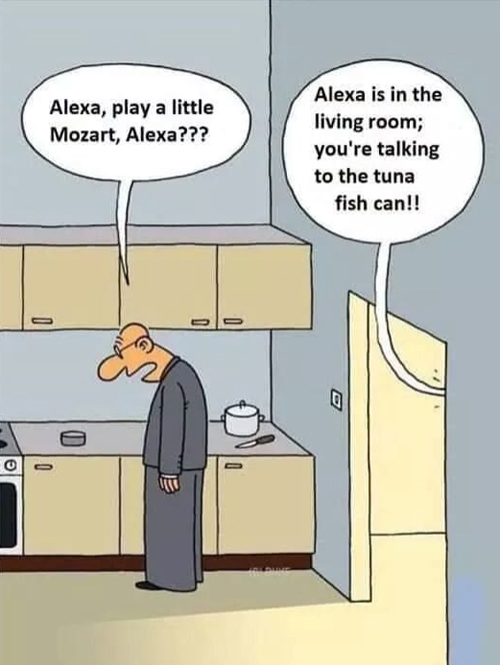 ---
Funnies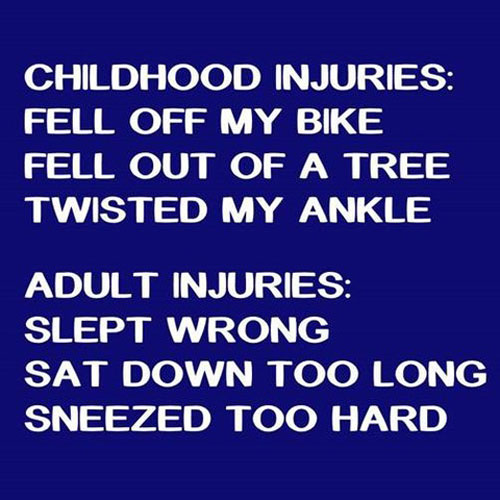 ---
A Senior Prayer
God, grant me the senility to forget the people I never liked anyway, The good fortune to run into the ones that I do, and the eyesight to tell the difference.
---
Do you need help paying your Medicare expenses?
If you are a low-income Medicare beneficiary, the Medicare Premium Assistance Programs (MPAP) may help you pay some or all of your Medicare cost-sharing expenses (premiums, copays, and coinsurance). MPAP is part of the Ohio Medicaid program. MPAP is sometimes called the "Medicare buy-in" or "Medicare savings" program.
Learn more about help paying your Medicare expenses


---
Who Needs Advance Directives about Medical Care?
Advance directives help ensure that you receive the medical care you would want even when doctors and family members are making decisions on your behalf. There are two different types of advance directives: Health Care Power of Attorney and Living Will.
Learn more about Health Care Power of Attorney and Living Wills


---
Elder Abuse: What Is It and How to Get Help
It is difficult for people to accept the notion that adult abuse occurs in the elderly, but the sad fact is that it occurs everyday. Last year in Ohio over 16,000 incidents of elder abuse were reported to Ohio Department of Job and Family Services. In Cuyahoga County alone, over 3,000 incidences of elder abuse were reported to Cuyahoga County Department and Senior Adult Services, Adult Protective Services.
---
Should you purchase prepaid funeral arrangements?
Many people do not like to think about death or funeral arrangements, but some people do make plans for when they pass. For example, some people choose to purchase "pre-paid funeral contracts." These contacts allow you to make decisions about your own funeral, and pay for it ahead of time. These pre-paid contracts give some people peace of mind. But before purchasing such a contract, keep the following issues in mind.
More about prepaid funeral arrangements


---
How can seniors learn more about benefits available to them?
BenefitsCheckUp is a web-based service that helps seniors. It is especially helpful for those with limited income and resources, their family members and, social service organizations. It connects people to over 2,000 public and private programs. Many adults over 55 need help paying for basic needs. Some of the benefits screened for are health care services, prescription drugs, rent assistance, in-home services, meals, heat, and energy assistance, and transportation.
Learn more about Benefits Checkup


---
Grandparent POAs and Caretaker Authorization
Grandparents sometimes find themselves caring for a grandchild unexpectedly. This often happens without any formal court order giving the grandparent custody or guardianship. Without custody or guardianship, the grandparent will face problems getting medical care for the child or dealing with the child's school.
More about Grandparent POAs and Caretaker Authorization


---
How do I name a Durable Power of Attorney?
A durable power of attorney can be one of the most helpful estate planning tools a person uses, but it can also be very risky. A durable POA gives a person (who is called an "attorney in fact") legal authority to act for another person in a variety of matters, including banking, benefits, housing, taxes, real estate, litigation, and more. (The durable POA is different from a Health Care Power of Attorney, which is the form used to appoint a person to make decisions about health care.)
Learn more about Durable Power of Attorney


---
Are Wills Really That Important?
:When my mother died in 2012, we discovered that her will was from 1959 and had not been updated to reflect the many changes in her life since then: she had four more children, she bought a house, furniture, an automobile, jewelry, and a dog. As a result, my mother died without a valid will. Following her death, bills had to be paid, property sold, her furniture, jewelry, the car divided, and someone had to take in the dog."
Read more about the importance of Wills
---
Recommended For You (popular with other Cleveland Seniors)
---
ClevelandSeniors.Com Book of the Week
Before You Leap
Before You Leap starts on screeching tires, literally—an interstate bridge, a police chase, three men trapped in a car, driving at full speed. The two in the front are arguing, one is brandishing a gun, and the third is bleeding profusely in the backseat. You can't help but be immediately hooked and wonder, Who are they? And how on earth did they get here?
The novel then takes you back a few days. Greg Cole's quiet and secluded life is about to be thrown into chaos when he learns that his dead sister's convicted murderer has been released early.
Before You Leap is absorbing, thought-provoking, and psychologically riveting. I was struck by how the author is able to delve into Greg's psyche and express his grief over the loss of his sister—and the inner turmoil that overtakes him—with such clarity. What you're left with is a poignant, complex, nail-biting novel where you watch in a stupor as someone's life and sanity shatter. And as it crescendos, the story pulls the rug from under your feet and delivers the most unexpected twist—one that took my breath away and left me reeling.

Before You Leap
---
Free weekly eNews
Every Tuesday evening we send an e-mail message to people who are interested in upcoming (the next week) events that have an ethnic or cultural connection. So it may be Opera in the Italian Garden or Puerto Rican Day Parade or Slovenian Kurentovanje or...
If you are interested in receiving this free weekly e-mail just sign up for the free eNews.
You can also sign up to receive more specific free eNews for any groups or groups you may choose (Irish, German, Polish, Chinese, etc.)
It's easy and free and will let you know every week about fun and interesting events that are coming up in the next week.
---
Website Disclaimer
We participate in the Amazon Services LLC Associates Program, an affiliate advertising program designed to provide a means for sites to earn advertising fees by advertising and linking to Amazon.com. Please note that some of the links on this website are affiliate links, and at no additional cost to you, we will earn a small commission if you decide to make a purchase after clicking through the link. Please do not spend any money on these products unless you feel you need them or that they will help you achieve your goals.
---
---
Calendar of Events for Cleveland Seniors & Baby Boomers
---
---
Sign up for our free eNewsletter sent about once every month with special offers, discounts, contests and more.
---
Whether you are a
Boomer
who's just turned 50 (and don't think of yourself as a Senior) or part of the
"Greatest Generation,"
you can learn about issues that are important to you and your family right here on ClevelandSeniors.com from Cleveland area experts.
Don't miss our profiles of interesting Cleveland Seniors and Baby Boomers - Maybe it's someone you know! (Or tell us about someone we should know)



Take advantage of discounts and specials selected just for you.



Ask questions and receive answers from our many experts from all walks of life.



Share your thoughts, memories, ideas with other Cleveland Seniors and Baby Boomers.



Keep your mind sharp with some of our games, quizzes and mind expanders.



Most importantly, come back often and
Have Fun!


---
Top of Page