Welcome to
ClevelandSeniors.Com,
the online home for
"Seasoned Citizens"
of Cleveland, Northeast Ohio & Beyond!

---
Dog Tags
When visitors first enter the National Vietnam Veterans Art Museum in Chicago, they will hear a sound like wind chimes coming from above them and their attention will be drawn upward 24 feet to the ceiling of the two-story high atrium.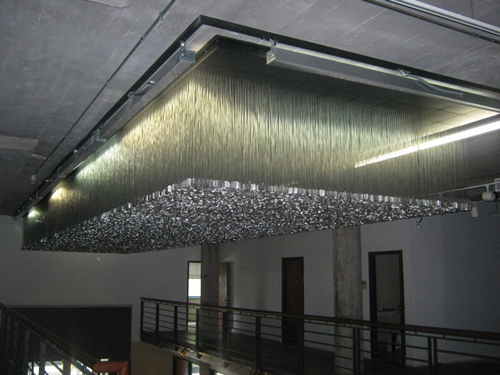 Dog tags of the more than 58,000 service men and women who died in the Vietnam War hang from the ceiling. The 10-by-40-foot sculpture, entitled Above & Beyond, was designed by Ned Broderick and Richard Stein.
The tens of thousands of metal dog tags are suspended 24 feet in the air, 1 inch apart, from fine lines that allow them to move and chime with shifting air currents.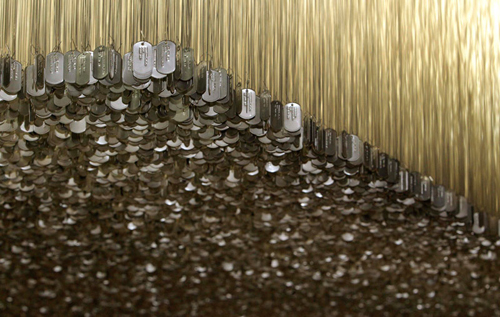 Museum employees using a kiosk and laser pointer help visitors locate the exact dog tag with the imprinted name of their lost friend or relative


---
ClevelandSeniors.Com Video of the Week
Edelweiss tribute to Joseph Holzer
Dan Hanson states that German-American leader Josef Holzer was to be inducted into the Cleveland International Hall of Fame but sadly passed away one month prior to the ceremony. As a tribute, accordion musician Fred Ziwich led the Donauschwaben and others in the crowd with the song Edelweiss from the Sound of Music.
---
ClevelandSeniors.Com Picture of the Week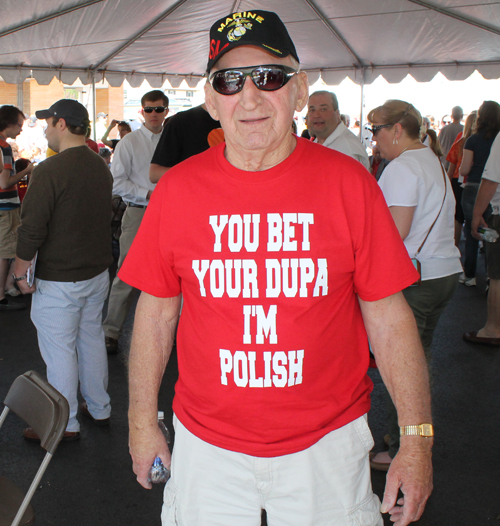 Cleveland Senior Casey Kiel at Polish Constitution Day in Parma
---
ClevelandSeniors.Com Quote of the Week
Like everyone else who makes the mistake of getting older, I begin each day with coffee and obituaries.
Bill Cosby


---
---
Expert Social Security Advice for May 2013
Social Security Honors All Who Serve
May 2013

Celebrate Cinco de Mayo with Spanish Online Services
May 2013

Social Security's "Triple Crown" of Social Media
May 2013


---
ClevelandSeniors.Com Joke of the Week
Do you think I'll live to be 95?
I recently picked a new primary care doctor. After two visits and exhaustive Lab tests, he said I was doing 'fairly well' for my age. (I just turned 75).

A little concerned about that comment, I couldn't resist asking him, 'Do you think I'll live to be 95?'

He asked, 'Do you smoke tobacco, or drink beer, wine or hard liquor? 'Oh no,' I replied. 'I'm not doing drugs, either!'

Then he asked, 'Do you eat rib-eye steaks and barbecued Ribs? 'I said, 'Not much... my former doctor said that all red meat is very unhealthy!

'Do you spend a lot of time in the sun, like playing golf, fishing, boating, sailing, hiking, or bicycling? 'No, I don't,' I said.

He asked, 'Do you gamble, drive fast cars, or have a lots of sex?' 'No,' I said.

He looked at me and said, 'Then, why do you even give a damn?'
---
ClevelandSeniors.Com Tip of the Week
Garden Tip: Deadhead (remove the dead or spent flowers) spring blooming bulbs, but leave their foliage until it turns yellow.
---
ClevelandSeniors.Com Book of the Week
In his international blockbusters The Da Vinci Code, Angels & Demons, and The Lost Symbol, Dan Brown masterfully fused history, art, codes, and symbols. In this riveting new thriller, Brown returns to his element and has crafted his highest-stakes novel to date.

In the heart of Italy, Harvard professor of symbology, Robert Langdon, is drawn into a harrowing world centered on one of history's most enduring and mysterious literary masterpieces . . . Dante's Inferno.

Against this backdrop, Langdon battles a chilling adversary and grapples with an ingenious riddle that pulls him into a landscape of classic art, secret passageways, and futuristic science. Drawing from Dante's dark epic poem, Langdon races to find answers and decide whom to trust . . . before the world is irrevocably altered.

Inferno: A Novel (Robert Langdon)
---
---
---
Calendar of Events for Cleveland Seniors & Baby Boomers
---
---

Have you seen the Amazon Deal of the Day? Everyday, a new very special deal will be offered. Look to the left-hand column of this page for the daily special.


---
Sign up for our free eNewsletter sent about once every 2 months with special offers, discounts, contests and more.
---

Whether you are a Boomer who's just turned 50 (and don't think of yourself as a Senior) or part of the "Greatest Generation," you can learn about issues that are important to you and your family right here on ClevelandSeniors.com from Cleveland area experts.


Don't miss our profiles of interesting Cleveland Seniors and Baby Boomers - Maybe it's someone you know! (Or tell us about someone we should know)



Take advantage of discounts and specials selected just for you.



Ask questions and receive answers from our many experts from all walks of life.



Share your thoughts, memories, ideas with other Cleveland Seniors and Baby Boomers.



Keep your mind sharp with some of our games, quizzes and mind expanders.



Most importantly, come back often and
Have Fun!


---
Top of Page