Welcome to
ClevelandSeniors.Com,
the online home for
"Seasoned Citizens"
of Cleveland, Northeast Ohio & Beyond!

---
Honoring Those Who Fought For Freedom In Warsaw
By U.S. Senator Rob Portman Seventy years ago, as American and British forces were liberating France and the Red Army was pressing forward on the Eastern Front, the people of Poland were fighting for their freedom. After five years of Nazi oppression, the Polish resistance in Warsaw launched an insurrection against their occupiers.
For two months and with little support from outside forces, thousands of resistance fighters—men, women, and even children—fought against the far better armed and better supplied German army. As one German officer later remarked, they fought to the very last bullet. Before it was over, more than 16,000 resistance fighters would give their lives. In retaliation for this act of defiance, hundreds of thousands of Polish civilians were murdered by the members of the SS. When the Red Army finally did arrive, what should have been a liberation turned into yet another form of captivity, and for the next 45 years, Poland endured the oppression of Soviet communism.
But the Polish people never forgot the bravery and the sacrifices of those who stood for liberty those 63 days in the late summer of 1944. Many of the survivors came to the United States, where they continued the fight for an independent Poland. Others joined the Solidarity movement, and the memory of the Warsaw Uprising served to inspire everyday people to fight for liberation. When Poland won its independence in 1989, the dream of the uprising was finally realized.
Earlier this year, I had the opportunity to travel to Poland to meet with Polish officials and visit U.S. troops in the country. I also had the opportunity to visit the Warsaw Uprising Museum to see firsthand the moving commemoration of this chapter in Poland's history. Poland is a staunch ally of the United States, and the Polish people have stood with us in our struggle against terrorism around the world. As the United States and Poland continue to fight for freedom and democracy, the historical ties that bind us are more important today than ever.
Recently, I joined with my colleagues in the Senate to cosponsor a resolution marking the 70th anniversary of the Warsaw Uprising. The bravery of the men and women who took part in the fight against Nazi oppression will never be forgotten. Neither will their sacrifices. Their legacy lives on today.
So too does their cause.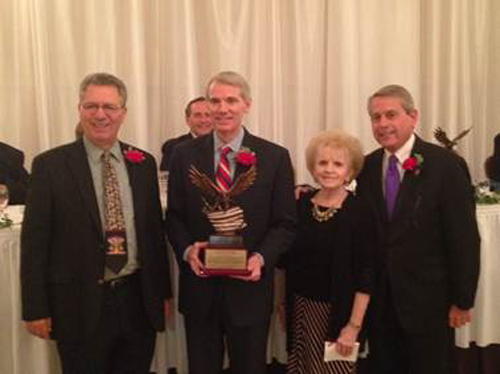 U.S. Senator Rob Portman received the American Nationalities Movement 'Freedom Award' at the 2014 annual Captive Nations banquet.
---
Cleveland native Petty Officer Dameon Smith serving
aboard USS Gerald R. Ford
A Cleveland, Ohio native and 1999 John Hay High School graduate, is serving in the U.S. Navy as part of a hand-picked crew charged with bringing the Navy's newest aircraft carrier into service.

Petty Officer Second Class Dameon Smith is a legalman aboard Pre-Commissioning Unit Gerald R. Ford (CVN 78), the first ship in its class and the successor to the Navy's Nimitz-class aircraft carriers that have been in operation for the last half century.

Smith and the rest of the 1000-Sailor crew are slowly bringing the ship to life, a crew that will eventually grow to more than 4,500 when the ship is at sea. When complete, the aircraft carrier, powered by two nuclear reactors, will measure more than three football fields long at 1,092 feet in length and will weigh more than 100,000 tons. It will be capable of sailing at nearly 35 mph and will carry more than 75 Navy aircraft.

"Petty Officer Smith plays a vital role in preparing our Nation's newest and most technologically advanced warship for sea,"¯ said Ford's Commanding Officer, Capt. John F. Meier. "We have the opportunity to build this command with the ideals of our namesake and we are creating the command climate and a culture of excellence that we have always wanted. This crew is setting that standard, a standard that will last for the 50-plus year life of the ship."

¯As one of the sailors who will commission the ship, Smith, who enlisted 11 years ago, has the opportunity to see firsthand the innovations being incorporated into the design of the ship; from a redesigned flight deck to allow for more efficient aircraft operations to equipment that requires less maintenance.

As the crew grows and works toward the goal of joining the fleet in 2016, Smith and other Gerald R. Ford sailors will be will be accepting spaces on the ship, training to operate it and building a legacy that will last beyond their lifetimes.

Training for the crew has to come from some unique sources. There are no Navy schools for some of the new equipment, so the crew is partnering with Huntington Ingalls Newport News Shipbuilding and other vendors to master the new systems.

"This is a unique opportunity to see first-hand how the systems are installed and tested, which is an advantage that future crews won't have an opportunity to experience,"¯ said Meier. "Petty Officer Smith and his shipmates are becoming the subject matter experts. They are working hand in hand with the Shipyard throughout the testing phase and in turn teaching the Navy how to operate this new class of aircraft carriers."¯

Smith said it is an exciting time to be in the Navy, helping to build a crew and a ship from scratch, something he never expected to be doing just a couple years ago. He also said he is proud of the work he is doing to help commission and man the Navy's newest aircraft carrier.

As a 33-year-old with numerous responsibilities, Smith said he is learning about himself as a leader, sailor and a person. "I've learned to take advice from the leadership from my throughout my career and apply it to my everyday life,"¯ said Smith. "I take the things I've been told in the past and apply it to my life to accomplish my goals, which makes me a better person."

Smith adds he is ready to accept the sacrifices the Navy and his country are asking him to make. This humbling reward is being a part of something much bigger than he ever expected.

Like the Nimitz-class aircraft carriers that came before it, USS Gerald R. Ford's mission is to protect and defend America on the world's oceans. When the ship deploys it will bring four-and-a-half acres of survivable, sovereign U.S. territory, increasing the Navy's strike capability and defending the country's interests in any region of the world.

The ship is scheduled to commission in spring 2016.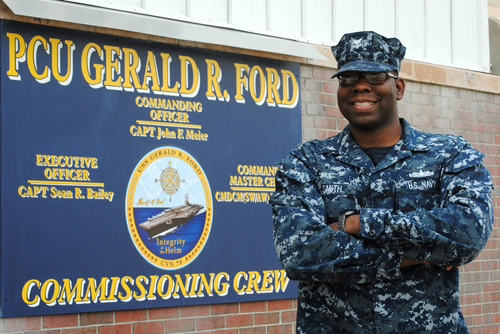 Petty Officer Second Class Dameon Smith is a legalman
aboard Pre-Commissioning Unit Gerald R. Ford.
---
Amy remembers the old phones
Before her Smarter-Than-I-Am-Phone
We had graduated to a single party phone line. Hooray! No more would mom have to wait for that party- line person to finish her endless conversations.

Read the rest of Amy's memories of the telephone


---
Tips from the Restaurant Trade - Keeping Up With Maury
Oh, those un-tender carrots. Why do I call them un-tender? Because they are too tough to eat! I go into top-notch restaurants and they are serving un-tender carrots. Why is that?

Let me explain the carrot problem.

Read the rest of Maury's look at Carrots, Fish, Corn and more


---
Peace Camp Wisdom - What would the Teddy Bears say?
Peace In The Hood is a youth violence, prevention, intervention and educational program that promotes personal responsibility, empowerment and self-sufficiency. They provide young people with structured activities from a holistic culturally specific perspective. This process will enable young adults to learn and implement the tools necessary to become productive citizens in society.

Peace Camp is an annual summer program that brings youth together to learn to focus on what they have in common-not their differences. They have come to learn their culture, their history, nonviolent crisis intervention and mediation and to be part of the solution instead of part of the problem.

Pastor Larry White volunteered at Peace Camp and addressed the issue of "the block by block mentality of violence."

He noted all the flowers and teddy bears that are distributed after a killing and asked 'What would the Teddy Bears say?"




---
Sun Yat-Sen and the Cleveland Connection
Attorney Joseph Patrick Meissner spoke atthe Emperor's Palace Restaurant on the resurrected Rockwell Avenue in Cleveland's Asia Town as part of the ClevelandPeople.Com Food Adventurers Passport Program.

"Tonight I am going to talk about one of my great heroes, Sun Yat Sen," I begin my Lincolnesque three-minute talk. "How many of you have heard of him? About half the audience raise their hands. So I will have to be a little careful. If I give too much detail, this may overload some in the audience who may just tune out. If I don't present enough, then the smart half of the audience will be bored.

"In my talk," I continue, "I will touch upon a Cleveland connection for Sun Yat Sen as well as relate how his immigration experience to America may help us resolve the very tough immigration issues that concern today's America.

Read the rest of Joe Meissner's talk on Sun Yat-Sen and Cleveland
---
Expert Social Security Advice
Social Security Celebrates 79 Years
August 2014


---
Native American Wisdom
Native Americans from the United Eastern Lenape Nation performed at the 4th Annual Downtown Ashtabula Multi-Cultural Festival.

Chief Quiet Wolf explained the drum they use and the 12 laws of Peace inscribed on the drum. The laws are Respect, Harmony, Patience, Honor, Courage, Oneness and so on and each has a negative attribute counterpart (such as impatience) to be used as a teaching tool.
---
ClevelandSeniors.Com Photo of the Week
Have you visited the USS Cod lately?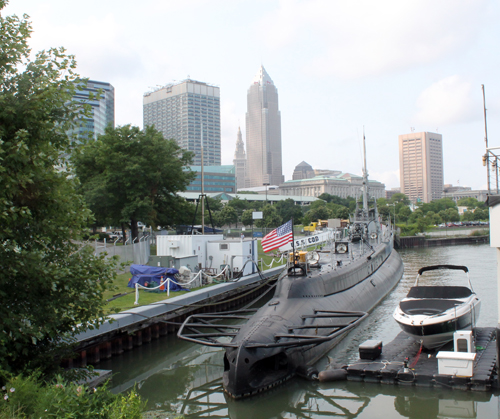 USS Cod and Cleveland skyline
---
Getting the best Watermelons - Keeping Up With Maury
Watermelons do not ripen once they are picked. Cantaloupes ripen if you leave them out at room temperature. Honey Dews will not ripen.

But watermelons, once they are picked, that's it! They will be either good or bad.

Read the rest of Maury's tips on watermelons


---
What to look for at Farmer's Markets - Keeping Up With Maury
There is so much happening in the food industry I hardly know where to begin. Mid July is the beginning of the harvest season. All those home grown vegetables … all those little farm projects.

So let me tell you what to look for. The first thing you want to concentrate on is ...

Read the rest of Maury's visit to Farmer's Markets


---
ClevelandSeniors.Com Humor of the Week
Yesterday I had an appointment to see the urologist for a Prostate exam. Of course I was a bit on edge because all my friends have either gone under the knife or had those pellets implanted.

The waiting room was filled with patients. As I approached the receptionist's desk, I noticed that the receptionist was a large, unfriendly woman, who looked like a Sumo wrestler.

I gave her my name. In a very loud voice, the receptionist said, "YES, I HAVE YOUR NAME HERE; YOU WANT TO SEE THE DOCTOR ABOUT IMPOTENCE, RIGHT?"

All the patients in the waiting room snapped their heads around to look at me, a now, very embarrassed man. But as usual, I recovered quickly, and in an equally loud voice I replied, "NO, I'VE COME TO INQUIRE ABOUT A SEX CHANGE OPERATION, BUT I DON'T WANT THE SAME DOCTOR THAT DID YOURS."

Don't mess with old retired guys.
---
ClevelandSeniors.Com Book of the Week


In Smart Money Smart Kids, financial expert and best-selling author Dave Ramsey and his daughter Rachel Cruze equip parents to teach their children how to win with money.

Starting with the basics like working, spending, saving, and giving, and moving into more challenging issues like avoiding debt for life, paying cash for college, and battling discontentment, Dave and Rachel present a no-nonsense, common-sense approach for changing your family tree.

Smart Money Smart Kids: Raising the Next Generation to Win with Money
---
---
---
---
ClevelandSeniors.Com Special offer of the Week
---
---
Calendar of Events for Cleveland Seniors & Baby Boomers
---
---

Have you seen the Amazon Deal of the Day? Everyday, a new very special deal will be offered. Look to the left-hand column of this page for the daily special.


---
Sign up for our free eNewsletter sent about once every 2 months with special offers, discounts, contests and more.
---

Whether you are a Boomer who's just turned 50 (and don't think of yourself as a Senior) or part of the "Greatest Generation," you can learn about issues that are important to you and your family right here on ClevelandSeniors.com from Cleveland area experts.


Don't miss our profiles of interesting Cleveland Seniors and Baby Boomers - Maybe it's someone you know! (Or tell us about someone we should know)



Take advantage of discounts and specials selected just for you.



Ask questions and receive answers from our many experts from all walks of life.



Share your thoughts, memories, ideas with other Cleveland Seniors and Baby Boomers.



Keep your mind sharp with some of our games, quizzes and mind expanders.



Most importantly, come back often and
Have Fun!


---
Top of Page