---
My Living Will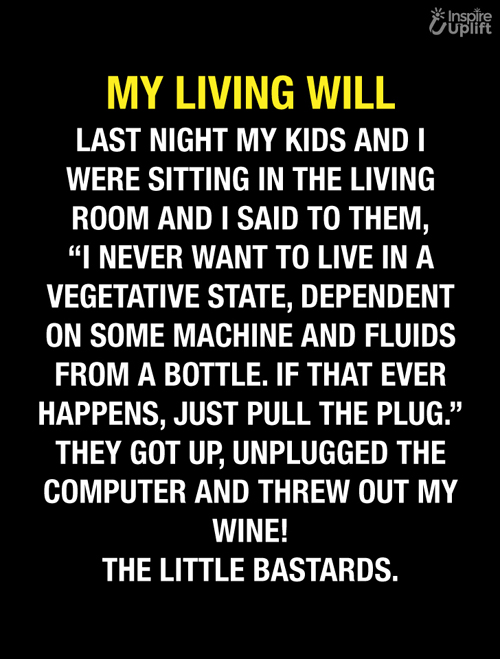 ---
World Day of Grandparents and Elderly
The First World Day of Grandparents and Elderly is set for July 25. Pope Francis said he established a new World Day of Grandparents and Elderly for two major reasons: because of the neglect and isolation so many grandparents and elderly experienced worldwide during the COVID-19 health crisis and because of the important role they play in society. He designated the fourth Sunday of July – July 25 this year – for this new commemoration. He chose the Sunday closest to the feast of Saints Joachim and Anne, Jesus' grandparents, for the new commemoration.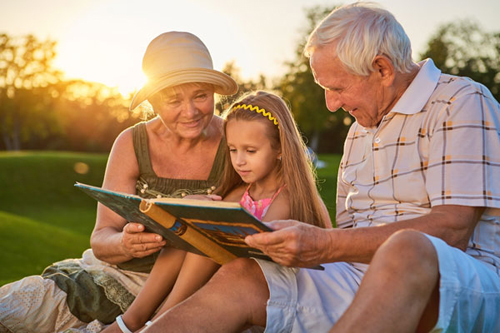 Writing to his peers, older Catholics like himself, Pope Francis told them that God is close to them and still has plans for their lives.
"I was called to become the bishop of Rome when I had reached, so to speak, retirement age, and thought I would not be doing anything new," he said. The pope, who is 84, was elected when he was 76. "The Lord is always – always – close to us. He is close to us with new possibilities, new ideas, new consolations, but always close to us. You know that the Lord is eternal; he never, ever goes into retirement," Pope Francis wrote in his message for the Church's first celebration of the World Day for Grandparents and the Elderly.
"Think about it: what is our vocation today, at our age? To preserve our roots, to pass on the faith to the young and to care for the little ones," he wrote. "Never forget this. There is no retirement age from the work of proclaiming the Gospel and handing down traditions to your grandchildren. You just need to set out and undertake something new."
This celebration is in addition to the special days that some countries, including the United States, already have to honor grandparents. The pope noted that most countries do not have a day devoted to grandparents. In the U.S., President Jimmy Carter set the first Sunday after Labor Day as Grandparents Day, designating it as a national holiday. This year, it will be observed on Sept. 12. The official flower for the day is the forget-me-not.
Previously, Pope Francis called grandparents "a treasure in the family." He said the vocation of grandparents is linked to their vocation as apostles. He also called upon them to recognize how important their mission is in both the Church and society. In addition, he encouraged grandchildren and children to accept with gratitude the generous giving of their elders. And he encouraged grandparents and the elderly not to be afraid to undertake new challenges and to embrace opportunities to grow.
Recalling the words of Prophet Joel, "Your old men shall dream dreams, and your young men will have visions," (Joel 3:1) the pope said that the future of the world depends on the covenant between young and old because "who, if not the young, can take the dreams of the elderly and make them come true?"
For this to happen, "it is necessary that we continue to dream," he said. "Our dreams of justice, of peace, of solidarity, can make it possible for our young people to have new visions; in this way, together, we can build the future."
---
1966 vs. 2021 - Can you relate?
1966 : Long hair
2021 : Longing for hair
1966 : KEG
2021 : EKG
1966 : Acid rock
2021: Acid reflux
1966 : Moving to California because it's cool
2021 : Moving to Arizona because it's warm
1966 : Trying to look like Marlon Brando or Liz Taylor
2021 : Trying NOT to look like Marlon Brando or Liz Taylor
1966 : Seeds and stems
2021 : Roughage
1966 : Hoping for a BMW
2021 : Hoping for a BM
1966 : Going to a new, hip joint
2021 : Receiving a new hip joint
1966 : Rolling Stones
2021 : Kidney Stones
1966 : Screw the system
2021 : Upgrade the system
1966 : Disco
2021 : Costco
1966 : Parents begging you to get your hair cut
2021 : Children begging you to get their heads shaved and wear a mask
1966 : Passing the drivers' test
2021 : Passing the vision test
1966 : Whatever
2021 : Depends


---
World Elder Abuse Awareness Day
If you don't take a stand, who will?
Honor Elder Abuse Awareness Day by supporting the rights of older Ohioans to live free of abuse, neglect and exploitation. If you believe that an adult age 60 or older is suffering from abuse, neglect and/or exploitation you may file a report with your county department of job and family services or you can call 1-855-OHIO-APS (1-855-644-6277) toll-free 24/7.
June 15 is observed each year as World Elder Abuse Awareness Day. We all deserve to lead happy and healthy lives free from abuse as we age, yet older people are mistreated more often than we think. Elder abuse, neglect, and exploitation threatens the health, safety, and independence of far too many older Ohioans. The effects of elder abuse range from financial loss to physical injury or even death. Elder abuse crosses racial, ethnic, economic, and religious backgrounds and reaches older adults and their families in every Ohio community.
The Ohio Coalition for Adult Protectives Services (OCAPS) is the nation's longest continuous state elder abuse network. OCAPS has accomplished much throughout the years, thanks to a shared and committed vision of an Ohio free of older adult maltreatment. OCAPS' mission is to maximize protection and dignity of older adults through collaboration, education, and advocacy.
Ohio Elder Abuse Awareness Day is on June 15, 2021 and on this and every day, you can help end abuse.
Get informed and know the warning signs:
Changes in an older adult's appearance, such as weight loss, unexplained bruising, or bleeding
Changes in an older adult's personality or mood
Changes in an older adult's finances or money management
A dominating, threatening caregiver or new "best friend"
Exclusion from other family members or friends
Changes in an older adult's home environment
Get involved:
Wear purple on Tuesday, June 15, 2021, in recognition of Elder Abuse Awareness Day. The color symbolizes the victim experience and represents hope for the future.
Contact older family members, friends, or neighbors. Keeping in touch with older adults can make it easier to recognize signs of potential abuse. Pay attention to changes in an older adult's personality, behavior, physical appearance, or financial activity.
Share resources with your community. Community groups in Ohio can request a free alder abuse awareness presentation from OCAPS. Presentations address the signs of elder abuse and tools to help stop it.
Become a member of OCAPS and maximize protection and dignity of older adults through collaboration, education, and advocacy by going to the membership page at https://www.ocapsohio.org/become-a-member
---
St. Theodosius Russian Orthodox Cathedral Choir Master Ken Kovach
On June 1, 1971 Ken Kovach became Choir Master at the historic St. Theodosius Russian Orthodox Cathedral in the Tremont neighborhood of Cleveland Ohio. In his 50 (and counting) years he has witnessed many things in the Cathedral. One of which is being part of the filming of the movie
The Deer Hunter
, a 1978 American epic war drama film. Ken met and worked with
Robert De Niro, Christopher Walken, Meryl Streep
, writer/director
Michael Cimino
and others.
Ken is an Ellis Island Medal Recipient and inductee in the Cleveland International Hall of Fame. He also sings with a Russian folk group called the Cuyahoga Cossacks.
In this video, Ken tells about the Choir Master role and some of these stories. And then he gives a brief example of his great singing voice - singing The Lord's Prayer.
---
How to Stop Gossip
Mildred, the church gossip, and self-appointed monitor of the church's morals, kept sticking her nose into other people's business. Several members did not approve of her extra-curricular activities, but feared her enough to maintain their silence. She made a mistake, however, when she accused Frank, a new member, of being an alcoholic after she saw his old pickup parked in front of the town's only bar one afternoon. She emphatically told Frank (and several others) that everyone seeing it there would know what he was doing.
Frank, a man of few words, stared at her for a moment and just turned and walked away. He didn't explain, defend, or deny. He said nothing.
Later that evening, Frank quietly parked his pickup in front of Mildred's house ... walked home ... and left it there all night…


---
Willson School Walk of Love
On Saturday April 17, the
Willson School Walk of Love
was held in the neighborhood around the school and St. Casimir Church.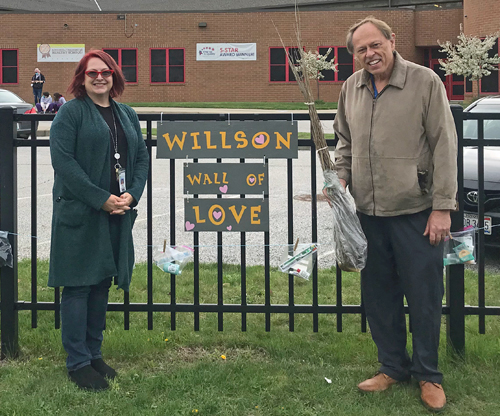 John Niedzialek at Willson Wall of Love
Participants collected donations of personal care items to be distributed to area residents at the Wall of Love at the school. The Famicos Foundation was one of several organizations sponsoring the event.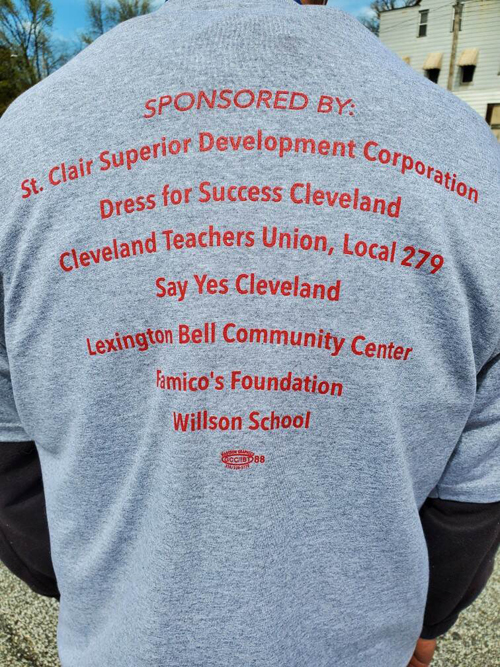 The first stop along the way was
St. Casimir Church
. The St. Casimir Alumni Association, parishioners, and Father Eric offered donations for the effort.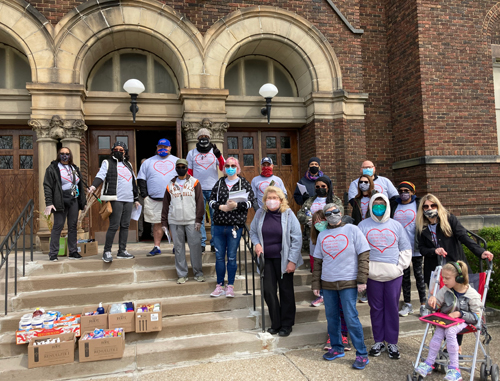 Participants also received a tour of St. Casimir Church.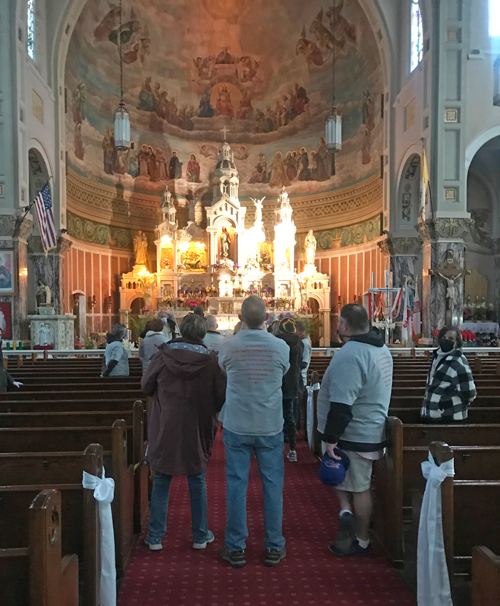 Touring St. Casimir Church
The
NEOPIPE Organization
also donated 100 tree seedlings that are to be distributed to area residents and students to plant in the neighborhood.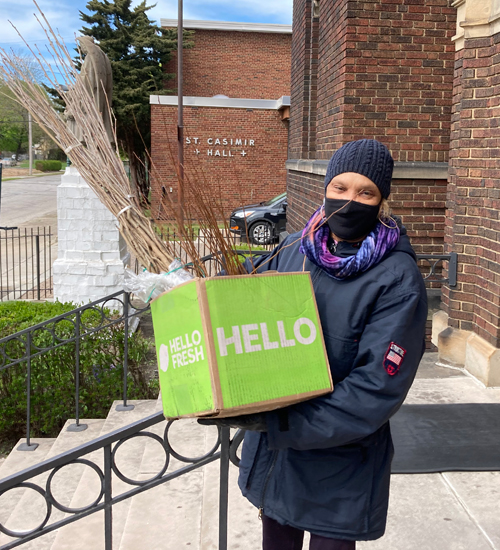 The Walk continued through the streets of Ansel, Bellevue, Pulaski, Korman and Simon where over 20 bags of trash were picked up along the streets.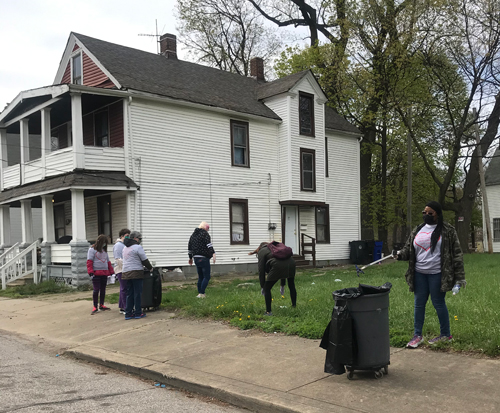 Thanks to
John Niedzialek
for the story and photos
---
RIP Chuck Geschke
While the world knew Chuck Geschke as the co-founder of Adobe, co-inventor of the pdf file format and much more like that, we also knew him as a Clevelander. Chuck Geshcke was born in Cleveland and attended St, Ignatius High School and his wife attended Magnificat High School. He later taught math at John Carroll University.
Charles M. 'Chuck' Geschke was Chairman of the Board and Co-Founder of Adobe Systems. He co-founded Adobe Systems in 1982 with John Warnock. Sadly he has passed away at age 81.
At the City Club of Cleveland Geschke was introduced as the "Gutenberg of Digital Type."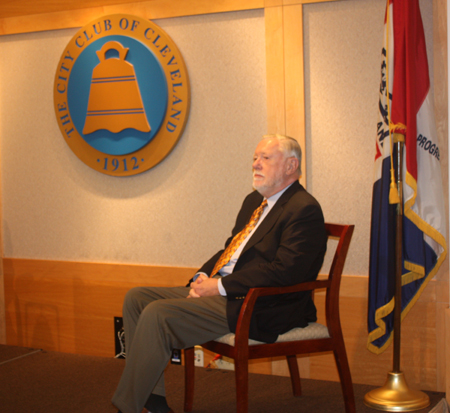 Chuck Geschke at the Cleveland City Club
Geschke told stories from the early days at Stanford Industrial Park and the push that became ARPA after Sputnik. Many of the "ARPA Brats" ended up in the Stanford Industrial Park which became Silicon Valley. Geschke recalled that in 1976 while at
Xerox PARC
he had a personal computer with a mouse, e-mail, Word-like word processor, Ethernet connectivity (courtesy of his officemate Bob Metcalfe) and a laser printer.
When he learned that his and John Warnock's InterPress graphics language might not become a Xerox product for 7 years, they started Adobe. He told how Steve Jobs wanted to buy the entire company but they only wanted to sell their products.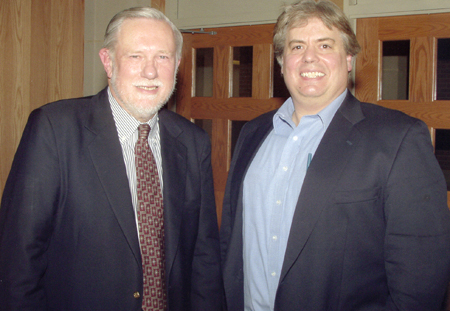 Chuck Geschke and Dan Hanson
The Great Lakes Geek was honored to have met Mr. Geschke and interview him. Rest in Peace Chuck.
See more of the interview and Chuck Geschke.


---
Post-Vaccine Survey Scams
An increasing number of victims are being contacted via email and/or text message after receiving the COVID-19 vaccine and asked to participate in a fraudulent post-vaccine survey with the promise of a prize or cash at the conclusion of the survey. The victims are told they can choose from various free prizes, such as an iPad Pro, and only need to pay shipping and handling fees to receive their prize. Victims then provide their credit card information and are charged for the shipping and handling fees, but never receive the promised prize. Victims are exposing their personally identifiable information (PII) to the scammers, thereby increasing the probability of their identity being stolen and/or sold.
NO post-vaccine surveys are being conducted by Pfizer, Moderna or Johnson & Johnson. Any emails or text messages that purport to be sent on behalf of these companies seeking personal financial information is illegitimate and fraudulent as these companies would never request an advanced payment for shipping or other expenses. DO NOT open the messages or provide any personal information, including credit card and/or bank information.
If you are a victim of these post-vaccine survey scams:
Report the activity to the online payment service used for the financial transaction.
Contact your financial institution upon discovering any fraudulent or suspicious activity within your account(s).
Report suspected crime to www.IPRCenter.gov
---
Do you still need a Covid Vaccine shot?
Our friends at Global Cleveland and FEMA have just released another batch of access codes to get the vaccine at the Wolstein Center downtown. If you want one, please email us at
info@clevelandseniors.com
Stay healthy!
---
RIP Joe Tait
Please - no more sad news! We are so sorry about the passing of
Joe Tait
.
The Voice of the Cleveland Cavaliers was one of the greatest broadcasters in history. He also did some Cleveland Indians games but is probably best known for signature phrases such as "Wham with the right hand!" that he first uttered about a Hot Rod Williams dunk.
He told us this about the Miracle of Richfield games: "It was the largest and loudest gathering of fans I think I have ever run into. They were tremendous...the noise, the excitement, the electricity."
Our profile of Joe Tait has lots of pictures and audio from our conversations.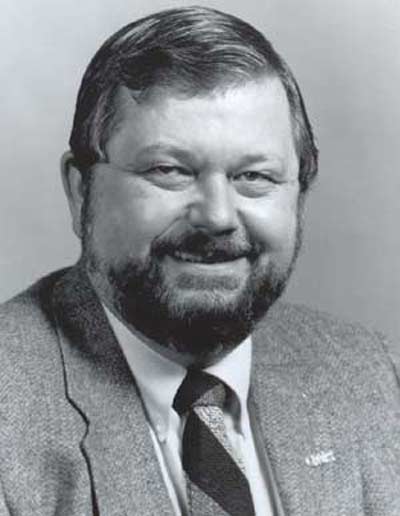 Voice of the Cavs, Joe Tait
There will never be another like Joe. Rest in Peace.
See more of the Joe Tait profile


---
I first saw him perform when he sat on the stage of St, Joe's HS gym many years ago and played an acoustic set including the anthemic "Let's get the show on the Road.'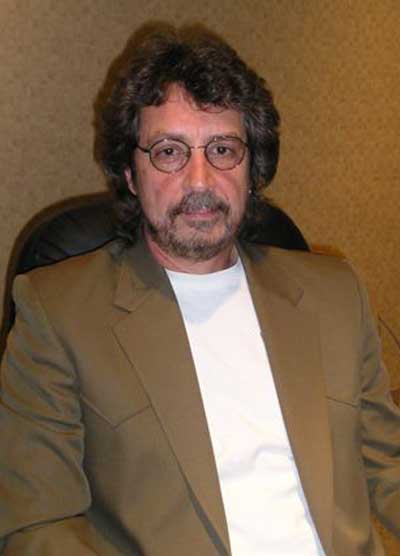 I was there for many of his record breaking concerts at the Agora, Blossom and the Coliseum. He graciously headlined our One World Day celebration in the Cleveland Cultural Gardens.
My sister Debbie and I were fortunate to have many conversations and interviews with him. Our official profile of Michael Stanley includes lots of audio of Michael answering questions such as Who would be in your all-time Dream Band?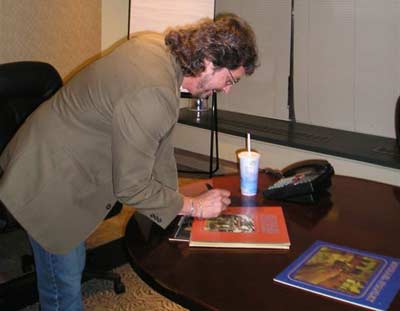 Michael Stanley graciously signing his albums for me
His catalog of music always made us Clevelanders and Midwesterners wonder why he wasn't as big as she should be outside the region. His music and memories will live on.
This town truly is/was his town. Rest in Peace Michael.

See more of the Michael Stanley profile


---
RIP Michael Stanley
We are so sorry about the passing of
Michael Stanley
at age 72 of lung cancer.
I first saw him perform when he sat on the stage of St, Joe's HS gym many years ago and played an acoustic set including the anthemic "Let's get the show on the Road.'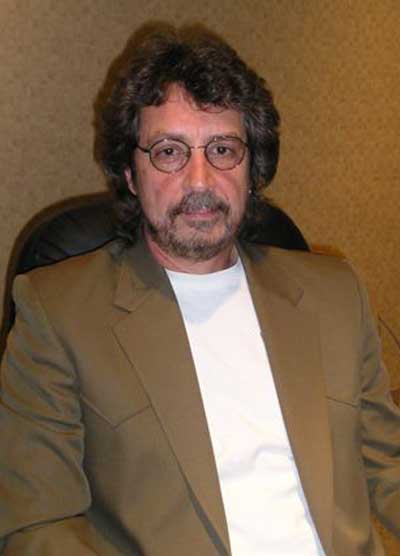 I was there for many of his record breaking concerts at the Agora, Blossom and the Coliseum. He graciously headlined our One World Day celebration in the Cleveland Cultural Gardens.
My sister Debbie and I were fortunate to have many conversations and interviews with him. Our official profile of Michael Stanley includes lots of audio of Michael answering questions such as Who would be in your all-time Dream Band?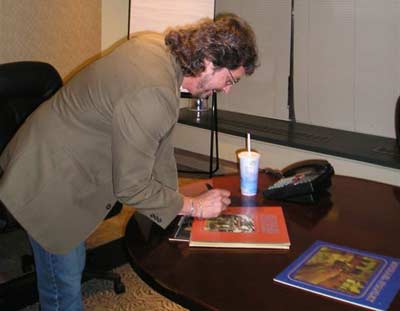 Michael Stanley graciously signing his albums for me
His catalog of music always made us Clevelanders and Midwesterners wonder why he wasn't as big as she should be outside the region. His music and memories will live on.
This town truly is/was his town. Rest in Peace Michael.

See more of the Michael Stanley profile


---
An Answered Prayer
Smith climbed to the top of Mt. Sinai to get close enough to talk to God. Looking up, he asked the Lord.. "God, what does a million years mean to you?"
The Lord replied, "A minute."
Smith asked, "And what does a million dollars mean to you?"
The Lord replied, "A penny."
Smith asked, "Can I have a penny?"
The Lord replied, "In a minute."
---
Kicked out of Yugoslavia
Andrew Fedynsky
was born to Ukrainian refugee parents in Innsbruck, Austria soon after World War II. His family came to America in 1948 when he was eight months old. They moved to Cleveland in 1954 where he attended public schools, graduating in 1965 from James Ford Rhodes H.S. He attended the University of Notre Dame as an undergraduate, including a year at the University of Innsbruck in the city of his birth.
Following graduation, he became an English teacher and track coach at West Junior H.S. in Cleveland (now Joseph Gallagher). He also became active in the defense of Soviet bloc political prisoners, translating Ukrainian dissident literature, lecturing at universities and civic events, working with Baltic, Jewish, Polish and other human rights groups and as Vice President of Smoloskyp Publishing, editing a human rights magazine.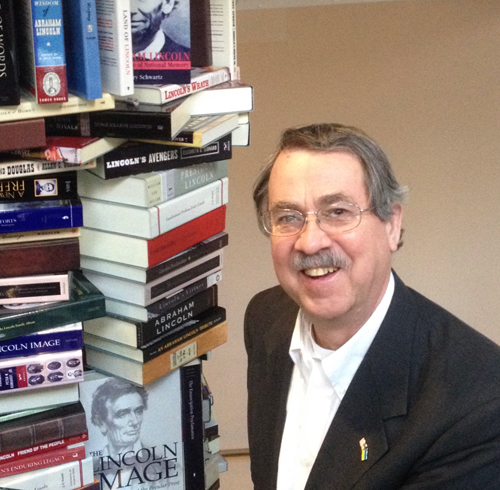 Andrew Fedynsky
During summer breaks from his teaching job, his activities included clandestine work with dissidents behind the Iron Curtain smuggling books, manuscripts and printing materials. While attending the first Helsinki Follow-up Conference in Belgrade in 1977, Yugoslav police arrested him for trying to stage a press conference about the arrests of Helsinki Monitors in Soviet Ukraine. That incident was widely covered in the press.
A year later, Senator Bob Dole invited him to join his staff as his Soviet specialist. He left his office in 1978 to attend John Carroll University where he earned a Masters Degree in History in 1980.
In 1981, he joined the staff of Cleveland Congresswoman Mary Rose Oakar eventually becoming her Chief of Staff.
He is now volunteer Director of the Ukrainian Museum-Archives in Cleveland's Tremont neighborhood, runs a government consulting business and write a monthly column for the New Jersey-based Ukrainian Weekly. His wife Chris and he have been married for over thirty years and have a son and daughter.


---
Paczki
Eating paczki is the traditional Polish way to indulge before the fasting in observance of Lent begins on Ash Wednesday. Paczki have been known in Poland at least since the Middle Ages.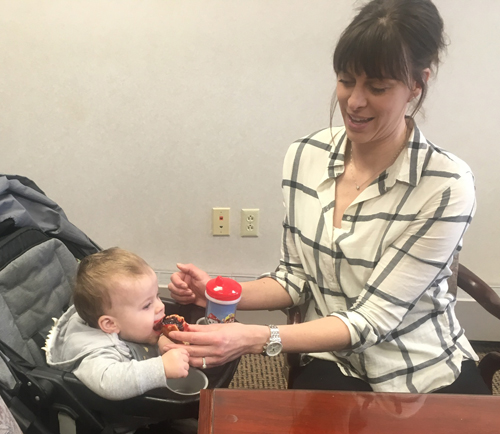 All ages love paczki!
Councilman Tony Brancatell
i, Cleveland International Hall of Fame inductee
Irene Morrow
, Polish Cultural Garden delegate
Connie Adams
and others shared their favorite packzki traditions and memories. What are yours?
Learn more about paczki and read the memories


---
Rest in Peace Les Levine
Cleveland sports media legend Les Levine passed away Wednesday evening February 3, 2021. He was 74.
His daughter, Dr. Jame Levine Daniel wrote: "After a protracted battle with diabetes and Parkinson's, our dad @LesLevine passed away at 9:23 pm with my brother and me holding on at his side. He fought so hard for so long, and went out on his own terms."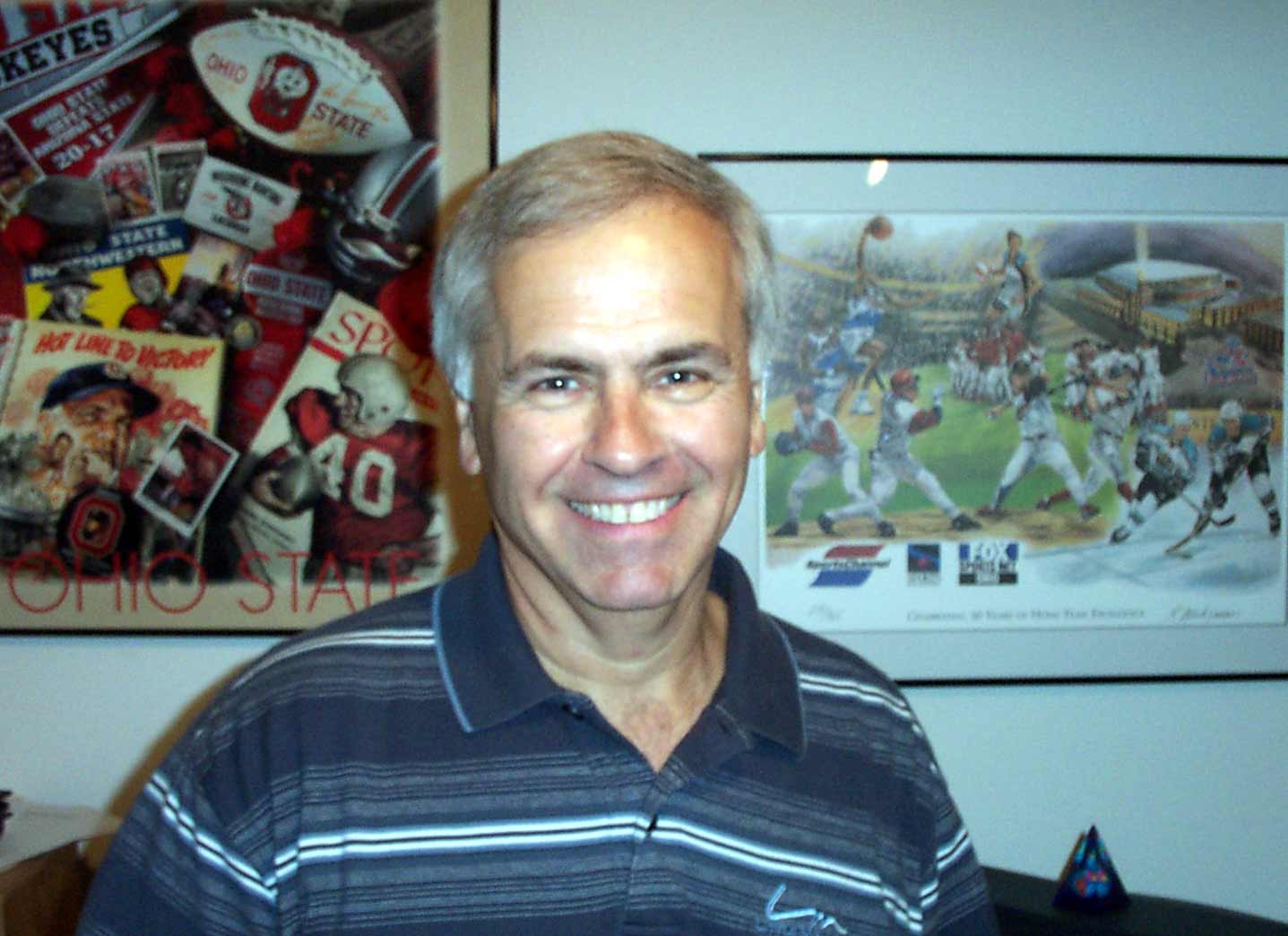 Les Levine
See the official ClevelandSeniors profile of Les Levine from 2003
---
A Trip down Memory Lane with ASCII Art
The
Great Lakes Geek
discovered a few old treasures on a recent cleaning spree. Young people cannot know the excitement of printing out pictures (on dot matrix printers!) using just ASCII characters. They really were works of art. I found a Mona Lisa and an Alfred E. Newman but there were a lot more like George Washington, Albert Einstein, Marilyn Monroe and others.
Here is my Alfred E. Newman (What Me Worry?)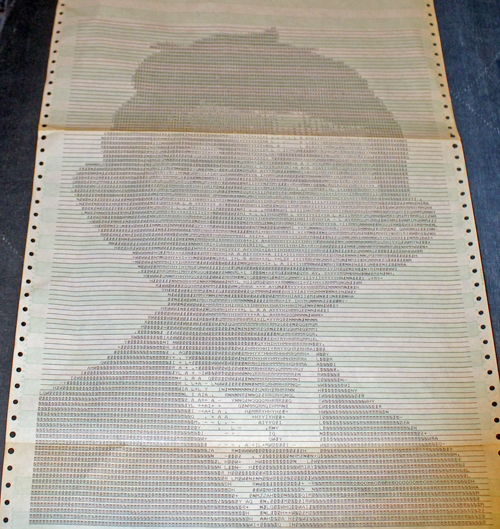 Alfred E. Newman ASCII art
See some more ASCII art at https://www.asciiart.eu/
ASCII stands for American Standard Code for Information Interchange and it was originally developed from telegraph code.
ASCII reserves the first 32 codes (numbers 0-31 decimal) for control characters: codes originally intended not to represent printable information, but rather to control devices (such as printers) that make use of ASCII. For example, character 10 represents the "line feed" function (which causes a printer to advance its paper), and character 8 represents "backspace."
Codes 20hex to 7Ehex, known as the printable characters, represent letters, digits, punctuation marks, and a few miscellaneous symbols. There are 95 printable characters in total. Those characters in the standard ASCII character set could be displayed on most computer monitors -even on early desktops/terminals incapable of displaying digital images- and could be printed on most printers. It could be created using nothing more than a text editor.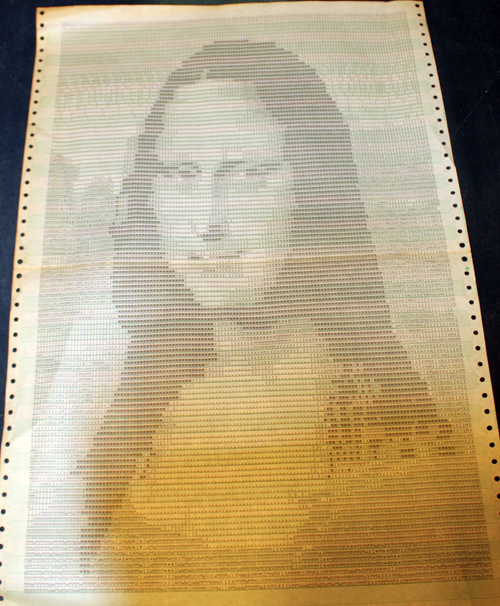 Mona Lisa ASCII art
Early printers lacked graphics capabilities so you couldn't print images. But you could use the characters in clever arrangements to create outlines and shading. That's ASCII art.
Of course you wanted to use the wide greenbar paper and if you were lucky enough to have access to a 24 pin dot matrix printer they could really look good (if you squinted).
If you are old enough to remember sharing bulk printers than you will recall how print jobs would be separated from one another with ASCII art to print large banner pages, making the division easier to spot so that the results could be more easily separated by a computer operator or clerk.
And of course since it just used ASCII characters, the images could be sent in e-mail before you could embed pictures. Yes, young people there really was such a time.


---
Rest in Peace Henry 'Hank' Aaron
Hammering Hank Aaron was arguably the greatest to ever play the game of baseball. Home Run Champ, RBI leader, perennial All Star and so on. But he was also a great man outside of the diamond.
What brought baseball Hall of Famer Henry "Hank" Aaron along with former Cleveland Browns, Indians and Cavaliers to Solon, Ohio on a Friday night in 2009? The Yoder Brothers Memorial Scholarship Foundation dinner hosted by Mr. and Mrs. Larry Dolan and the Cleveland Indians.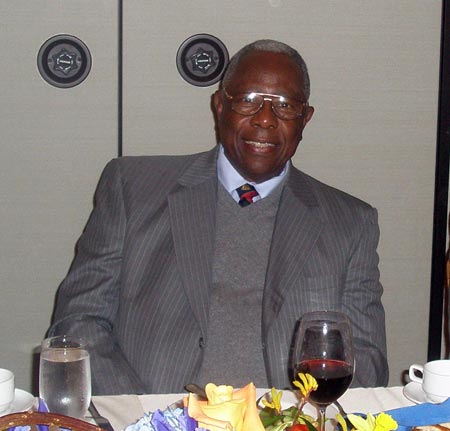 Hank Aaron
Debbie Hanson was there and got some great photos of Hank and the others.
See the Hank Aaron keynote event in Cleveland


---
Cutii companion robot for isolated seniors at CES 2021
Cutii is a Companion Robot for isolated seniors. Cutii is designed for friendship. It's a "live-in companion" that learns the design of the senior's room. Seniors communicate directly with Cutii. It's 100% voice activated and offers 2 way calling and text messages. Cutii can entertain and occupy the mind and body with live activities like Yoga, Tai Chi, poetry reading, games, trivia and so on.
And, of course, Cutii can call for help in the event of an emergency.
---
Covid Vaccine
Those 65 and older (group 1B) can now sign up for the vaccine on the
Cuyahoga County Board of Health website.
Stay safe!


---
Fun with Maps - Madagascar
IIn this episode of Fun with Maps, host Dan Hanson looks at what has been called the 8th continent - Madagascar. The map shows how isolated Madagascar is from the rest of the world and that makes it a hotbed of biodiversity - 90% of its wildlife is found nowhere else on Earth. It has varieties of plants and animals that do not exist anywhere else. You've probably seen lemurs (endemic to Madagascar) but there are thousands of other unique animals and plants such as the fossa, chameleon, the baobab tree and more. Dan also shows a quick look at the Spiny Desert of Madagascar exhibit in the Cleveland Botanical Garden
See more Fun with Maps videos
---
Remember When?
Check out this menu from Manners back in the day. Big Boy anyone?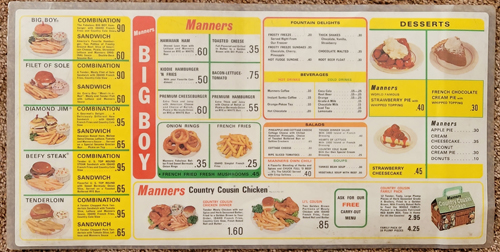 ---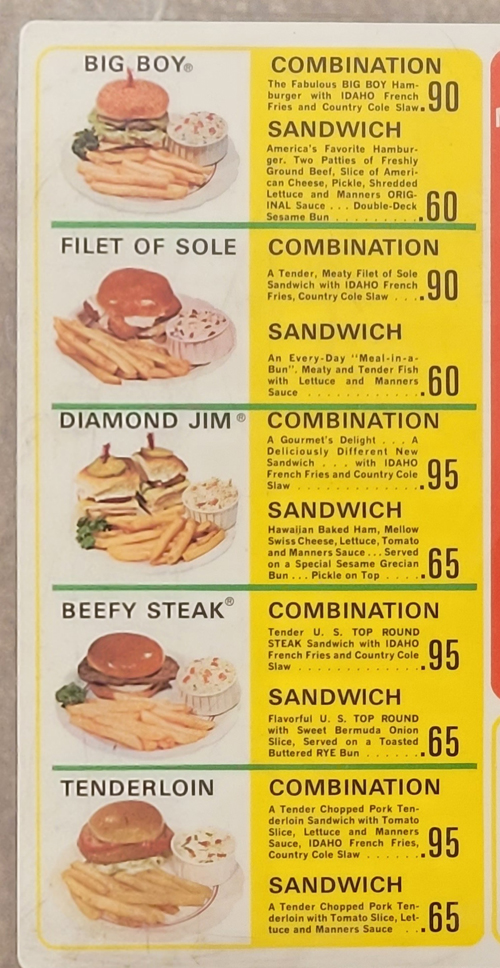 ---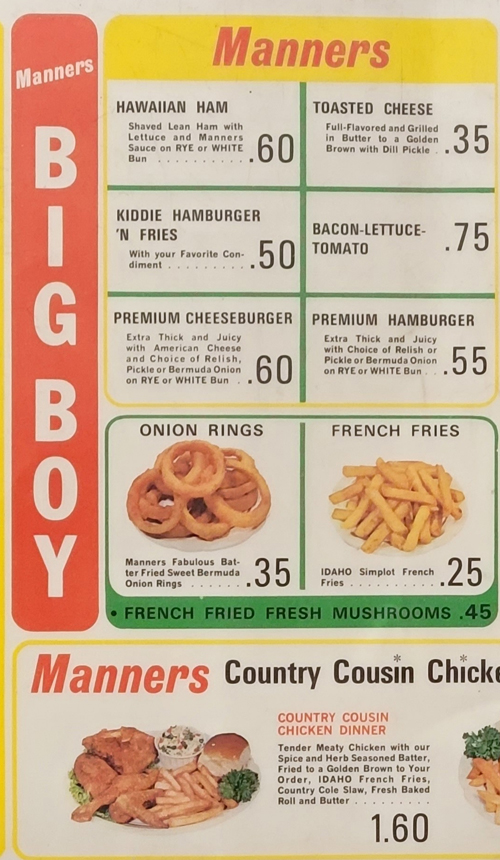 ---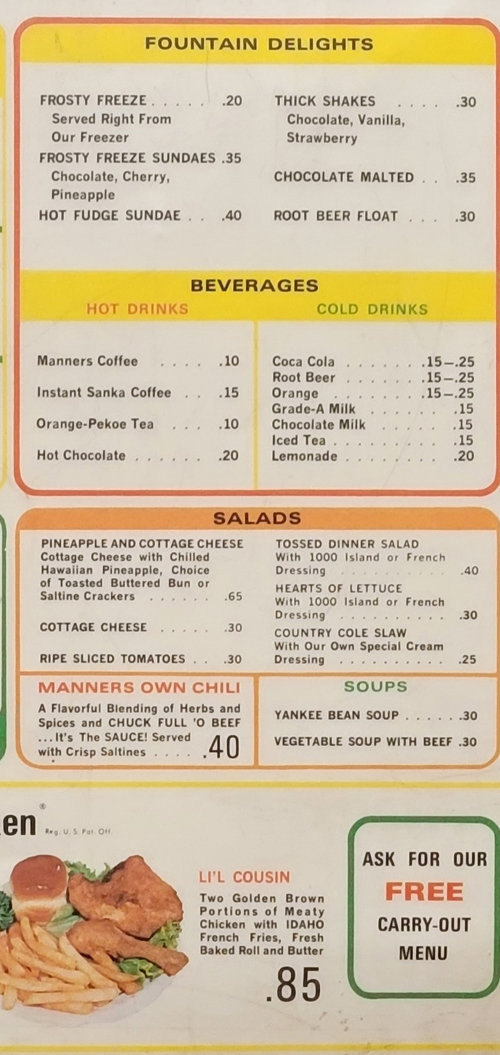 ---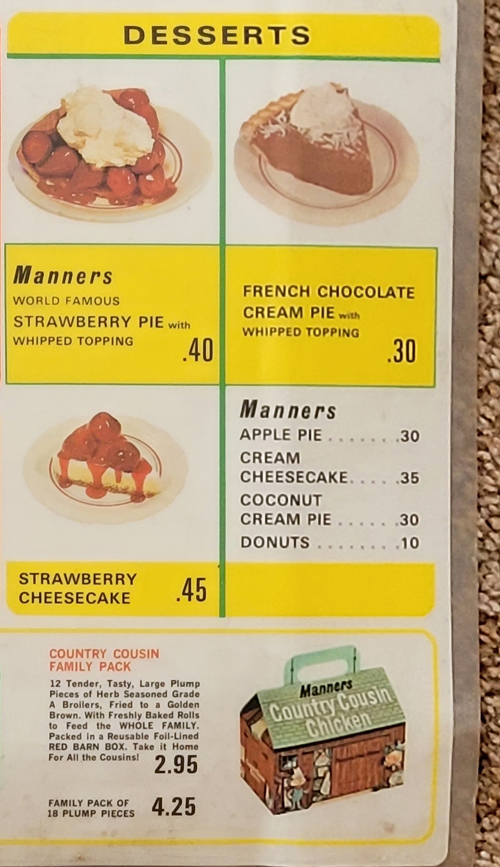 ---
Ethnic Holiday Traditions
We asked community leaders of various ethnic heritages to share some holiday traditions of their culture. Boy did they come through. Look for traditons and stories from Argentina to Ukraine.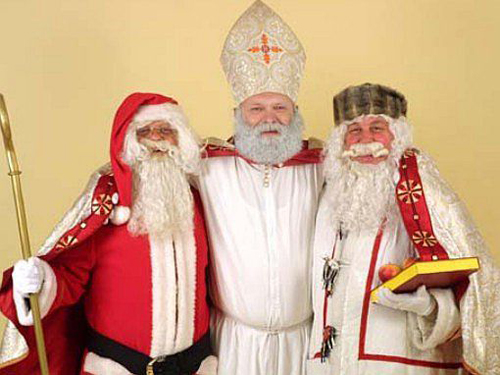 Slovenian Santa Claus, St. Nicholas and Dedek Mraz
See the ethnic holiday traditions
---
Pundemics - Humor to get you through the Coronavirus
Every week we send out a free eBlast to thousands of subscribers that tells about upcoming events in the 120 or so different ethnic groups represented in Cleveland and Northeast Ohio.
Sign up for the free e-newsletter here.
When the Coronavirus hit, events were cancelled, except for a handful of virtual events. So we evolved the eNews to include some interesting facts about our multicultural city. We also added a joke about being quarantined. Of course we realized the severity of the pandemic and did not want to diminish the deaths and suffering that many were enduring by joking.
But the feedback was overwhelming. People enjoyed the puns and asked for more. Many still write each week and ask us to continue and ask to reprint some in their newsletters, bulletins and so on. So we have continued them.
So here are many of the (hopefully) funny lines we have been sending every week.
In the meantime, take the advice of the Dante statue in the Italian Cultural Garden and wear your mask.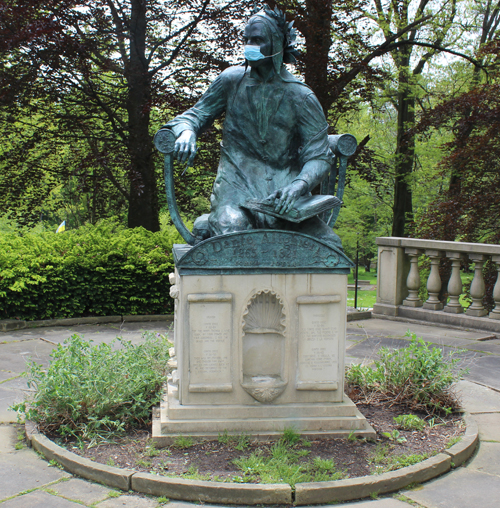 ---
Miss Cultural Gardens
Did you know that the Cleveland Cultural Gardens used to select a Queen?
Here is a photo of the 1963 Miss Cultural Gardens at the Columbus Day parade in 1963. Recognize her? It's Ingrida Bublys, Honorary General Consul of the Republic of Lithuania and the ClevelandPeople.com Lithuanian Ambassador.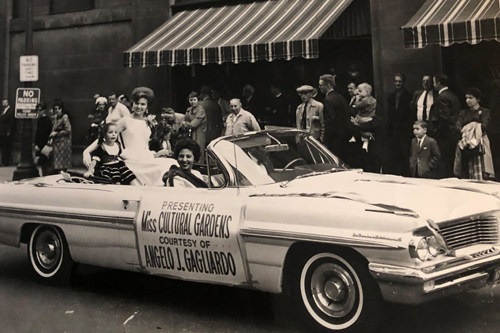 Miss Cleveland Cultual Gardens 1963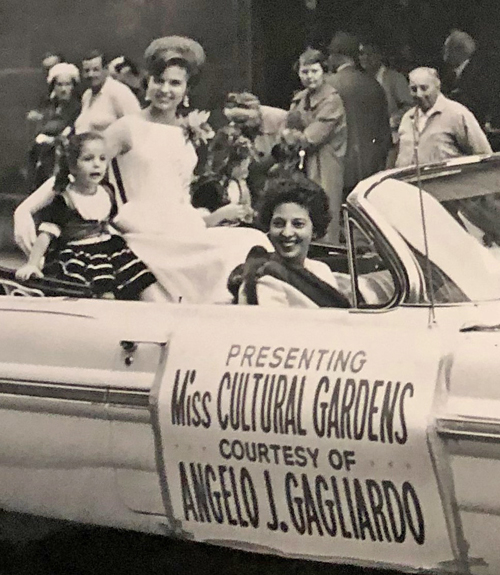 Ingrida Bublys - Miss Cleveland Cultual Gardens 1963
---
The 7 Dwarves of Old Age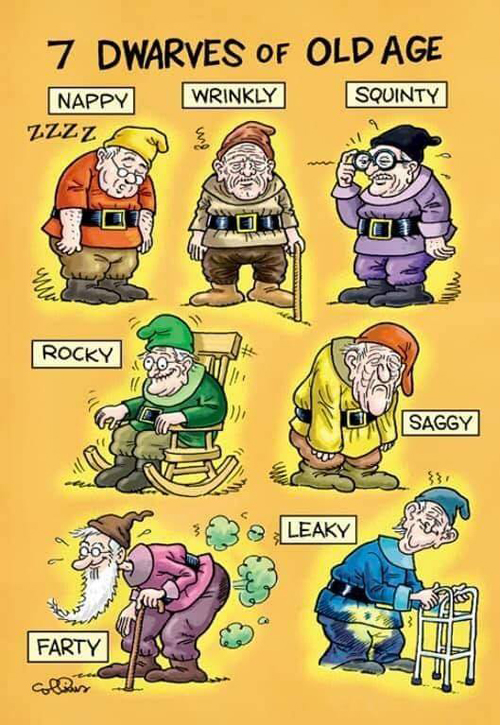 ---
Cleveland Indians Ray Chapman - Killed by a pitch 100 years ago
Ray Chapman was a shortstop who played his entire career for the Cleveland Indians.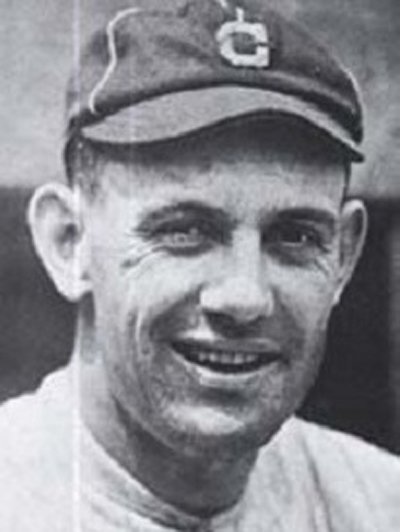 Ray Chapman
Chapman was hit in the head by a pitch thrown by New York Yankees pitcher Carl Mays on August 16, 1920. The game was played at the Polo Grounds. Chapman died 12 hours later. He remains the only Major League Baseball player to have died from an injury received at a major league baseball game.
His death led to Major League Baseball establishing a rule requiring umpires to replace the ball whenever it became dirty, and it was partially the reason the spitball was banned after the 1920 season. Chapman's death was also one of the examples used to emphasize the need for wearing batting helmets (although the rule was not adopted until over 30 years later).
Thousands of mourners were present for Chapman's funeral at Cathedral of St. John the Evangelist in Cleveland. In tribute to Chapman's memory, Cleveland players wore black arm bands, with manager Tris Speaker leading the team to win both the pennant and the first World Series Championship in the history of the club. Rookie Joe Sewell took Chapman's place at shortstop, and went on to have a Hall of Fame career.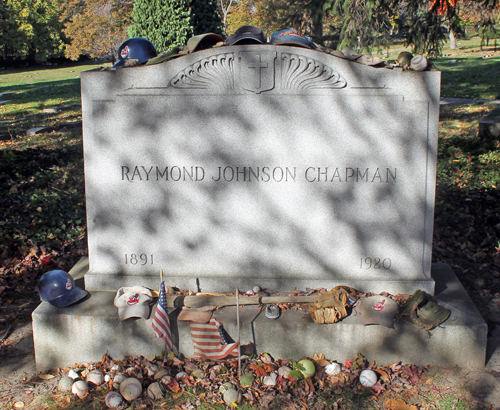 Ray Chapman grave at Lakeview Cemetery
Ray Chapman is buried in Lake View Cemetery in Cleveland, Ohio, not far from where his new home was being built on Alvason Road in East Cleveland. It is common for fans who visit the grave to leave baseballs, mitts, Cleveland Indians gear and other memorabilia.
The grave is at Plot: Section 42, Lot 51493

---
Fun with Maps - Lebanon
In this episode of Fun with Maps, host Dan Hanson looks at the historic country of Lebanon. Though small in size the influence of Lebanon and its people is huge. Tragically, the capital of Beirut was devastated by explosions in August 2020.
In this episode Dan looks at the major cities, culture, geography, the cedar tree, famous Lebanese people and some fascinating history from the Phoenicians to the present.
See more Fun with Maps videos
---
Murder in the Cultural Gardens
"It just didn't seem right to DJ. A body found bludgeoned in a place known for "Peace through Mutual Understanding." But there she was, crumpled behind a bust of composer Franz Liszt in the Hungarian Cultural Garden. He pulled out his cell phone and dialed 911. "What is the nature of your emergency?" the dispatcher queried. With a suddenly very dry mouth DJ managed to get out, "There's been a murder in the Cultural Gardens."
That's the beginning of the recently published first novel by Dan Hanson.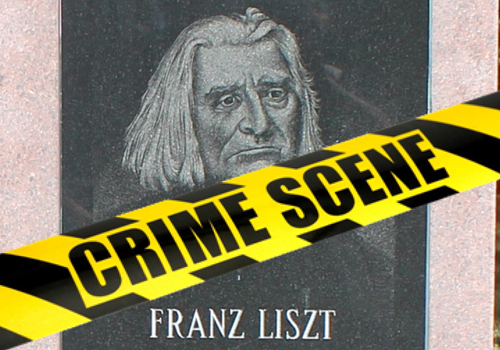 The whodunit, titled
Murder in the Cultural Gardens
, takes place in the Cleveland Cultural Gardens and all 30+ gardens are featured during the mystery. You may even recognize some of the characters.
Click the link above to learn more or to purchase in paperback or Kindle version from Amazon. Or contact Dan via the
Murder in the Cultural Gardens webpage
to have a signed book delivered.
---
Fun with Maps - New Zealand
In this episode of Fun with Maps host Dan Hanson looks at New Zealand and the Lost Continent of Zealandia in Oceania. New Zealand is home to the Maori people, terrific rugby like the All Blacks team, the haka dance, the beautiful scenery as the setting of the Lord of the Rings and Hobbit movies, Milford Sound and much more.
Modern technology is allowing us to see more of the huge lost continent of Zealandia underneath New Zealand, 94% submerged under the ocean.
See more Fun with Maps videos
---
Interview with the late Jerry Stiller
Who would have imagined that George Costanza's father and Doug Heffernan's father-in-law would turn out to be such a wonderful, soft-spoken, interesting person? That was Debbie Hanson's reaction after interviewing Jerry Stiller in 2010.
RIP Jerry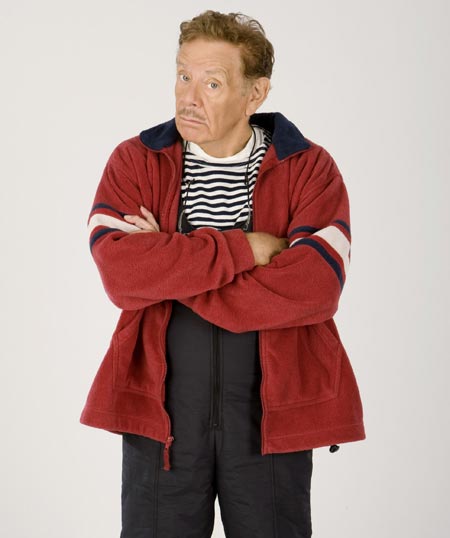 Jerry Stiller interview, pic and comments about Cleveland, the Browns and more.
---
Sewing Masks in Memory of her Mother
Oanh Loi-Powell
has sewn over 700 masks that she has donated to UH Pediatrics, Cleveland Clinic Cardiology, the VA Hospital, several doctors' offices, urgent care centers in the Lake County area, Highland Pointe Rehab, nursing homes and hospices. They have gone out to many families, friends, neighbors.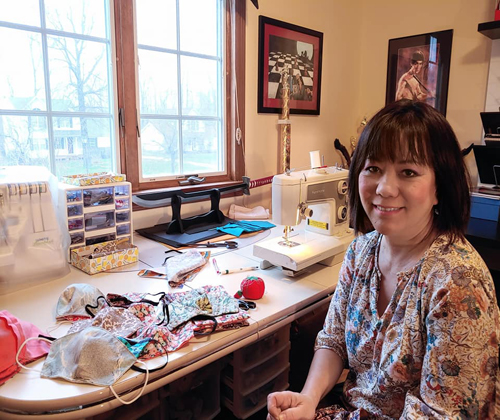 Oanh Loi-Powell at her sewing machine
Oanh has a special person in her mind as she sews.
Read about it and her memory of the refugee camp after leaving Vietnam


---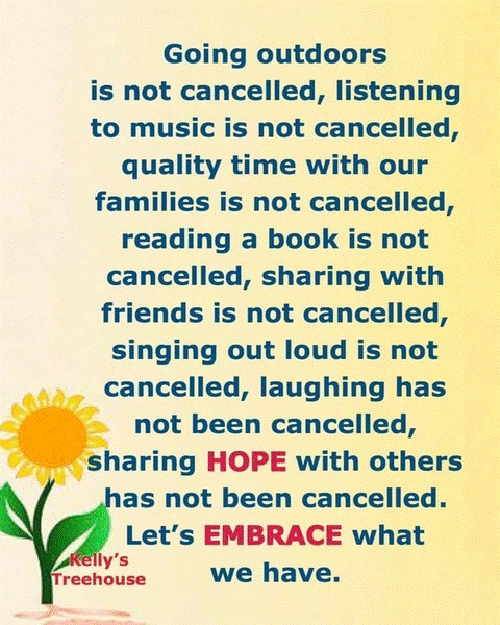 We could all use some laughs during these times.
Check out these COVID-19 virus funnies.


---
Stay Home, Stay Well, Stay Busy
We are assembling a list of online resources you can try while you are homebound. Take a look.
Local Restaurant Takeout and Food Delivery Suggestions

Cleveland Metroparks Zoo has virtual classrooms

Rock and Roll Hall of Fame free learning

Cleveland Metropolitan School District has learning resources

Day by Day Projects to keep kids reading, thinking and growing

Cleveland Orchestra online learning

Cleveland Orchestra Teacher Workshops

20 virtual field trips that you can take with your kids

Math Card Games

Cleveland Museum of Art resources

Cleveland Institute of Music concerts

Shaker Lakes Junior Naturalist Activities

Daily Mass online from the Catholic Diocese

Learn or brush up on 40 different languages (including Latin, Navajo and Klingon!)

Cleveland Museum of Natural History new digital series, CMNH@HOME

Virtual Tours of 12 Famous Museums

Cleveland Opera Theater - Opera For All Online

Cleveland Hungarian Museum Virtual Exhibits

Learn to Code, Build Projects, Earn Certifications

Entertaining Math Videos

Web Development Crash Courses

Learn multiple languages from videos from Polyglot Pablo

More multiple languages from Eko Languages videos

Learn a language with free podcasts from CoffeeBreak Languages

Crash Courses on a variety of AP high school curriculum topics

Khan Academy - free, world-class education for anyone, anywhere

1,500 Free Online Courses from Top Universities

Access 2500+ Online Courses from 140 Top Institutions.

Alison Free online courses from the world's leading experts.

Stanford University Online Courses

MIT OpenCourseWare is a web-based publication of virtually all MIT course content

Learn to Code with CodeAcademy

TED-Ed@Home - Online learning based on TED Talks

Nation Geographic learning for Kids


---
Is God Angry With Us?
The COVID-19 virus is a threat and scare for all of us. However, taking all that I have read and heard in review, I read very little about God. I read few emails that discuss prayer and petitions for help and mercy against the virus. This hushed denial and reluctance to bring up God is not just a temporary thing, nor a minor momentary forgetfulness.
Read the rest of Joe Meissner's column


---
Salute and Praying
Gia Hoa Ryan set up a corner flag salute for all, especially patients in hospitals struck by the virus and all the medical heroes.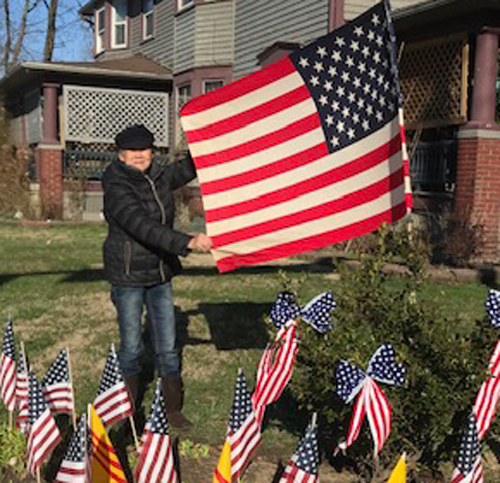 Gia Hoa Ryan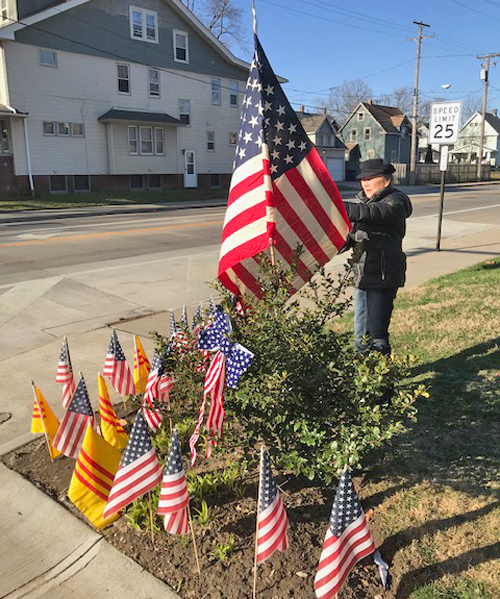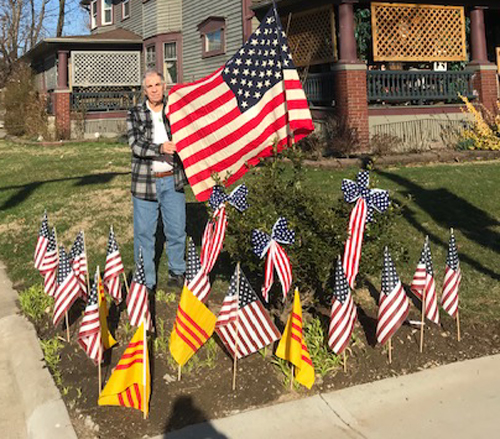 Joe Meissner
Joe says "Get out your flags. Fly them high. Ohio Governor encourages us all to fly our flags as a sign of hope and unity, And pray to God for all of us."
---
Beatitudes for Friends of the Aged
Blessed are they who understand
My faltering step and palsied hand.

Blessed are they who know that my ears today
Must strain to catch the things they say.

Blessed are they who seem to know
That my eyes are dim and my wits are slow.

Blessed are they who looked away
When coffee spilled at the table today.

Blessed are they with a cheery smile
Who stop to chat for a little while.

Blessed are they who never say,
"You've told that story twice today."

Blessed are they who know the ways
To bring back memories of yesterdays.

Blessed are they who make it known
That I'm loved, respected and not alone.

Blessed are they who know I'm at a loss
To find the strength to carry the Cross.

Blessed are they who ease the days
On my journey Home in loving ways.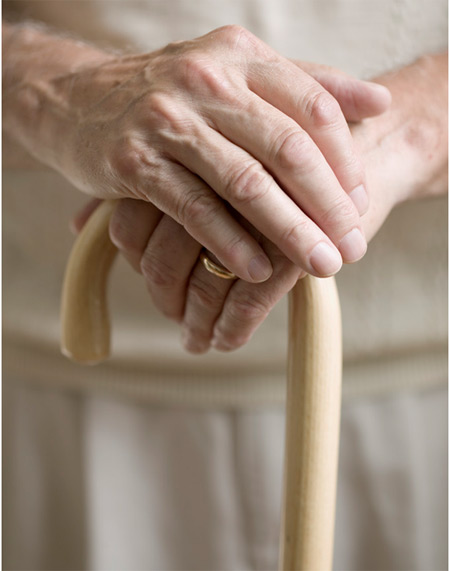 ---
Do you know what this is?
Rebecca didn't until she found a certain page on ClevelandSeniors.com.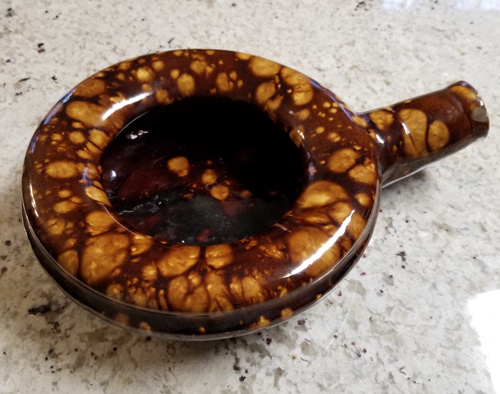 ---
How old is Grandpa?
One evening a grandson was talking to his grandfather about current events. The grandson asked his grandfather what he thought about the shootings at schools, the computer age, and just things in general.
The Grandfather replied, "Well, let me think a minute, I was born before:
television
penicillin
polio shots
frozen foods
Xerox
contact lenses
Frisbees and
the pill
There were no:
credit cards
laser beams or
ball-point pens
Man had not yet invented :
pantyhose
air conditioners
dishwashers
clothes dryers
and the clothes were hung out to dry in the fresh air and
space travel was only in Flash Gordon books.
Your Grandmother and I got married first,... and then lived together.
Every family had a father and a mother. Until I was 25, I called every woman older than me, "ma'am". And after I turned 25, I still called policemen and every man with a title, "Sir". We were before gay-rights, computer-dating, dual careers, daycare centers, and group therapy.
Our lives were governed by the Bible, good judgment, and common sense. We were taught to know the difference between right and wrong and to stand up and take responsibility for our actions. Serving your country was a privilege; living in this country was a bigger privilege... We thought fast food was eating half a biscuit while running to catch the school bus.
Having a meaningful relationship meant getting along with your cousins.
Draft dodgers were those who closed front doors as the evening breeze started.
Time-sharing meant time the family spent together in the evenings and weekends-not purchasing condominiums.
We never heard of FM radios, tape decks, CDs, electric typewriters, yogurt, or guys wearing earrings.
We listened to Big Bands, Jack Benny, and the President's speeches on our radios. And I don't ever remember any kid blowing his brains out listening to Tommy Dorsey.
If you saw anything with 'Made in Japan' on it, it was junk.
The term 'making out' referred to how you did on your school exam.
Pizza Hut, McDonald's, and instant coffee were unheard of. We had 5 &10-cent stores where you could actually buy things for 5 and 10 cents. Ice-cream cones, phone calls, rides on a streetcar, and a Pepsi were all a nickel. And if you didn't want to splurge, you could spend your nickel on enough stamps to mail 1 letter and 2 postcards.
You could buy a new Ford Coupe for $600, .... but who could afford one? Too bad, because gas was 11 cents a gallon.
In my day:
"grass" was mowed,
"coke" was a cold drink,
"pot" was something your mother cooked in and
"rock music" was your grandmother's lullaby.
"Aids" were helpers in the Principal's office,
"chip" meant a piece of wood,
"hardware" was found in a hardware store and
"software" wasn't even a word.
And we were the last generation to actually believe that a lady needed a husband to have a baby.
How old do you think I am?
I bet you have this old man in mind...you are in for a shock!
Read on to see -- pretty scary if you think about it and pretty sad at the same time.
Are you ready?????
This man would be 72 years old today.
72 years ago was 1947.
---
New technology can take some getting used to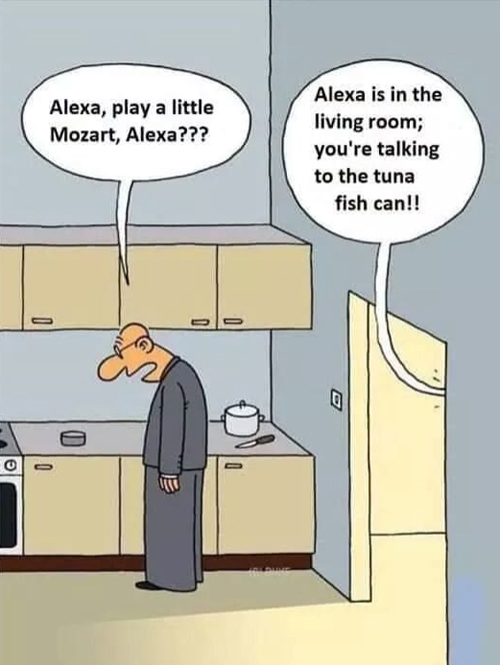 ---
Funnies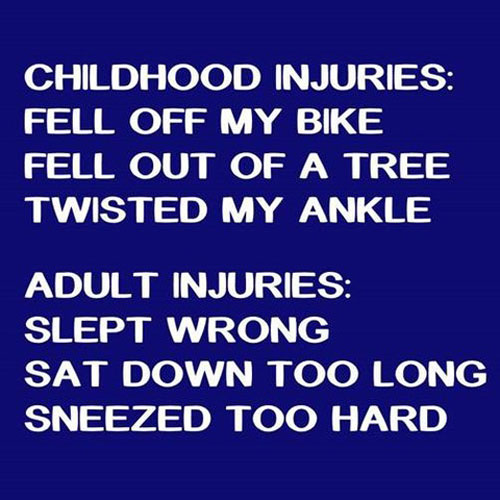 ---
A Senior Prayer
God, grant me the senility to forget the people I never liked anyway, The good fortune to run into the ones that I do, and the eyesight to tell the difference.
---
Do you need help paying your Medicare expenses?
If you are a low-income Medicare beneficiary, the Medicare Premium Assistance Programs (MPAP) may help you pay some or all of your Medicare cost-sharing expenses (premiums, copays, and coinsurance). MPAP is part of the Ohio Medicaid program. MPAP is sometimes called the "Medicare buy-in" or "Medicare savings" program.
Learn more about help paying your Medicare expenses


---
Who Needs Advance Directives about Medical Care?
Advance directives help ensure that you receive the medical care you would want even when doctors and family members are making decisions on your behalf. There are two different types of advance directives: Health Care Power of Attorney and Living Will.
Learn more about Health Care Power of Attorney and Living Wills


---
Elder Abuse: What Is It and How to Get Help
It is difficult for people to accept the notion that adult abuse occurs in the elderly, but the sad fact is that it occurs everyday. Last year in Ohio over 16,000 incidents of elder abuse were reported to Ohio Department of Job and Family Services. In Cuyahoga County alone, over 3,000 incidences of elder abuse were reported to Cuyahoga County Department and Senior Adult Services, Adult Protective Services.
---
Should you purchase prepaid funeral arrangements?
Many people do not like to think about death or funeral arrangements, but some people do make plans for when they pass. For example, some people choose to purchase "pre-paid funeral contracts." These contacts allow you to make decisions about your own funeral, and pay for it ahead of time. These pre-paid contracts give some people peace of mind. But before purchasing such a contract, keep the following issues in mind.
More about prepaid funeral arrangements


---
How can seniors learn more about benefits available to them?
BenefitsCheckUp is a web-based service that helps seniors. It is especially helpful for those with limited income and resources, their family members and, social service organizations. It connects people to over 2,000 public and private programs. Many adults over 55 need help paying for basic needs. Some of the benefits screened for are health care services, prescription drugs, rent assistance, in-home services, meals, heat, and energy assistance, and transportation.
Learn more about Benefits Checkup


---
Grandparent POAs and Caretaker Authorization
Grandparents sometimes find themselves caring for a grandchild unexpectedly. This often happens without any formal court order giving the grandparent custody or guardianship. Without custody or guardianship, the grandparent will face problems getting medical care for the child or dealing with the child's school.
More about Grandparent POAs and Caretaker Authorization


---
How do I name a Durable Power of Attorney?
A durable power of attorney can be one of the most helpful estate planning tools a person uses, but it can also be very risky. A durable POA gives a person (who is called an "attorney in fact") legal authority to act for another person in a variety of matters, including banking, benefits, housing, taxes, real estate, litigation, and more. (The durable POA is different from a Health Care Power of Attorney, which is the form used to appoint a person to make decisions about health care.)
Learn more about Durable Power of Attorney


---
Are Wills Really That Important?
:When my mother died in 2012, we discovered that her will was from 1959 and had not been updated to reflect the many changes in her life since then: she had four more children, she bought a house, furniture, an automobile, jewelry, and a dog. As a result, my mother died without a valid will. Following her death, bills had to be paid, property sold, her furniture, jewelry, the car divided, and someone had to take in the dog."
Read more about the importance of Wills
---
Recommended For You (popular with other Cleveland Seniors)
---
ClevelandSeniors.Com Book of the Week
Before You Leap
Before You Leap starts on screeching tires, literally—an interstate bridge, a police chase, three men trapped in a car, driving at full speed. The two in the front are arguing, one is brandishing a gun, and the third is bleeding profusely in the backseat. You can't help but be immediately hooked and wonder, Who are they? And how on earth did they get here?
The novel then takes you back a few days. Greg Cole's quiet and secluded life is about to be thrown into chaos when he learns that his dead sister's convicted murderer has been released early.
Before You Leap is absorbing, thought-provoking, and psychologically riveting. I was struck by how the author is able to delve into Greg's psyche and express his grief over the loss of his sister—and the inner turmoil that overtakes him—with such clarity. What you're left with is a poignant, complex, nail-biting novel where you watch in a stupor as someone's life and sanity shatter. And as it crescendos, the story pulls the rug from under your feet and delivers the most unexpected twist—one that took my breath away and left me reeling.

Before You Leap
---
Free weekly eNews
Every Tuesday evening we send an e-mail message to people who are interested in upcoming (the next week) events that have an ethnic or cultural connection. So it may be Opera in the Italian Garden or Puerto Rican Day Parade or Slovenian Kurentovanje or...
If you are interested in receiving this free weekly e-mail just sign up for the free eNews.
You can also sign up to receive more specific free eNews for any groups or groups you may choose (Irish, German, Polish, Chinese, etc.)
It's easy and free and will let you know every week about fun and interesting events that are coming up in the next week.
---
---
Calendar of Events for Cleveland Seniors & Baby Boomers
---
---
Sign up for our free eNewsletter sent about once every month with special offers, discounts, contests and more.
---
Whether you are a
Boomer
who's just turned 50 (and don't think of yourself as a Senior) or part of the
"Greatest Generation,"
you can learn about issues that are important to you and your family right here on ClevelandSeniors.com from Cleveland area experts.
Don't miss our profiles of interesting Cleveland Seniors and Baby Boomers - Maybe it's someone you know! (Or tell us about someone we should know)



Take advantage of discounts and specials selected just for you.



Ask questions and receive answers from our many experts from all walks of life.



Share your thoughts, memories, ideas with other Cleveland Seniors and Baby Boomers.



Keep your mind sharp with some of our games, quizzes and mind expanders.



Most importantly, come back often and
Have Fun!


---
Top of Page