Welcome to
ClevelandSeniors.Com,
the online home for
"Seasoned Citizens"
of Cleveland, Northeast Ohio & Beyond!

---
---
How old is Grandpa?
One evening a grandson was talking to his grandfather about current events. The grandson asked his grandfather what he thought about the shootings at schools, the computer age, and just things in general.

The Grandfather replied, "Well, let me think a minute, I was born before:
television
penicillin
polio shots
frozen foods
Xerox
contact lenses
Frisbees and
the pill
There were no:
credit cards
laser beams or
ball-point pens
Man had not yet invented :
pantyhose
air conditioners
dishwashers
clothes dryers
and the clothes were hung out to dry in the fresh air and
space travel was only in Flash Gordon books.
Your Grandmother and I got married first,... and then lived together.

Every family had a father and a mother. Until I was 25, I called every woman older than me, "ma'am". And after I turned 25, I still called policemen and every man with a title, "Sir". We were before gay-rights, computer-dating, dual careers, daycare centers, and group therapy.

Our lives were governed by the Bible, good judgment, and common sense. We were taught to know the difference between right and wrong and to stand up and take responsibility for our actions. Serving your country was a privilege; living in this country was a bigger privilege... We thought fast food was eating half a biscuit while running to catch the school bus.

Having a meaningful relationship meant getting along with your cousins.

Draft dodgers were those who closed front doors as the evening breeze started.

Time-sharing meant time the family spent together in the evenings and weekends-not purchasing condominiums.

We never heard of FM radios, tape decks, CDs, electric typewriters, yogurt, or guys wearing earrings.

We listened to Big Bands, Jack Benny, and the President's speeches on our radios. And I don't ever remember any kid blowing his brains out listening to Tommy Dorsey.

If you saw anything with 'Made in Japan' on it, it was junk.

The term 'making out' referred to how you did on your school exam.

Pizza Hut, McDonald's, and instant coffee were unheard of. We had 5 &10-cent stores where you could actually buy things for 5 and 10 cents. Ice-cream cones, phone calls, rides on a streetcar, and a Pepsi were all a nickel. And if you didn't want to splurge, you could spend your nickel on enough stamps to mail 1 letter and 2 postcards.

You could buy a new Ford Coupe for $600, .... but who could afford one? Too bad, because gas was 11 cents a gallon.

In my day:
"grass" was mowed,
"coke" was a cold drink,
"pot" was something your mother cooked in and
"rock music" was your grandmother's lullaby.
"Aids" were helpers in the Principal's office,
"chip" meant a piece of wood,
"hardware" was found in a hardware store and
"software" wasn't even a word.
And we were the last generation to actually believe that a lady needed a husband to have a baby.

How old do you think I am?

I bet you have this old man in mind...you are in for a shock!

Read on to see -- pretty scary if you think about it and pretty sad at the same time.

Are you ready?????

This man would be 72 years old today.

72 years ago was 1947.
---
Cleveland Senior August Pust Honored
August B. Pust was recognized as a recipient of the Albert Nelson Marquis Lifetime Achievement Award in July 2019. This prestigious award is an honor reserved for Marquis Biographees who are admitted into the Marquis Who's in America 2020 and have also achieved career longevity and demonstrated unwavering excellence in their chosen fields.

"I am extremely honored to receive this award. I strongly encourage young people to pursue their chosen careers and to contribute to the community and to be involved in improved national, global and international humanitarian projects. I have always been dedicated to promoting and perpetuating the cultural and religious diversity and international relations issues and supporting universal liberties and freedoms. I am living the American Dream, and I encourage new immigrants to make their dreams into reality and to contribute to our rich American mosaic."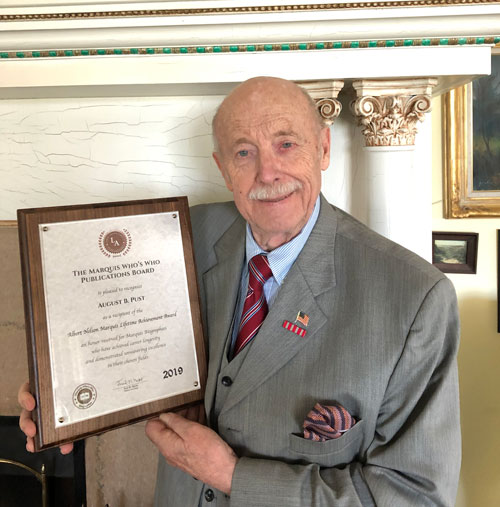 August Pust


August B. Pust was born in Ljubljana, Slovenia (formerly part of Yugoslavia) 81 years ago and came to New York City Harbor with a student visa when he was 19 years old to pursue his arts and graphics career, to fulfill his dreams to pursue freedom and equality, to become professional, and to hopefully become a US citizen, which he did January 9, 1970. Since 1976 he has lived in Euclid, Ohio and has been married to his wife Gloria A. Pust (nee Zupancic) for 57 years and has one daughter, Adriana A. Pust.

Pust built a distinguished career not only in his profession as an artist and graphic designer and manager, but also in thirty years of US public service. He was a founding member and first chairman of the Greater Cleveland Ethnographic Museum in 1976. He received the "Outstanding Service Award" by the Nationalities Services Center in 1986 and the International Services Center in 1988. He was named "The Slovenian Man of the Year 2008" and was awarded the Hungarian Knightly Order of Vitez in1990 and was inducted into the Order of Szent Laszlo in 1998.

Appointed by President George W. Bush, Pust served as a Member of the US Commission of the Preservation of America's Heritage abroad from 2001-2006 as part of the State Department of the US. He became an "International Fellow" after attending the International Leadership studies at Colorado College in 1990. He was awarded an "Doctor Honoris Causa" honorary PhD from the Romanian University at Valachia in 1999 and in 1994 was awarded the title of Honorary Senator from the University Medical School of Pecs, Hungary for his "splendid and farsighted munificence".

He is the recipient of many awards in recognition of his work and dedication to culture, international relations, diplomacy, and for his efforts in coordinating economic, trade, cultural, educational, and humanitarian missions, people-to-people programs and building non-governmental civil societies.

Included among the honors is the "Citizen Diplomat" award from the National Organization of International Visitors Council, Inc. and being recognized as an "Outstanding Public Servant" by the Federation of German American Societies. In 1990 as a member of the Executive Board, he received the prestigious "Freedom Medal" awarded by the American Nationalities Movement and Freedom of Captive Nations, and the Recognition of Freedom of Baltic Nations and gratitude proclamation in 1992.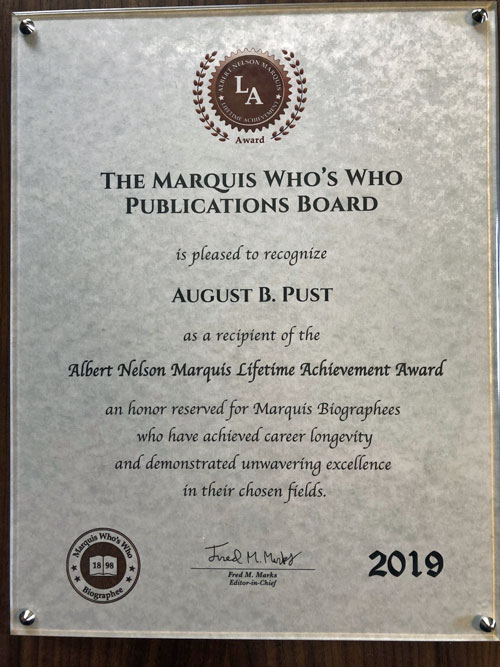 Working in global and international relations and marketing, Pust was also honored to receive the Asian Pacific American Federation Presidential Award in 1991 and a special commendation from the Asian American Commerce Group in recognition of his extraordinary vision and relentless effort dedicated to community services, diversity, and globalization.

In 2010 August was inducted into the inaugural class of the Cleveland International Hall of Fame in 2010. The Cleveland International Hall of Fame was established in 2010 by clevelandpeople.com to permanently recognize those individuals who have made a valuable and lasting contribution to our multicultural city and region and to inspire a new generation of leaders.

Congratulations August


---
Baltic Way commemorated at One World Day
The 74th annual One World Day was amazing. Lots of photos and videos coming soon but a highlight was before the Parade of Flags.

Honorary Consul of Lithuania Ingrida Bublys was joined by Honorary Consul of Estonia Mary Nippert and TV news anchor Chris Tanaka at the 74th annual One World Day in the Cultural Gardens of Cleveland Ohio. Consul Bublys told of the Baltic Way that took place 30 years earlier in Estonia, Latvia and Lithuania.

The marchers in the Parade of Flags at One World Day, led by delegations from the Baltic countries, commemorated this historic event by forming their own human chain joining hands along Martin Luther King Blvd. in Cleveland.

The Cleveland commemoration of the Baltic Way was produced by Dan Hanson with Angela Woodson, Al Griffin and members of their team and the Estonian, Latvian and Lithuanian communities to show solidarity with the ideals of the historic Baltic Way and showcase the diversity of Cleveland.

Enjoy this video of the Cleveland Chain.




---
Steeped Coffee - Cleveland Cooks™ Review
We have come a long way with coffee. I remember Mom and Dad having a big percolator on the stove for making coffee. Then Joe DiMaggio and his Mr. Coffee became the new way to enjoy the drink. Automatic drip coffee makers are still around but with the surge of Starbucks and similar companies, many people started getting their coffee outside the house. For the last several years we have seen the popularity of machines like the Keurig where you put in a pod and make a single cup of coffee.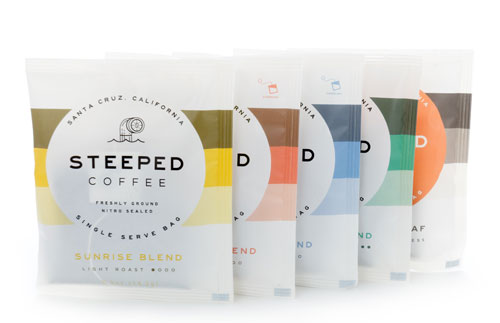 Now a company called Steeped Coffee is taking us back to a simpler time with a simple idea.

Read our Cleveland Cooks review of Steeped Coffee


---
We are still waiting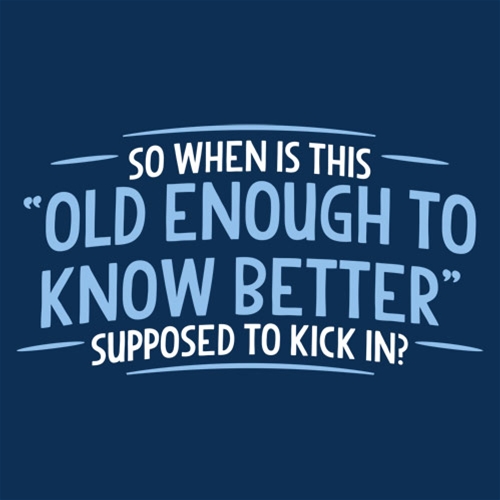 ---
51st Annual Puerto Rican Parade
The 51st annual Cleveland Puerto Rican Parade was held Sunday August 4th. The Parade was put on by the Hispanic Police Officers' Association (HPOA) which has been proudly serving it's members and the greater Cleveland community since it was founded in 1986.

The 2019 Parade Honorees were:
Olga Rosado, Grand Marshal
Ruben Estremera, Padrino
Lisa Roman, Madrina
Nayseth González, Miss Teen Puerto Rico 2019
See photos and videos of the Puerto Rican Parade
---
American Nationalities Movement Captive Nations Awards Ceremony
The American Nationalities Movement of Ohio held its 57th annual Captive Nations dinner program on Thursday July 18, 2019 and honored Rick DeChant Jr., John Sabol and Gia Hoa Ryan with the Freedom Award.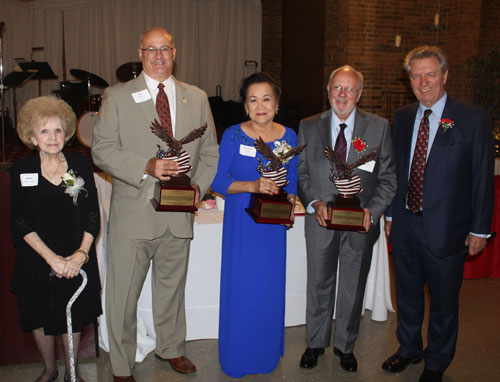 Irene Morrow, Rick DeChant, Gia Hoa Ryan, John Sabol and Ralph Perk Jr.
Photos and videos of the ANM event
---
Traffic Report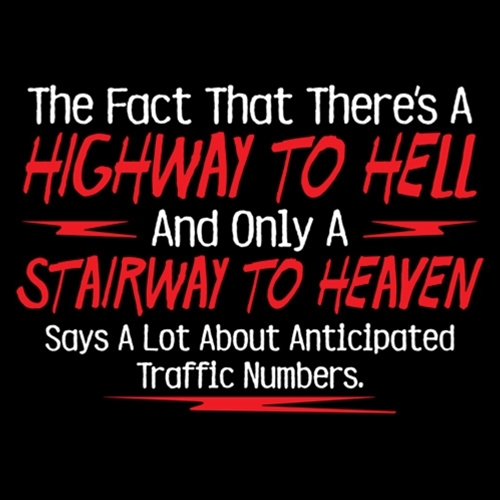 ---
Association of Indian Physicians of Northern Ohio 2019 Medical Yatra
A 'Yatra' is a holy pilgrimage. For years, Dr Jaya Shah and Ramesh Shah have led an AIPNO Medical Yatra to tend to the needs of the poorest in different areas of India. Many of the people that the team of doctors see and treat have never had any contact with a medical professional.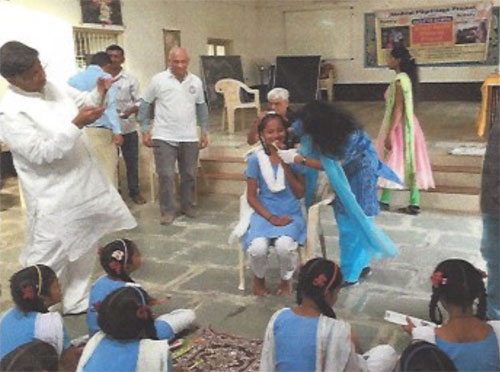 AIPNO Educating Teachers and Students in Dental and CPR
See facts and photos from the 2019 Medical Yatra
---
RIP Fred Griffith
Fred Griffith was a TV pioneer that we all got to know and love in his over 50 years on TV. He passed away at the age of 90.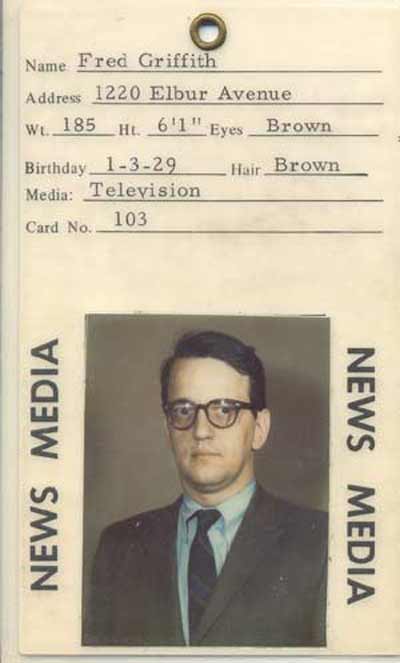 Fred's press pass

See photos and read the official profile of Fred Griffith

Debbie Hanson of ClevelandSeniors.com was there for Fred's last TV show celebration in 2012.

See photos and video of Fred's last show celebration


---
Smoky, Sweaty, Rowdy, and Loud:
Tales of Cleveland's Legendary Rock & Roll Landmarks

by Mike & Janice Olszewski

I enjoyed the authors' previous books about Cleveland Radio and TV so was eager to take a look at their stories of Cleveland Rock and Roll Landmarks. Being of that age, I was intimately involved with many of these clubs and the book triggered some serious nostalgia.



Click image below for more info or to buy from Amazon





More info and our review of the book


---
RIP Ben Stefanski
Ben Stefanski was a community leader and philanthropist especially in his beloved Slavic Village neighborhood. He was a history buff who brought that knowledge to current problems such as crime, poverty and clean water.

He worked on numerous projects including the Cleveland Cultural Gardens, regional leader for the Kosciuszko Foundation, worked and accomplished much for the City of Cleveland under Mayor Michael White, and in his earlier years was with Third Federal Savings and Loan, a national financial institution founded by his family.

Ben passed away on Saturday July 6, 2019.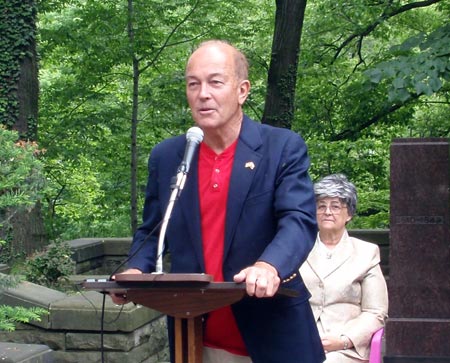 Ben Stefanski speaks at One World Day 2009 in his beloved Polish Cultural Garden
Official ClevelandSeniors.com profile of Ben Stefanski
---
Major League Baseball All-Star Game Play Ball Park Preview
While the biggest baseball stars will come together at Progressive Field during the All-Star break this week, the Indians and MLB will provide fans with their own opportunity to play and experience the game just a few blocks away.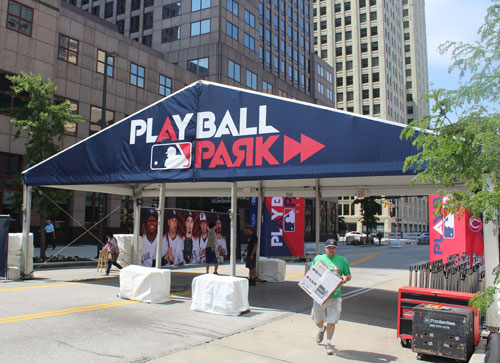 A new interactive baseball festival, PLAY BALL PARK, will arrive inside and outside the Huntington Convention Center from July 5-9.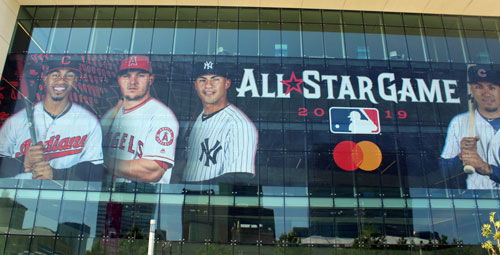 The outside activities will be free to all fans, while the indoor activities will be ticketed. Batting Cages, Speed pitching, Velcro suits to rob homers, a zip line and lots more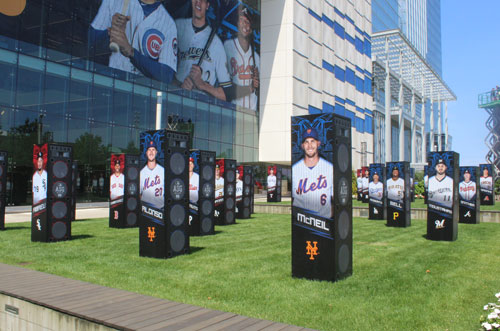 We took a brief tour outside as crews set up for the big event. Click on the white arrow to watch the video.


---
Special Food Lineup for the 2019 Major League Baseball All-Star Game in Cleveland
Delaware North, the official food, beverage and retail partner of the Cleveland Indians at Progressive Field, announced a lineup of new items for the MLB All- Star Game. The menu showcases local favorites and ingredients such as Cleveland Kraut, a variety of pierogi and rich sausages.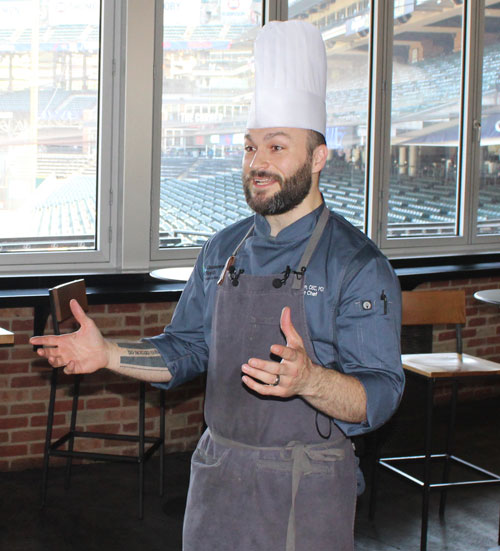 Executive Chef Joshua Ingraham



Take a tour of the 15 new items (photos and videos) and learn about the new trends in ballpark foods and how Cleveland will be celebrated for its foodie scene.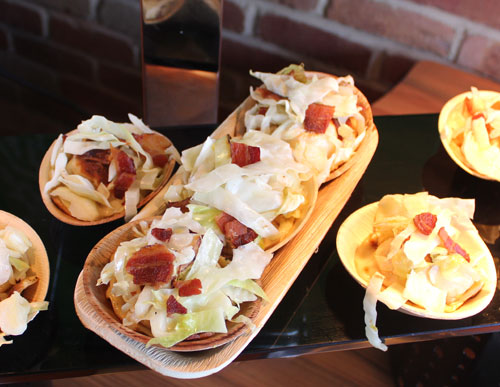 Fully Loaded Pierogi
Photos and videos of the All-Star Game Foods
---
Euclid Beach Park Pier
On Wednesday May 22, 2019 the Cleveland Metroparks had a ribbon cutting ceremony to mark the grand opening of the Euclid Beach Pier. The new pier is 315-feet long and 16 to 24 feet wide, extending 150 feet over Lake Erie. The newest park amenity was designed to improve accessibility and offers guests clear views of the downtown skyline and historic Euclid Beach shoreline. The pier features three custom archways that pay homage to the historic park and former Euclid Beach Amusement Park.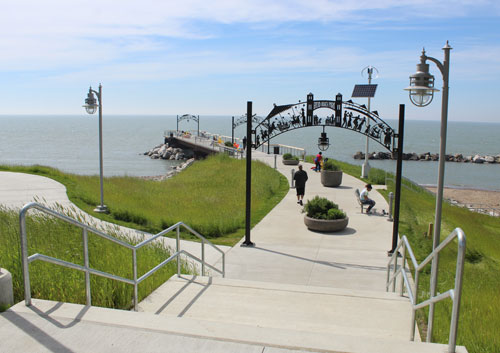 New Euclid Beach Pier
See more photos and a video tour of the new Euclid Beach Pier
---
Walk under the bridge at Shooters by the Leif Erikson bust
One of the things we like most about the Flats in Cleveland is that they were, and most still are, working areas. The diverse bridges work, ships carry ore and other materials and it is all mixed in with the entertainment establishments. For years there has been a bust of Viking Explorer Leif Erikson near the entrance to Shooters on the west bank of Cleveland's Flats.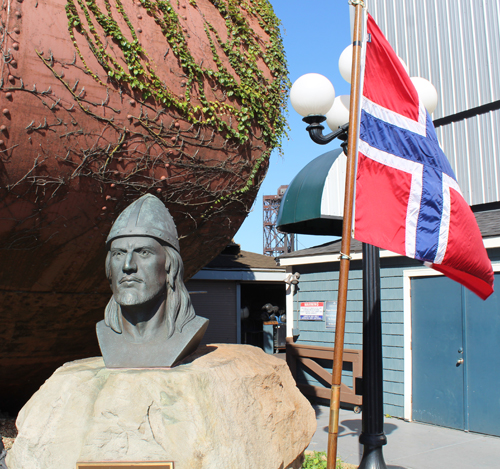 Leif Erikson bust and flag of Norway



On a recent visit, Dan Hanson noticed that now you can walk under the piece of the bridge from the parking lot to the Cuyahoga River and see some of the ironwork of the bridge.

Photos and a short video tour of under the bridge


---
New technology can take some getting used to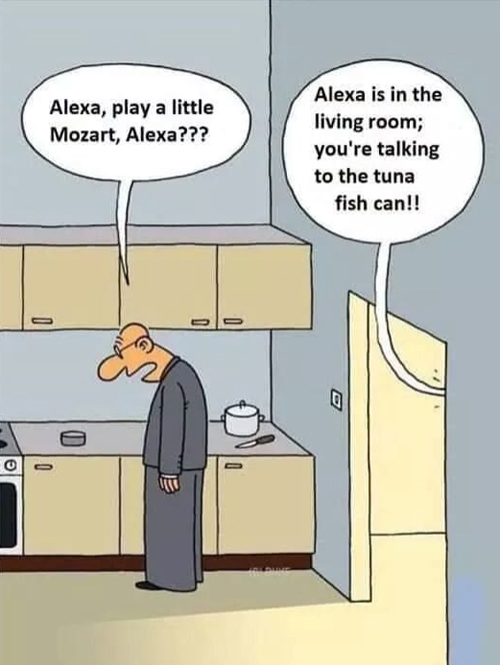 ---
D-Day 75th anniversary Remembrance Ceremony League Park June 6, 2019
On the 75th anniversary of D-Day, under the umbrella of the Bob Feller Act of Valor Foundation - the U.S. Navy, Cleveland Indians and the Baseball Heritage Museum at League Park saluted and thanked those who served during WWII. This D-Day Remembrance Ceremony honored about 130 of the greatest generation who served in World War II.

Under Secretary of the U.S. Navy Thomas B. Modly gave the keynote address and his remarks included the story of his emotional visit to Normandy.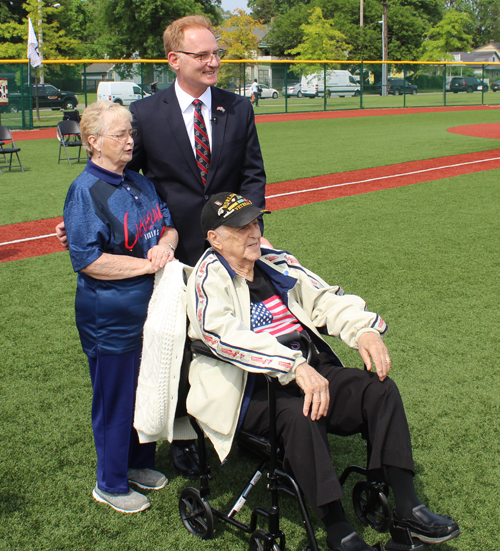 Posing with Under Secretary of the U.S. Navy Thomas B. Modly

Bob DiBiasio, Sr. Vice President-Public Affairs, Cleveland Indians Baseball, reminded the crowd that Bob Feller was the first professional athlete to enlist after the bombing of Pearl Harbor. In fact, 37 Baseball Hall of Famers served in World War II.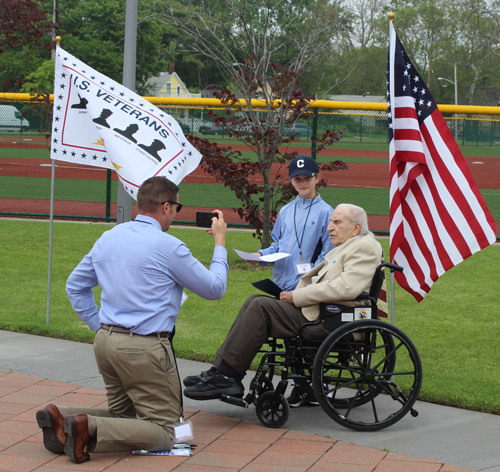 World War II veteran telling his story
Photos and videos of the 75th D-Day Remembrance Event
---
Funnies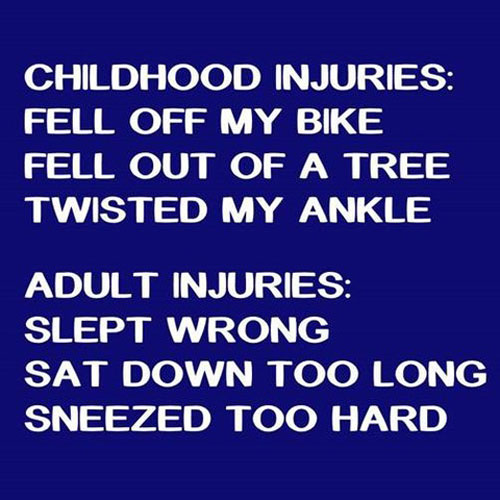 ---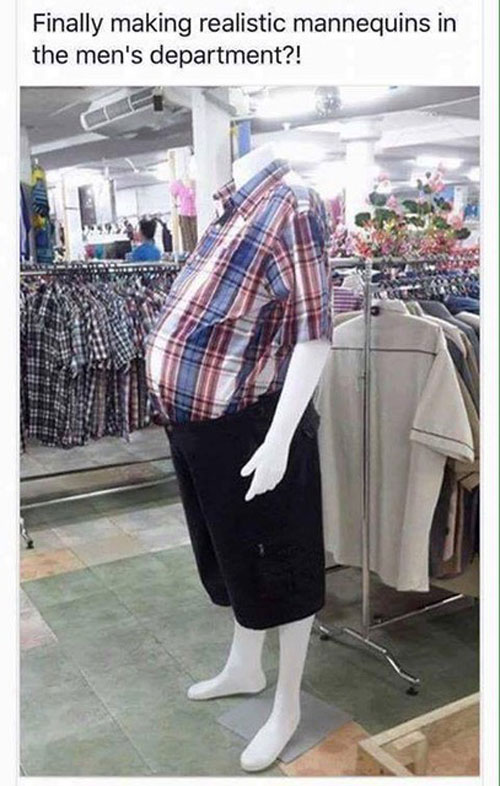 ---
Smoky, Sweaty, Rowdy, and Loud:
Tales of Cleveland's
Legendary Rock & Roll Landmarks
by Mike & Janice Olszewski

I enjoyed the authors' previous books about Cleveland Radio and TV so was eager to take a look at their stories of Cleveland Rock and Roll Landmarks. Being of that age, I was intimately involved with many of these clubs and the book triggered some serious nostalgia.



Click image below for more info or to buy from Amazon






---
Hot Type, Cold Beer and Bad News:
A Cleveland Reporter's Journey Through the 1960s
by Michael D. Roberts

This book touches on 4 areas that are simply fascinating to me: Newspaper reporting in its heyday before computers and the Internet, the 1960's, Cleveland in the 1960's and a first-hand account of the Vietnam War by a reporter who spent 8 months all over the Far Eastern country.

Read our review of Hot Type, Cold Beer and Bad News



Click image below for more info or to buy from Amazon






---
The Browns Blues: Two Decades of Utter Frustration: Why Everything Kept Going Wrong for the Cleveland Browns
by Terry Pluto

As a longtime Browns fan and season ticket holder since the 1980's I lived through the last 20 painful years of the Browns return so didn't expect much except rehashing from this book. But I was surprised at how much I had forgotten and how much I never knew.

Read our review of The Browns Blues



Click image below for more info or to buy from Amazon






---
Are you Enjoying the Delightful Infirmities of Old Age?
"Do not get old," Mom always advised me. Or was that an actual Motherly command-rather than mere advice? Anyway I have done my best NOT to follow her recommendation. Like the old joke says, "What is the alternative to not getting old?" But to get serious, one only realizes how bad it is to get old when it actually begins to happen to you. I phrase that in terms of something happening to you rather than something you invite or request. I have been fighting old age and retirement for the past decade as I traverse through my seventies...

Read the rest of Joe's column about aging


---
RIP Don Webster
Beloved TV weatherman and Upbeat TV show host Don Webster passed away Thursday December 13, 2018. He was 79 years old.

Debbie Hanson sat down with Don in 2007 and wrote a profile of Don's life for ClevelandSeniors.com

See Don Webster's official ClevelandSeniors.Com profile with photos.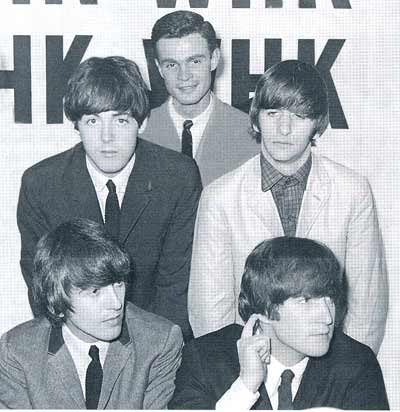 Don Webster with The Beatles


He also shared numerous photos with us of Don with celebrities.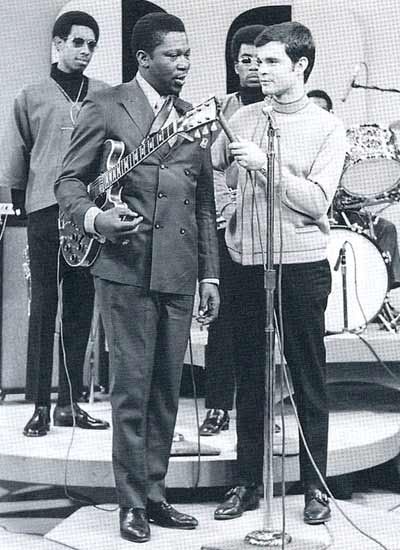 BB King and guitar Lucille with Don Webster on Upbeat


See the Don Webster photo page.

Rest in peace Don, you were well loved and will be remembered.


---
The Sunday Sermon was Entitled...
I had everything planned and had told my wife I would not be going to church with her on Sunday. My wife reminded me that Sunday was the Sabbath Day and hunting a trophy buck should not be part of the Sabbath.

I had scouted the area all summer and I searched out the best location for my tree-stand. I set it all up a month ahead of time. I trailed the herd and picked out a trophy buck.

Two days before opening day I rechecked every aspect of the hunt. Everything was in place. On Sunday morning, I woke up at 2 am. I put on my camo, loaded my pack, set out for my stand. This was destined to be an "Epic" hunt.

As I approached my deer stand, I called my wife and told her I had decided not to hunt on the Sabbath and would meet her at church.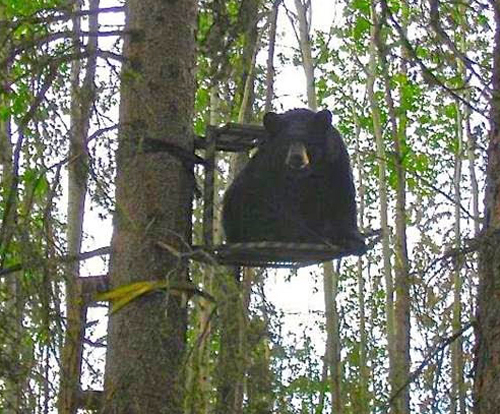 The Sunday sermon was entitled, "The Lord Works In Mysterious Ways "


---
Ann Margret and the Veteran
(This story has been verified as true by Snopes and other fact-checking sites.) Richard, (my husband), never really talked a lot about his time in Viet Nam other than he had been shot by a sniper. However, he had a rather grainy, 8 x 10 black & white photo he had taken at a USO show of Ann Margaret with Bob Hope in the background that was one of his treasures.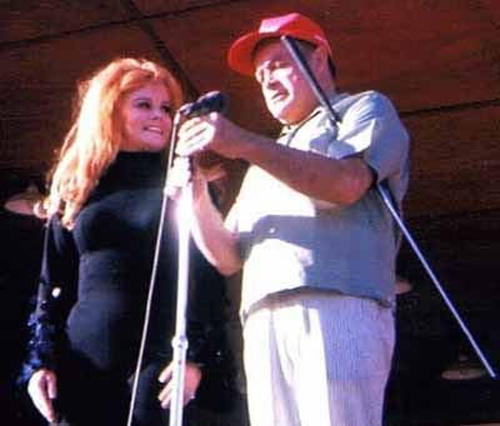 Ann Margret and Bob Hope



A few years ago, Ann Margaret was doing a book signing at a local bookstore. Richard wanted to see if he could get her to sign the treasured photo so he arrived at the bookstore at 12 o'clock for the 7:30 signing. When I got there after work, the line went all the way around the bookstore, circled the parking lot, and disappeared behind a parking garage.

Before her appearance, bookstore employees announced that she would sign only her book and no memorabilia would be permitted. Richard was disappointed, but wanted to show her the photo and let her know how much those shows meant to lonely GI's so far from home.

Ann Margaret came out looking as beautiful as ever and, as 2nd in line, it was soon Richard's turn. He presented the book for her signature and then took out the photo. When he did, there were many shouts from the employees that she would not sign it. Richard said, "I understand. I just wanted her to see it".

She took one look at the photo, tears welled up in her eyes and she said, "This is one of my gentlemen from Viet Nam and I most certainly will sign his photo. I know what these men did for their country and I always have time for "my gentlemen". With that, she pulled Richard across the table and planted a big kiss on him.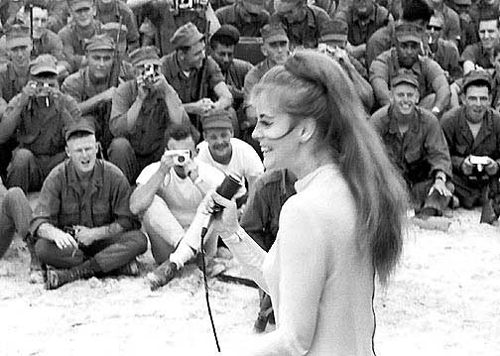 Ann Margret entertaining GIs



She then made quite a to do about the bravery of the young men she met over the years, how much she admired them, and how much she appreciated them. There weren't too many dry eyes among those close enough to hear. She then posed for pictures and acted as if he was the only one there.

Later at dinner, Richard was very quiet. When I asked if he'd like to talk about it, my big strong husband broke down in tears. "That's the first time anyone ever thanked me for my time in the Army", he said.

Richard, like many others, came home to people who spit on him and shouted ugly things at him. That night was a turning point for him. He walked a little straighter and, for the first time in years, was proud to have been a Vet.

I'll never forget Ann Margaret for her graciousness and how much that small act of kindness meant to my husband. I now make it a point to say Thank You to every person I come across who served in our Armed Forces.

Freedom does not come cheap and I am grateful for all those who have served their country. If you'd like to pass on this story, feel free to do so. Perhaps it will help others to become aware of how important it is to acknowledge the contribution our service people make.
Thank you to all those who have served
Happy Veterans Day
---
Is America going in the right direction?
Joe Meissner continues his column about growing old with a look at 10 areas that he sees problems with in modern society.

I can endure all and more of this. Cancers. Heart attacks. Lungs filled with fluids. Use of canes and wheel chairs. Rotting smells and pains from urinary and defecation systems gone awry. All of this we can bear if we see that our society has benefitted in some way from our short depressing lives on this tired planet. "We can take it" if our children are better off. As the world improves, we can rejoice that the future will be better and we have contributed to this. We can thank the Good Lord for our simple accomplishments and not mind as Death fast approaches. But somehow our whole society and even the world seem headed in the wrong direction. If one road heads toward heaven and the glorious city on the hill, the reverse road goes in the opposite direction to hell and toward Lucifer's cheerless realm. That latter is the way the globe seems to be descending...

Read the rest of Joe's column about modern society


---
The Great Brain by John Dennis Fitzgerald - Book Review
I think I saw a positive review by someone about a 1967 book called The Great Brain so I picked up the audio version to listen to while driving. I almost gave up on it because it is the story of a Utah family in 1896 and seemed geared to young readers. But I kept listening and became hooked.

The Great Brain was written by John Dennis Fitzgerald (1906-1988) and is set in the small town of Adenville, Utah, between 1896 and 1898. The narrator is the youngest of 3 boys in a Catholic family in a predominantly Mormon area of Utah. John Dennis Fitzgerald, also called JD, tells the story of his oldest brother Sven and parents but the main focus is the middle brother Tom who has the "Great Brain."

Read our review of The Great Brain


---
'Why did I survive?' an aging Marine asks
"I came back home and eventually left the Marines and the service. I am sorry, however, I did not sign up again. I have always regretted that decision, all my life. I know that sounds strange. Maybe it is all the guys that did not return. They are like ghosts and you cannot run away from them. But I did get back in one piece. Later I got married, settled down, and we had a nice family. "For many years after, " he continues, "The thought would come back to me about staying in. I would have wanted to re-up again. But it was too late. After several years home, another thought began to bother me. "'Why,' I wondered, 'had I survived and the others did not.' That question gnaws at my stomach even right now."

Read the rest of the story about the aging Marine


---
Superman wasn't born on Krypton. He was born in Cleveland.
More precisely he was born at 10622 Kimberly Ave. in Cleveland's Glenville neighborhood.

While attending Glenville High School in Cleveland in early 1933, Jerry Siegel wrote a short story, illustrated by his friend and classmate Joe Shuster, titled "The Reign of the Superman", which Siegel self-published in his fanzine, Science Fiction #3. Originally Superman was a villain but in June 1933 Siegel developed a new character, also named Superman, but now a heroic character.

"This is the house where Superman was born," reads the sign hanging on the fence in front of 10622 Kimberly Ave. It's a private home.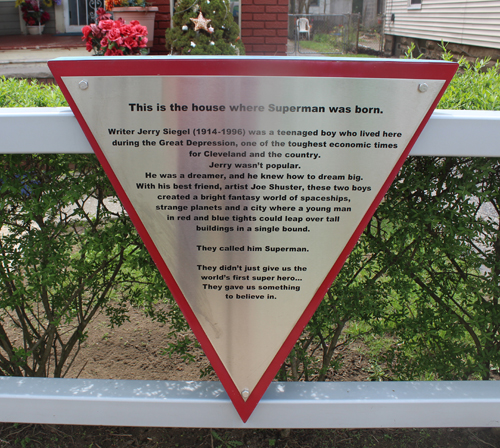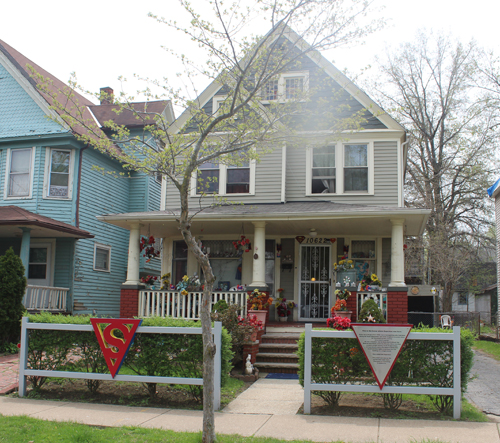 See more from Superman creator Jerry Siegel's home
---
Make Your Bed
Little things that can change your life
by Admiral William H. McRaven (US Navy Retired)



On May 17, 2014, Admiral William H. McRaven addressed the graduating class of the University of Texas at Austin on their Commencement day. Taking inspiration from the university's slogan, "What starts here changes the world," he shared the ten principles he learned during Navy Seal training that helped him overcome challenges not only in his training and long Naval career, but also throughout his life; and he explained how anyone can use these basic lessons to change themselves-and the world-for the better.

Read the book review by Dan Hanson


---
A Senior Prayer
God, grant me the senility to forget the people I never liked anyway, The good fortune to run into the ones that I do, and the eyesight to tell the difference.

---
Just because you're "Young" doesn't mean that you can outsmart an "old Geezer"
Yesterday my daughter e-mailed me again, asking why I didn't do something useful with my time. "Like, me sitting around the pool and drinking wine is not a good thing?" I asked. My "doing-something-useful" seems to be her favorite topic of conversation.

She was "only thinking of me", she said and suggested that I go down to the Senior Center and join something.

I did this and when I got home last night, I decided to play a prank on her. I e-mailed her and told her that I had joined a Parachute Club.

She replied, "Mother, are you nuts? You are 78 years old and now you're going to start jumping out of airplanes?"

I told her that I even got a Membership Card and e-mailed a copy to her. She immediately telephoned me and yelled, "Good grief, Mom, where are your glasses?! This is a Membership to a Prostitute Club, not a Parachute Club."

I calmly replied, "Oh my, I think I'm in real trouble then, because I signed up for five jumps a week!!"

The line went quiet and her friend picked up the phone and said that my daughter had fainted.

Life as a Senior Citizen is not getting any easier, but sometimes it can be real fun.


---
Do you need help paying your Medicare expenses?
If you are a low-income Medicare beneficiary, the Medicare Premium Assistance Programs (MPAP) may help you pay some or all of your Medicare cost-sharing expenses (premiums, copays, and coinsurance). MPAP is part of the Ohio Medicaid program. MPAP is sometimes called the "Medicare buy-in" or "Medicare savings" program.

Learn more about help paying your Medicare expenses


---
Who Needs Advance Directives about Medical Care?
Advance directives help ensure that you receive the medical care you would want even when doctors and family members are making decisions on your behalf. There are two different types of advance directives: Health Care Power of Attorney and Living Will.

Learn more about Health Care Power of Attorney and Living Wills


---
Elder Abuse: What Is It and How to Get Help
It is difficult for people to accept the notion that adult abuse occurs in the elderly, but the sad fact is that it occurs everyday. Last year in Ohio over 16,000 incidents of elder abuse were reported to Ohio Department of Job and Family Services. In Cuyahoga County alone, over 3,000 incidences of elder abuse were reported to Cuyahoga County Department and Senior Adult Services, Adult Protective Services.
---
Should you purchase prepaid funeral arrangements?
Many people do not like to think about death or funeral arrangements, but some people do make plans for when they pass. For example, some people choose to purchase "pre-paid funeral contracts." These contacts allow you to make decisions about your own funeral, and pay for it ahead of time. These pre-paid contracts give some people peace of mind. But before purchasing such a contract, keep the following issues in mind.

More about prepaid funeral arrangements


---
How can seniors learn more about benefits available to them?
BenefitsCheckUp is a web-based service that helps seniors. It is especially helpful for those with limited income and resources, their family members and, social service organizations. It connects people to over 2,000 public and private programs. Many adults over 55 need help paying for basic needs. Some of the benefits screened for are health care services, prescription drugs, rent assistance, in-home services, meals, heat, and energy assistance, and transportation.

Learn more about Benefits Checkup


---
Grandparent POAs and Caretaker Authorization
Grandparents sometimes find themselves caring for a grandchild unexpectedly. This often happens without any formal court order giving the grandparent custody or guardianship. Without custody or guardianship, the grandparent will face problems getting medical care for the child or dealing with the child's school.

More about Grandparent POAs and Caretaker Authorization


---
How do I name a Durable Power of Attorney?
A durable power of attorney can be one of the most helpful estate planning tools a person uses, but it can also be very risky. A durable POA gives a person (who is called an "attorney in fact") legal authority to act for another person in a variety of matters, including banking, benefits, housing, taxes, real estate, litigation, and more. (The durable POA is different from a Health Care Power of Attorney, which is the form used to appoint a person to make decisions about health care.)

Learn more about Durable Power of Attorney


---
Are Wills Really That Important?
:When my mother died in 2012, we discovered that her will was from 1959 and had not been updated to reflect the many changes in her life since then: she had four more children, she bought a house, furniture, an automobile, jewelry, and a dog. As a result, my mother died without a valid will. Following her death, bills had to be paid, property sold, her furniture, jewelry, the car divided, and someone had to take in the dog."

Read more about the importance of Wills


---
Recommended For You (popular with other Cleveland Seniors)
---
ClevelandSeniors.Com Book of the Week
Before You Leap


Before You Leap starts on screeching tires, literally—an interstate bridge, a police chase, three men trapped in a car, driving at full speed. The two in the front are arguing, one is brandishing a gun, and the third is bleeding profusely in the backseat. You can't help but be immediately hooked and wonder, Who are they? And how on earth did they get here?

The novel then takes you back a few days. Greg Cole's quiet and secluded life is about to be thrown into chaos when he learns that his dead sister's convicted murderer has been released early.

Before You Leap is absorbing, thought-provoking, and psychologically riveting. I was struck by how the author is able to delve into Greg's psyche and express his grief over the loss of his sister—and the inner turmoil that overtakes him—with such clarity. What you're left with is a poignant, complex, nail-biting novel where you watch in a stupor as someone's life and sanity shatter. And as it crescendos, the story pulls the rug from under your feet and delivers the most unexpected twist—one that took my breath away and left me reeling.

Before You Leap
---
Free weekly eNews
Every Tuesday evening we send an e-mail message to people who are interested in upcoming (the next week) events that have an ethnic or cultural connection. So it may be Opera in the Italian Garden or Puerto Rican Day Parade or Slovenian Kurentovanje or...

If you are interested in receiving this free weekly e-mail just sign up for the free eNews.

You can also sign up to receive more specific free eNews for any groups or groups you may choose (Irish, German, Polish, Chinese, etc.)

It's easy and free and will let you know every week about fun and interesting events that are coming up in the next week.
---
---
Calendar of Events for Cleveland Seniors & Baby Boomers
---

Have you seen the Amazon Deal of the Day? Everyday, a new very special deal will be offered. Look to the left-hand column of this page for the daily special.


---
Sign up for our free eNewsletter sent about once every 2 months with special offers, discounts, contests and more.
---

Whether you are a Boomer who's just turned 50 (and don't think of yourself as a Senior) or part of the "Greatest Generation," you can learn about issues that are important to you and your family right here on ClevelandSeniors.com from Cleveland area experts.


Don't miss our profiles of interesting Cleveland Seniors and Baby Boomers - Maybe it's someone you know! (Or tell us about someone we should know)



Take advantage of discounts and specials selected just for you.



Ask questions and receive answers from our many experts from all walks of life.



Share your thoughts, memories, ideas with other Cleveland Seniors and Baby Boomers.



Keep your mind sharp with some of our games, quizzes and mind expanders.



Most importantly, come back often and
Have Fun!


---
Top of Page